Faculty & Fellows
Faculty and Fellows
The Division of Endocrinology and Metabolism has a rich history and tradition of excellence in patient care, education and research and remains one of the finest endocrinology divisions in the country. We currently have 36 faculty members (14 full professors, 9 associate professors, 7 assistant professors, 3 instructors, and 3 NPs) and 7 clinical endocrine fellows. The Division boasts many previous and current leaders in national professional societies including three presidents of the Endocrine Society (Margaret A. Shupnik, Ph.D., Robert M. Carey, M.D., and Richard J. Santen, M.D.), one president of the American Diabetes Association (Eugene J. Barrett, M.D., Ph.D.), and one president of the Pituitary Society (Mary Lee Vance, M.D.). Our faculty members strive to provide the best possible care to patients with a variety of hormonal and metabolic disorders and best training to the next generation of physicians and scientists, and make cutting-edge scientific discoveries in both clinical and basic endocrine research.
2020-2021 Endocrinology Fellows
Past Endocrinology fellows by year
---
THIRD-YEAR FELLOW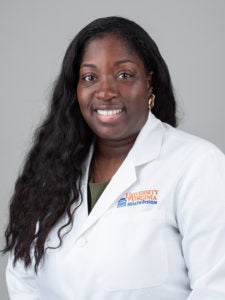 Jeanette Owusu, M.D.
Medical School: Howard University College of Medicine
Residency:  Winthrop University Hospital
---
SECOND-YEAR FELLOWS
Peggy Amoakohene, MB. Ch.B
Medical School: Kwame Nkrumah University of Science & Technology
School of Medical Sciences
Residency: Meharry Medical College Nashville TN
Izzah Vasim, MBBS
Medical School: King Edward Medical University
Residency: Wake Forest Baptist Medical Center
Jeremy Steinman,MD
Medical School: Bowman Gray School of Medicine (Wake Forest)
Residency: University of Iowa Hospitals and Clinics
---
FIRST-YEAR FELLOWS
Endocrinology & Metabolism Research Faculty
Choose a faculty member to view his or her research profile. Links go to the School of Medicine Research Faculty Directory; use the back button to return to the Endocrinology division website.