Sue Brown
Sue Brown, MD
Professor of Medicine, Endocrinology and Metabolism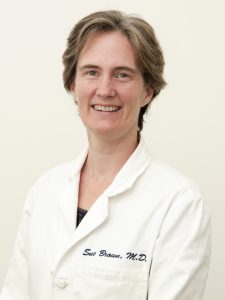 Training
MD, University of Virginia
Residency, Internal Medicine, University of North Carolina at Chapel Hill
Fellowship, Endocrinology, University of North Carolina at Chapel Hill
Research Interests: Treatment options for type 1 diabetes with a focus on automated insulin delivery systems.
Research Description: Dr. Brown's clinical research is focused on new treatment options for type 1 diabetes. Dr. Brown is one of the original faculty members in the Center for Diabetes Technology and works in collaboration with engineers and mathematicians. She has been a principal investigator on multiple NIH-funded and FDA-regulated clinical trials focused on type 1 diabetes. These clinical research programs are aimed at further identifying factors of glycemic variability in people with type 1 diabetes, particularly glucose changes surrounding exercise, meals and the menstrual cycle. The Center for Diabetes Technology is active in developing automated insulin delivery systems in people with type 1 diabetes. Dr. Brown was the study chair for at least two major randomized-controlled multi-site US trials on automated insulin delivery that ultimately led to FDA approval of a system in current use in the US (Brown et al, NEJM 2019) and another under consideration by the FDA (Brown et al, Diabetes Care 2021).
Dr. Brown is a Principal Investigator for two NIH research grants: (1) R01 DK085623 (NIDDK; "Bio-behavioral Human Machine Co-Adaptation of the Artificial Pancreas"; July 2020-March 2025); and (2) R01 DK129553 (NIDDK; "Advanced Artificial Pancreas Systems to Enable Fully Automated Glycemic Control in Type 1 Diabetes Mellitus"; July 2021-June 2026). This work is aimed at developing fully automated insulin delivery systems that do not require carbohydrate counting as well as further understanding and optimizing the use of automated insulin delivery in improving the lives of people with Type 1 Diabetes.
Dr. Brown has previously been a principal investigator on an NIH K23 mentored clinical research award focusing on the effects of lactation on bone physiology.
Selected Publications:
Brown SA, Forlenza GP, Bode BW et al for the Omnipod 5 Research Group. Multicenter Trial of a Tubeless, On-Body Automated Insulin Delivery System With Customizable Glycemic Targets in Pediatric and Adults Participants With Type 1 Diabetes. Diabetes Care. Epub June 07, 2021; dc210172. https://doi.org/10.2337/dc21-0172
Brown SA, Beck RW, Raghinaru D, Buckingham BA, Laffel LM, Wadwa RP, Kudva YC, Levy CJ, Pinsker JE, Dassau E, Doyle FJ 3rd, Ambler-Osborn L, Anderson SM, Church MM, Ekhlaspour L, Forlenza GP, Levister C, Simha V, Breton MD, Kollman C, Lum JW, Kovatchev BP; iDCL Trial Research Group; Glycemic Outcomes of Use of CLC Versus PLGS in Type 1 Diabetes: A Randomized Controlled Trial; Diabetes Care. 2020 Aug;43(8):1822-1828. doi: 10.2337/dc20-0124. Epub 2020 May 29. PMID: 32471910
Schoelwer MJ, Robic JL, Gautier T, Fabris C, Carr K, Clancy-Oliveri M, Brown SA, Anderson SM, DeBoer MD, Cherñavvsky DR, Breton MD, Safety and Efficacy of Initializing the Control-IQ Artificial Pancreas System Based on Total Daily Insulin in Adolescents with Type 1 Diabetes, 2020; Diabetes Technology & Therapeutics. Aug 2020.594-601. http://doi.org/10.1089/dia.2019.0471. PMID: 32119790
Kovatchev B, Anderson SM, Raghinaru D, Kudva YC, Laffel LM, Levy C, Pinsker JE, Wadwa RP, Buckingham B, Doyle FJ, Brown SA, Church MM, Dadlani V, Dassau E, Ekhlaspour L, Forlenza GP, Isganaitis E, Lam DW, Lum J, Beck RW, Randomized Controlled Trial of Mobile Closed-Loop Control., 2020; Diabetes Care. 43(3) 607-615. PMID: 31937608 | PMCID: PMC7035585
Brown SA, Basu A, Kovatchev BP, Beyond HbA1c : using continuous glucose monitoring metrics to enhance interpretation of treatment effect and improve clinical decision-making, 2019; Diabetic Medicine: a journal of the British Diabetic Association. 36(6) 679-687. PMID: 30848545
Brown SA, Kovatchev BP, Raghinaru D, Lum JW, Buckingham BA, Kudva YC, Laffel LM, Levy CJ, Pinsker JE, Wadwa RP, Dassau E, Doyle FJ, Anderson SM, Church MM, Dadlani V, Ekhlaspour L, Forlenza GP, Isganaitis E, Lam DW, Kollman C, Beck RW, Six-Month Randomized, Multicenter Trial of Closed-Loop Control in Type 1 Diabetes., 2019; The New England Journal of Medicine. 381(18) 1707-1717. PMID: 31618560 | PMCID: PMC7076915
Anderson SM, Buckingham BA, Breton MD, Robic JL, Barnett CL, Wakeman CA, Oliveri MC, Brown SA, Ly TT, Clinton PK, Hsu LJ, Kingman RS, Norlander LM, Loebner SE, Reuschel-DiVirglio S, Kovatchev BP, Hybrid Closed-Loop Control Is Safe and Effective for People with Type 1 Diabetes Who Are at Moderate to High Risk for Hypoglycemia., 2019; Diabetes Technology & Therapeutics. 21(6) 356-363. PMID: 31095423 | PMCID: PMC6551970
Anderson SM, Dassau E, Raghinaru D, Lum J, Brown SA, Pinsker JE, Church MM, Levy C, Lam D, Kudva YC, Buckingham B, Forlenza GP, Wadwa RP, Laffel L, Doyle FJ, DeVries JH, Renard E, Cobelli C, Boscari F, Del Favero S, Kovatchev BP, The International Diabetes Closed-Loop Study: Testing Artificial Pancreas Component Interoperability., 2019; Diabetes Technology & Therapeutics. 21(2) 73-80. PMID: 30649925 | PMCID: PMC6354594
Brown S, Raghinaru D, Emory E, Kovatchev B, First Look at Control-IQ: A New-Generation Automated Insulin Delivery System., 2018; Diabetes Care. 41(12) 2634-2636. PMID: 30305346 | PMCID: PMC6245207
Brown SA, Breton MD, Anderson SM, Kollar L, Keith-Hynes P, Levy CJ, Lam DW, Levister C, Baysal N, Kudva YC, Basu A, Dadlani V, Hinshaw L, McCrady-Spitzer S, Bruttomesso D, Visentin R, Galasso S, Favero SD, Leal Y, Boscari F, Avogaro A, Cobelli C, Kovatchev BP, Overnight Closed Loop Control Improves Glycemic Control in a Multicenter Study of Adults with Type 1 Diabetes., 2017; The Journal of Clinical Endocrinology and Metabolism. 102(10):3674-3682. PMID: 28666360 | PMCID: PMC5630248
Dassau E, Pinsker JE, Kudva YC, Brown SA, Gondhalekar R, Dalla Man C, Patek S, Schiavon M, Dadlani V, Dasanayake I, Church MM, Carter RE, Bevier WC, Huyett LM, Hughes J, Anderson S, Lv D, Schertz E, Emory E, McCrady-Spitzer SK, Jean T, Bradley PK, Hinshaw L, Laguna Sanz AJ, Basu A, Kovatchev B, Cobelli C, Doyle FJ, 12-Week 24/7 Ambulatory Artificial Pancreas With Weekly Adaptation of Insulin Delivery Settings: Effect on Hemoglobin A1c and Hypoglycemia., 2017; Diabetes Care. 40(12):1719-1726 . PMID: 29030383 | PMCID: PMC5711334
Brown SA, Jiang B, McElwee-Malloy M, Wakeman C, Breton MD, Fluctuations of Hyperglycemia and Insulin Sensitivity Are Linked to Menstrual Cycle Phases in Women With T1D., 2015; Journal of Diabetes Science and Technology. 9(6) 1192-9. PMID: 26468135 | PMCID: PMC4667305