Eugene J. Barrett, MD, PhD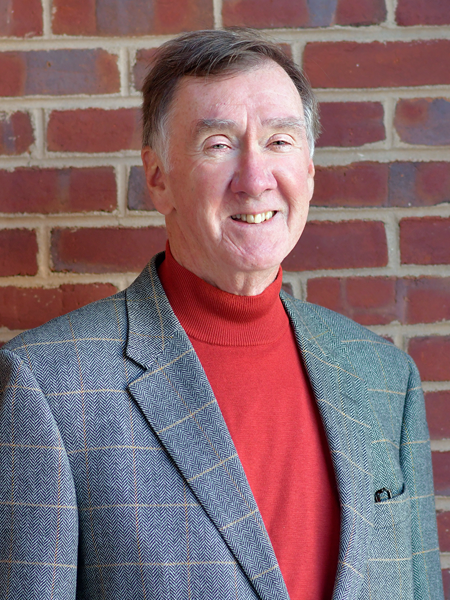 PRIMARY APPOINTMENT:
Professor, Department of Medicine, Division of Endocrinology and Metabolism (secondary appointment in Pediatrics)
Director, UVA Diabetes Center
Past President, American Diabetes Association
TRAINING:
Undergraduate: B.S., St. Peter's College, Jersey City, NJ (Physics)
Graduate: M.D., Ph.D., University of Rochester, Rochester, NY (Biophysics and Medicine)
Internal Medicine Residency: Strong Memorial Hospital, Rochester, NY
Endocrinology Fellowship: Yale University School of Medicine, New Haven, CT
RESEARCH INTERESTS:
Research in my laboratory focuses on studies of insulin action and how insulin's action is altered by insulin resistance, obesity, and diabetes mellitus. Specific studies currently underway involve measuring insulin's action to regulate its delivery to skeletal muscle by acting on endothelial and smooth muscle cells. Insulin relaxes smooth muscle cells associated with terminal arterioles and dilates microvascular vessels to enhance tissue perfusion, thereby increasing the delivery of both insulin and glucose to the tissues. This vasodilator effect appears to be secondary to insulin's action on the endothelial cell to increase nitric oxide production via the activation of the enzyme nitric oxide synthase.
We have also demonstrated the second effect of insulin on the endothelial cell. This involves insulin promoting its uptake at the luminal surface of the endothelial cell and which then transports the insulin across to the abluminal surface of the cell, where it is released and becomes available to act on target tissues like adipocytes and myocytes. We have experimental evidence that insulin's ability to cause smooth muscle relaxation and promote its transport is impaired in states of insulin resistance (e.g., obesity, type 2 diabetes). This step involving insulin transport across the endothelium appears to be the rate-limiting step for overall insulin action on skeletal muscle (which is the major target tissue for insulin-mediated glucose disposal).
We are also studying how these processes are affected by the action of other growth factors (growth hormone and IGF-I). A major hypothesis that we are exploring is that a significant fraction of the insulin resistance which is encountered in skeletal muscle in states like obesity, diabetes, and hypertension is attributable to impaired action of insulin on the microvasculature in addition to any effect on the muscle cell per se.
RESEARCH FUNDING:
NIH/NIDDK R01 HL14225002 (12/15/2018 – 11/30/2022)
SELECT PUBLICATIONS:
Gray SM, Barrett EJ, Insulin transport into the brain., 2018; American journal of physiology. Cell physiology. 315(2) C125-C136. PMID: 29847142 | PMCID: PMC6139500
Good ME, Chiu YH, Poon IK, Medina CB, Butcher JT, Mendu SK, DeLalio LJ, Lohman AW, Leitinger N, Barrett EJ, Lorenz UM, Desai BN, Jaffe IZ, Bayliss D, Isakson BE, Ravichandran KS, Pannexin 1 Channels as an Unexpected New Target of the Anti-Hypertensive Drug Spironolactone., 2017; Circulation research. () . PMID: 29237722 | PMCID: PMC5815904
Gray SM, Aylor KW, Barrett EJ, Unravelling the regulation of insulin transport across the brain endothelial cell., 2017; Diabetologia. 60(8) 1512-1521. PMID: 28601906 | PMCID: PMC5534844
Kusters YH, Schalkwijk CG, Houben AJ, Kooi ME, Lindeboom L, Op 't Roodt J, Joris PJ, Plat J, Mensink RP, Barrett EJ, Stehouwer CD, Independent tissue contributors to obesity-associated insulin resistance., 2017; JCI insight. 2(13) . PMID: 28679946 | PMCID: PMC5499371
Barrett EJ, Liu Z, Khamaisi M, King GL, Klein R, Klein BEK, Hughes TM, Craft S, Freedman BI, Bowden DW, Vinik AI, Casellini CM, Diabetic Microvascular Disease: An Endocrine Society Scientific Statement., 2017; The Journal of clinical endocrinology and metabolism. 102(12) 4343-4410. PMID: 29126250 | PMCID: PMC5718697
Chai W, Fu Z, Aylor KW, Barrett EJ, Liu Z, Liraglutide prevents microvascular insulin resistance and preserves muscle capillary density in high-fat diet-fed rats., 2016; American journal of physiology. Endocrinology and metabolism. 311(3) E640-8. PMID: 27436611 | PMCID: PMC5142002
Kusters YH, Barrett EJ, Muscle microvasculature's structural and functional specializations facilitate muscle metabolism., 2015; American journal of physiology. Endocrinology and metabolism. 310(6) E379-87. PMID: 26714849 | PMCID: PMC4888529
Rynders CA, Weltman JY, Malin SK, Jiang B, Breton M, Barrett EJ, Weltman A, Comparing Simple Insulin Sensitivity Indices to the Oral Minimal Model Postexercise., 2015; Medicine and science in sports and exercise. () . PMID: 26154337
Wang H, Wang AX, Aylor K, Barrett EJ, Caveolin-1 phosphorylation regulates vascular endothelial insulin uptake and is impaired by insulin resistance in rats., 2015; Diabetologia. 58(6) 1344-53. PMID: 25748795 | PMCID: PMC4417063
Zhao L, Fu Z, Wu J, Aylor KW, Barrett EJ, Cao W, Liu Z, Globular adiponectin ameliorates metabolic insulin resistance via AMPK-mediated restoration of microvascular insulin responses., 2015; The Journal of physiology. 593(17) 4067-79. PMID: 26108677 | PMCID: PMC4575587
Zhao L, Fu Z, Wu J, Aylor KW, Barrett EJ, Cao W, Liu Z, Inflammation-induced microvascular insulin resistance is an early event in diet-induced obesity., 2015; Clinical science (London, England : 1979). () . PMID: 26265791 | PMCID: PMC4613534
Chai W, Zhang X, Barrett EJ, Liu Z, Glucagon-like peptide 1 recruits muscle microvasculature and improves insulin's metabolic action in the presence of insulin resistance., 2014; Diabetes. 63(8) 2788-99. PMID: 24658303 | PMCID: PMC4113068
Fu Z, Zhao L, Aylor KW, Carey RM, Barrett EJ, Liu Z, Angiotensin-(1-7) recruits muscle microvasculature and enhances insulin's metabolic action via mas receptor., 2014; Hypertension. 63(6) 1219-27. PMID: 24711523 | PMCID: PMC4030711
Hallmark R, Patrie JT, Liu Z, Gaesser GA, Barrett EJ, Weltman A, The effect of exercise intensity on endothelial function in physically inactive lean and obese adults., 2014; PloS one. 9(1) e85450. PMID: 24465565 | PMCID: PMC3896361
Gray SM, Meijer RI, Barrett EJ, Insulin regulates brain function, but how does it get there?, 2014; Diabetes. 63(12) 3992-7. PMID: 25414013 | PMCID: PMC4237995
Barrett EJ, Keske MA, Rattigan S, Eringa EC, CrossTalk proposal: De novo capillary recruitment in healthy muscle is necessary., 2014; The Journal of physiology. 592(0) 5129-31. PMID: 25448178 | PMCID: PMC4262322
Zhao L, Chai W, Fu Z, Dong Z, Aylor KW, Barrett EJ, Cao W, Liu Z, Globular adiponectin enhances muscle insulin action via microvascular recruitment and increased insulin delivery., 2013; Circulation research. 112(9) 1263-71. PMID: 23459195 | PMCID: PMC3971643
Wang H, Wang AX, Aylor K, Barrett EJ, Nitric oxide directly promotes vascular endothelial insulin transport., 2013; Diabetes. 62(12) 4030-42. PMID: 23863813 | PMCID: PMC3837040
Wang H, Wang AX, Barrett EJ, Insulin-induced endothelial cell cortical actin filament remodeling: a requirement for trans-endothelial insulin transport., 2012; Molecular endocrinology (Baltimore, Md.). 26(8) 1327-38. PMID: 22734037 | PMCID: PMC3404295
Barrett EJ, Eringa EC, The vascular contribution to insulin resistance: promise, proof, and pitfalls., 2012; Diabetes. 61(12) 3063-5. PMID: 23172953 | PMCID: PMC3501887
Chan A, Barrett EJ, Anderson SM, Kovatchev BP, Breton MD, Muscle microvascular recruitment predicts insulin sensitivity in middle-aged patients with type 1 diabetes mellitus., 2011; Diabetologia. 55(3) 729-36. PMID: 22167126 | PMCID: PMC3329963
Barrett EJ, Wang H, Upchurch CT, Liu Z, Insulin regulates its delivery to skeletal muscle by feed-forward actions on the vasculature., 2011; American journal of physiology. Endocrinology and metabolism. 301(2) E252-63. PMID: 21610226 | PMCID: PMC3154531
Liu J, Jahn LA, Fowler DE, Barrett EJ, Cao W, Liu Z, Free fatty acids induce insulin resistance in both cardiac and skeletal muscle microvasculature in humans., 2010; The Journal of clinical endocrinology and metabolism. 96(2) 438-46. PMID: 21047922 | PMCID: PMC3048322
Womack L, Peters D, Barrett EJ, Kaul S, Price W, Lindner JR, Abnormal skeletal muscle capillary recruitment during exercise in patients with type 2 diabetes mellitus and microvascular complications., 2009; Journal of the American College of Cardiology. 53(23) 2175-83. PMID: 19497445 | PMCID: PMC2722783
Irving BA, Davis CK, Brock DW, Weltman JY, Swift D, Barrett EJ, Gaesser GA, Weltman A, Effect of exercise training intensity on abdominal visceral fat and body composition., 2008; Medicine and science in sports and exercise. 40(11) 1863-72. PMID: 18845966 | PMCID: PMC2730190