Robert Carey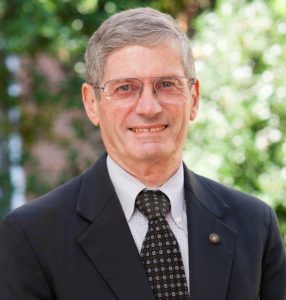 Robert M. Carey, M.D., M.A.C.P.
Professor of Medicine
Dean Emeritus, School of Medicine
University of Virginia
Clinical Expertise
Dr. Robert M. Carey is a world renowned clinical endocrinologist and leader in the field of cardiovascular endocrinology. He is past recipient of the Distinguished Physician Award of The Endocrine Society and was President of The Endocrine Society 2008-9.
Dr. Carey is a general clinical endocrinologist with special expertise in the hormonal causes of high blood pressure, body fluid and electrolyte disturbances and adrenal disorders. Throughout his career, Dr. Carey has provided clinical care in general endocrinology, cardiovascular endocrinology, adrenal disease and hypertension.  He has particular expertise in the following areas: primary hypertension, drug resistant hypertension, secondary hypertension, diabetes with hypertension, renovascular hypertension, hyperlipidemia, adrenal mass lesions, primary aldosteronism, pheochromocytoma, Cushing's syndrome, adrenal insufficiency, congenital adrenal hyperplasia, hypokalemia, hyperkalemia, hyponatremia, syndrome of inappropriate vasopressin secretion, diabetes insipidus, carcinoid syndrome, and neuroendocrine tumors.
Research Description
Dr. Carey's research is focused on understanding the pathophysiologic mechanisms of hypertension. He is studying the function of dopamine and angiotensin receptors in the kidney , heart and peripheral blood vessels. His laboratory has pioneered the discovery of the function of renal D1-like receptors and angiotensin AT-2 receptors. Current projects involve the role of AT-2 receptors in sodium excretion and hypertension; the interaction of dopamine receptors with angiotensin receptors within the kidney, the role of extracellular renal cyclic GMP in pressure-natriuresis and the role of urinary angiotensinogen as a marker for activation of the intrarenal renin-angiotensin system.
Research Funding
NIH/NHLBI R01 HL12818904 (4/1/2016 – 3/31/2021)
Collaborators
University of Virginia
Robin A. Felder, Ph.D., Professor of Pathology and Director of the
Medical Automation Research Center, University of Virginia
John J. Gildea, Ph.D., Research Scientist, Department of Pathology,
University of Virginia
Helmy M. Siragy, M.D., Professor of Medicine, Division of
Endocrinology and Metabolism, Department of Medicine, University of Virginia
Pedro A. Jose, M.D., Ph.D., Professor of Pediatrics, Georgetown
University School of Medicine, Washington, DC
Christopher M. Kramer, M.D., Associate Professor of Radiology and
Medicine, University of Virginia
R. Arial Gomez, M.D., Professor of Pediatrics and Vice President for Research, University of Virginia
Robert L. Chevalier, M.D., Professor and Chair, Department ofPediatrics, University of Virginia
Ammasi Periasamy, Ph.D., Research Professor of Biology and Director, Cell Imaging Center, University of Virginia
Richard L. Guerrant, Professor of Medicine, Division of Infectious
Disease, Department of Medicine, University of Virginia
Paula Q. Barrett, Ph.D., Professor of Pharmacology, University of Virginia
Timothy L. MacDonald, Ph.D., Professor and Chair, Department of
Chemistry, University of Virginia
Brian R. Duling, Ph.D., Professor of Molecular Physiology and Biological Physics, University of Virginia
Theodore E. Mifflin, Ph.D., Associate Professor of Pathology, University of Virginia
National
Bradford C. Berk, M.D., Ph.D., Professor and Chair, Department of Medicine, University of Rochester College of Medicine and Dentistry, Rochester, NY
Tadashi Inagami, M.D., Professor of Biochemistry, Vanderbilt University, Nashville, TN
Scott M. Williams, Ph.D., Associate Professor of Medicine, Division of Cardiovascular Medicine, Vanderbilt University, Nashville, TN
International
Anita Aperia, M.D., Professor of Pediatrics, The Karolinska
Institute, Stockholm, Sweeden.
Marc deGasparo, M.D., Novartis Pharmaceuticals, Inc. Basel, Switzerland
Contact Us
Robert M. Carey, M.D.
David A. Harrison III Distinguished Professor of Medicine
Dean, Emeritus, and University Professor
University of Virginia School of Medicine
PO Box 801414, University of Virginia Health System
Charlottesville, VA 22908
Telephone: 434-924-5510
Fax: 434-982-3626
Email: rmc4C@virginia.edu