John Marshall
John C. Marshall, MD, PhD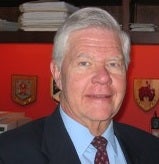 Professor of Medicine, Endocrinology and Metabolism
Dr. John Marshall is the Director for the Center for Research in Reproduction at the University of Virginia. His primary research focus is the understanding and treatment of disorders of reproduction with a focus on the underlying mechanisms of polycystic ovary syndrome (PCOS). Research on PCOS in the Center for Research in Reproduction is funded through the National Institutes of Health under the U54 Specialized Cooperative Centers Program in Reproduction Research.
Dr. Marshall's laboratory conducts research into two main areas of reproductive endocrinology:
Clinical research program:
General clinical research (GCRC) studies focus on the hypothalamic abnormalities leading to the persistent, rapid frequency of GnRH (LH) pulse secretion in women with polycystic ovarian syndrome (PCOS) and hyperandrogenemia. We have demonstrated that excess androgens inhibit the ability of progesterone to suppress the frequency of GnRH pulse secretion, and this can be corrected by anti-androgens. On-going studies focus on the evolution of this hypothalamic abnormality during puberty and adolescence. Current projects aim to delineate if elevated androgens during puberty are causally related to the evolution of the hypothalamic feedback abnormalities and subsequently to LH excess in PCOS. The studies offer trainees exposure to the challenges of hypothesis-driven human subject investigation, interactions with human investigation committees, protocol writing, subject recruitment, and formal involvement in applied statistics.
Funding: NIH U54 HD28934 (Eunice Kennedy Shriver NICHD Specialized Cooperative Centers Program in Reproduction and Infertility Research, Marshall PI Master, 04/01/14–03/31/19)
Basic research program:
This research investigates the intracellular mechanisms involved in the regulation of differential LH and FSH synthesis in the pituitary gonadotrope. The development of primary transcript assays to quantitate gene transcription in normal cells has allowed near real-time assessment of LH and FSH transcription. We are focused on gonadotrope responses to changes in the frequency of GnRH pulse stimulation with rapid frequency pulses favoring LH, and slower pulses FSH transcription. A major goal is to delineate the roles of the intragonadotrope activin betaB/follistatin system in modulation of GnRH stimulation of FSH synthesis. Similarly, studies aim to determine the specific intracellular 2nd and 3rd messenger pathways, which transmit GnRH signal frequency information from the plasma membrane to the nucleus. Other work has focused on the actions of gonadal steroids in stimulating gonadotropin gene expression. Testosterone directly enhances FSHbeta transcription, and non-genomic mechanisms involving the ERK pathway appear to be involved in this effect. A variety of laboratory techniques, from in-vivo small animal surgery, in-vitro cell cultures, quantitation of primary transcripts and mRNA expression using real-time PCR, and gel techniques demonstrating enhanced phosphorylation of 3rd messenger pathways, are all operational in the laboratory.
Co-investigators / collaborators (clinical research):
Christopher R. McCartney, MD (Associate Professor)
Christine Burt Solorzano, MD (Assistant Professor, Pediatric Endocrinology and Metabolism)
Ruchi Bhabhra, MD, PhD (Endocrine Fellow)
Amy Anderson, DO, MPH (Endocrine Fellow)
Eleanor Hutchens, MD (Endocrine Fellow)
Anne Gabel (Clinical Research Coordinator)
Lab Members