Meet the Chief
Mohan Nadkarni, MD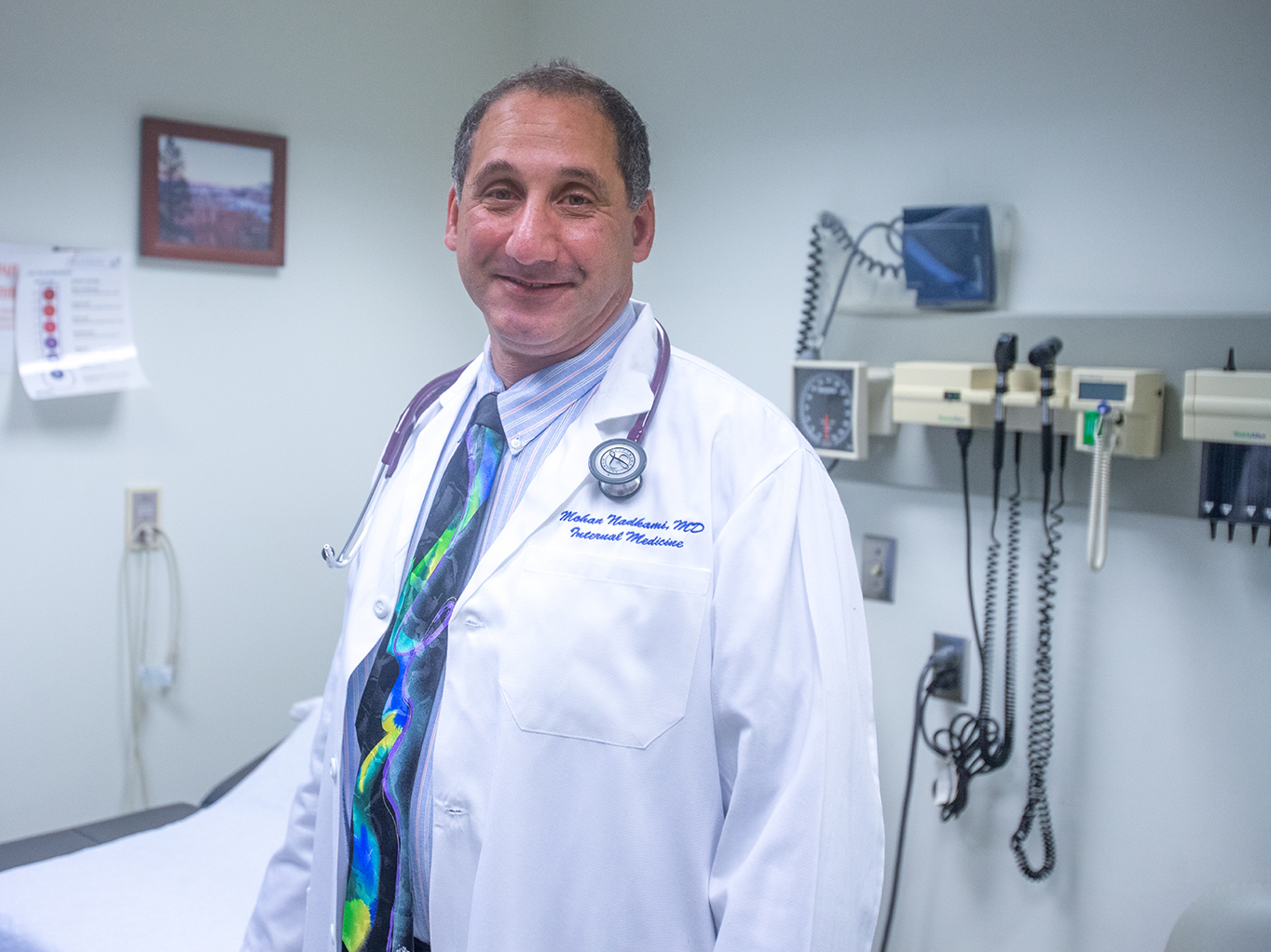 Mohan Nadkarni, known to all as "Mo," is the Harry T. Peters Jr. Professor of Medicine and a David A. Harrison Distinguished Educator at the UVA School of Medicine. He grew up in Bethesda, Maryland, the son of a Hindu father and Jewish mother; together, he says, "they shaped my interest in caring for others." After graduating from Harvard, "I bartended and phlebotomized my way through medical school at the University of Pennsylvania"; he then spent a fellowship year at the organization "Public Citizen" in Washington, D.C., working in medical consumer advocacy. He came to Charlottesville in 1990 for a residency in internal medicine, then worked as a rural primary care physician for underserved patients in Buckingham County, Virginia, at the Central Virginia Community Health Center from 1993-1999.
With the encouragement of Michael Thorner, MD, who was then chair of the Department of Medicine, Dr. Nadkarni came back to UVA in 1999 as a full-time faculty member in the Department of Medicine, charged with revamping University Medical Associates, the department's continuity practice for internal medicine residents. He also took on the role of directing ambulatory education for medical students and residents. In 2011, Dr. Nadkarni became head of the General Internal Medicine Section of the Division of General Medicine, Geriatrics & Palliative Care; and in 2014, he succeeded Margaret Plews-Ogan as chief of the division.
Dr. Nadkarni co-founded the Charlottesville Free Clinic in 1992, at the start of his residency, and was recognized in 2013 for his long-time dedication and service to the CFC with a "Physician Volunteer Champion" award from the Virginia Association of Free & Charitable Clinics. He has received numerous clinical and teaching awards as well as the University's Lifetime Achievement Award for Public Service.
In 2006 Dr. Nadkarni founded and currently directs the Social Issues In Medicine course required of all medical students. Through this community service-learning course, UVA Medical students have provided over 70,000 hours of community service in the local community.
In 2020 Dr. Nadkarni began directing the UVA Health Community COVID testing and vaccination outreach program, providing over 18,000 Covid tests and vaccines to local underserved patient populations.
Dr. Nadkarni enjoys coaching and playing basketball and tennis. He has coached over 1000 youth sports games. He has a taste for adventure travel and has skydived, paraglided, and climbed Mount Kilimanjaro. He shares seven grown sons with his wife Andrea.
"I have always been drawn to healthcare for the underserved as one of the most direct ways of helping people who need it most. I love the feeling of knowing that, perhaps by just listening and being with a patient, I may help them through their darkest time. I also love teaching residents and medical students, particularly about social influences on the health of their patients."