Hospital Medicine
The Hospital Medicine section is led by Amber Inofuentes, MD.
Physicians trained in internal medicine who practice exclusively in the hospital setting are called "hospitalists." They serve as the hub in the many-spoked wheel of patient care, which may require, for a single patient, an array of services and specialists. The goal of UVA hospitalists is to ensure that patients receive seamless, appropriate, and coordinated care, from admission through discharge.
About the UVA Hospital Medicine Program
At UVA, hospitalists provide patient care while also serving as attendings on general medicine wards and teaching residents in the Internal Medicine Residency program. Each hospitalist service has a daily census of ten to 20 patients, with patient care coordinated by hospitalists in conjunction with the internal medicine house staff.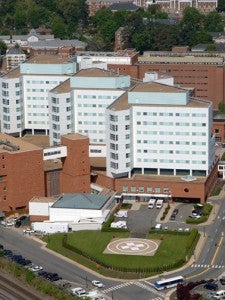 The Hospital Medicine section also provides hospitalist services at UVA's Transitional Care Hospital, a long-term acute care facility. Hospitalists there have a maximum census of 14 patients per provider.
The Hospital Medicine section runs a consulting service that assists specialists from other fields with general medicine issues; the number of patients seen through this service varies widely from day-to-day. While this practice tends to be focused on the medicine wards, several other wards and units draw on this service as well.
Over the last several years, the hospital medicine practice at UVA has grown rapidly in both size and scope of services offered. A number of new physicians have been recruited to join the team, including doctors with many years of experience in hospital medicine and healthcare leadership.
More about the Practice of Hospital Medicine
"Hospital medicine is at the forefront of all of the big issues in healthcare — including quality of care, patient safety, length of stay, and reducing readmissions." – UVA Hospitalist Ben Sneed, MD
Hospitalists interact with just about everybody on a patient's care team — and, of course, with patients and their families. They are in constant communication with unit nurses and physicians, particularly in the emergency room setting. Nursing aides, physical and occupational therapists, unit coordinators, nutritionists, pharmacists, case managers, social workers, chaplains — all are essential spokes in the wheel.
The practice of hospital medicine is, by its nature, collaborative, and interdisciplinary. One example is the program launched in collaboration with the Department of Orthopedic Surgery in 2014, which provides co-management of internal medicine care for orthopedic surgery patients in the hospital. A hospitalist co-attends on patients who have acute or chronic medical problems, working with the orthopedic surgery team to improve the quality of care. The change helped the hospitalist team develop expertise in perioperative medicine, and professional collaboration with orthopedic surgeons has been highly rewarding.
Transitions of care — including the transfer of patients to UVA from outside hospitals; transfer of patients within UVA Hospital, from one unit to another; and discharge of patients  — are critical steps, both for patient safety and quality of care.
When patients are at the hospital, the hospitalist team seeks to limit the number of times they are "handed off" from one physician to another — and they maintain a tight focus on quality when hand-offs are necessary.
The transition from hospital to home – or wherever patients go to — is one of the most important for their long-term recovery. When patients are discharged, the focus of the hospitalist team is on communication: making sure both patients and their primary care physicians have detailed information about the services and care provided, including any changes in medications and new diagnoses for which treatment was initiated. Another key step is tracking when and with whom patients have their first follow-up visits after discharge.
Key patient safety and quality of care issues tracked by UVA hospitalists are urinary tract infections associated with indwelling catheters. Catheter-related infectious are both a safety issue for patients and a cost and quality issue for hospitals since they are considered avoidable hospital-associated complications. Reducing catheter use is one strategy; reducing the length of time they are indwelling is another.
Other key issues for hospitalists include prevention of central venous catheter-associated infections; prevention of sepsis, and best practices for treating it when it occurs; and blood sugar control in patients with diabetes.
Hospitals and physicians are increasingly being compared to peers in measures of patient safety, quality, and cost of care; reducing the overall cost of hospital care is essential. Because hospitalists are focused on providing excellent patient care in the most efficient and economical manner possible, they are at the leading edge of these changes.