March 2017 E-Journal Club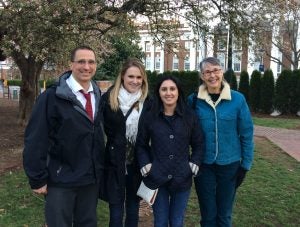 Greetings,
We hosted 2 trainees in March that hailed from Dublin, California and White Plains, NY.  The week started out cool, but felt like spring by mid-week.  Our journal club article was another study of an "aggressive" protocol to increase early nutrition delivery in the adult ICU patient.
March Citation:
Yeh DD, Cropano C, Quraishi SA, et al. Implementation of an Aggressive Enteral Nutrition Protocol and the Effect on Clinical Outcomes. Nutr Clin Pract. 2017;32(2):175-181.
Summary:
This was a cohort study of 213 adult surgical ICU patients to determine if a modified enteral nutrition (EN) protocol consisting of an increased protein goal and "compensatory feeding" after EN interruption would increase nutrient delivery and improve outcomes compared to historical controls.  Nutrition goals for historical controls were based on 25 kcals/kg and 1.5 gm protein/kg. The intervention group had a similar calorie goal, but encouraged volume-based feeding with increasing feeding rates after EN was interrupted, in addition to an increased protein goal of 2 gm/kg.
The primary study outcome was late infectious complications (> 96 hours after ICU admission).  Additional clinical outcomes monitored included hospital and ICU length of stay, 28-day ventilator free days, mortality, discharge destination and "complications" (subdivided into total complications, infectious complications, GI complications, and cardiac complications).
Inclusion and Exclusion Criteria:
Inclusion criteria:
Adult surgical ICU patients who received >72 hours of EN from July 2012 to June 2014.
Exclusion criteria:
Patients who received EN prior to the ICU admission and those with a previous ICU stay during the same hospital admission.
Major Results:
There were 119 patients in the intervention group and 94 in the control group.  Baseline characteristics of the 2 groups were similar, except the mean APACHE II score was significantly greater in the intervention group (17 ± 8 vs 14 ± 6, P = .002) and the median Charlson Comorbidity
Index was significantly greater in the intervention vs control group (3: IQR 1–5 vs 2: IQR 0–3; P < .001, respectively).
A significantly greater percentage of the intervention group received protein supplements (58% vs 28%, P < 0.0001), and the intervention group received statistically significantly more calories/kg (18.6 kcal/kg/d vs 16.5 kcal/kg/d, P = 0.005) and protein/kg (1.2 g/kg/d vs 0.8 g/kg/d, P <0.0001). Additionally, the intervention group received a greater percentage of prescribed calories (77% vs 68%, P = 0.0004) and protein (93% vs 64%, P < 0.0001), while accumulating a lower cumulative protein deficit (123 g vs 298 g, P < 0.0001) compared with control patients.
The ICU LOS and hospital LOS were both significantly shorter in the intervention group (10 [7–17] vs 15 [10–27] days, P = 0.0003 and 20 vs 29 days P < 0.0001, respectively). In the intervention group, there was a trend of fewer late infections (mean 0.7 vs 0.9, P = 0.07). A regression analysis that adjusted for age, sex, BMI, APACHE II score, and GI surgery demonstrated that the aggressive EN protocol was associated with a significantly lower risk of late infection (adjusted risk ratio, 0.69; 95% confidence interval, 0.50–0.95; P = .024).
Thirty-day mortality was significantly increased in the intervention group compared to the control group (13.6 intervention vs 7.4% control, P = 0.038), but hospital mortality was not significantly different between the groups.
Author's Conclusions:
"…a more aggressive EN protocol increasing protein prescription targets and enabling compensatory feedings was associated with improved nutrient delivery and decreased incidence of late (>96 hours after ICU admission) infections. The implications of these findings are that early aggressive EN may be of more benefit for patients requiring longer ICU stay and the effects of macronutrient adequacy may not be evident in the first few ICU days. These results should be confirmed in randomized controlled trials."
Evaluation:
This was a single-center, unblinded cohort study with a modest number of patients.  The fact that baseline APACHE II score and Charlson Comorbidity
Index were significantly different between the 2 groups raises the immediate concern that any differences in patient outcomes may not be the result of differences in nutrition provision (alone). The authors do not describe how the duration of the study, or number of patients included in the groups was decided, nor how many patients were in the ICU during the same period but were unable to be included in the data collection.
The investigators reported that although compensatory "volume-based" feeding was encouraged, they did not have ongoing programs to encourage compliance with compensatory feeding schedules, which resulted in a modest difference in calorie delivery between the groups. Mean calorie delivery was hypocaloric in both groups (18.6 kcal/kg/d intervention, 16.5 kcal/kg/d control).
Protein delivery was more successfully increased in the intervention group through the use of protein modules delivered independently of EN, and then scanned and recorded in the EMR similar to medications.
Although ICU and hospital LOS were significantly shorter, and there was a trend towards fewer late infections (significant after adjustment), the fact that 30-day mortality was significantly increased is concerning.
Although there was a trend towards fewer late infections, this is an unbinded study with a modest number of patients, and the groups were not well matched right from the start.  It is simply not possible to statistically control for all factors that influence outcome, which is why we need to do randomized studies. This study is certainly too small to make strong conclusions about mortality, especially in light of differences between the groups at baseline.  However, other studies of compensatory, volume-based feeding have revealed no benefits and potential negative consequences of substantially increasing feeding rate after EN is interrupted.(1-3) Considering that there are no large randomized studies demonstrating positive outcome with volume-based feeding, and the previous overall trend of data is negative (or trends towards negative) outcomes, the current weight of evidence appears to be to avoid volume-based feeding in critically ill patients until much larger randomized studies are available.
Our Take Home Message(s)
Increasing protein goals and providing modular protein supplements appears to allow increased protein provision in surgical ICU patients.
The improvements in morbidity (decreased late infections) are offset by the increased 30-day mortality with the studied feeding regimen.
Large randomized studies are needed before wholesale adoption of volume-based feedings are routinely used in the adult ICU patient.
References:
Braunschweig CA, Sheean PM, Peterson SJ, et al. Intensive Nutrition in Acute Lung Injury: A Clinical Trial (INTACT). JPEN J Parenter Enteral Nutr 2015;39(1):13-20.
Compher C, Chittams J, Sammarco T, et al.  Greater Protein and Energy Intake May Be Associated With Improved Mortality in Higher Risk Critically Ill Patients: A Multicenter, Multinational Observational Study. Crit Care Med. 2017;45(2):156-163.
Taylor B, Brody, Denmark R, Southard R, Byham-Gray L. Improving Enteral Delivery Through the Adoption of the "Feed Early Enteral Diet Adequately for Maximum Effect (FEED ME)" Protocol in a Surgical Trauma ICU: A Quality Improvement Review. Nutr Clin Pract. 2014;29(5):639-648.
Other News on the UVAHS GI Nutrition Website: (www.ginutrition.virginia.edu):
Having trouble seeing any of the resources on our page?  Retype www.GInutrition.virginia.edu into your browser to reach our newly updated page
Upcoming Webinars 2017:
May 10:  Blenderized Enteral Feeding
June 6:  Critiquing Clinical Practice Guidelines
Latest Practical Gastroenterology articles:
March 2017: Lactic Acidosis: A Lesser Known Side Effect of Thiamine Deficiency
April 2017:  Protein Losing Enteropathy: Diagnosis and Management
Joe Krenitsky MS, RDN
PS – Please feel free to forward on to friends and colleagues.