November 2017 E-Journal Club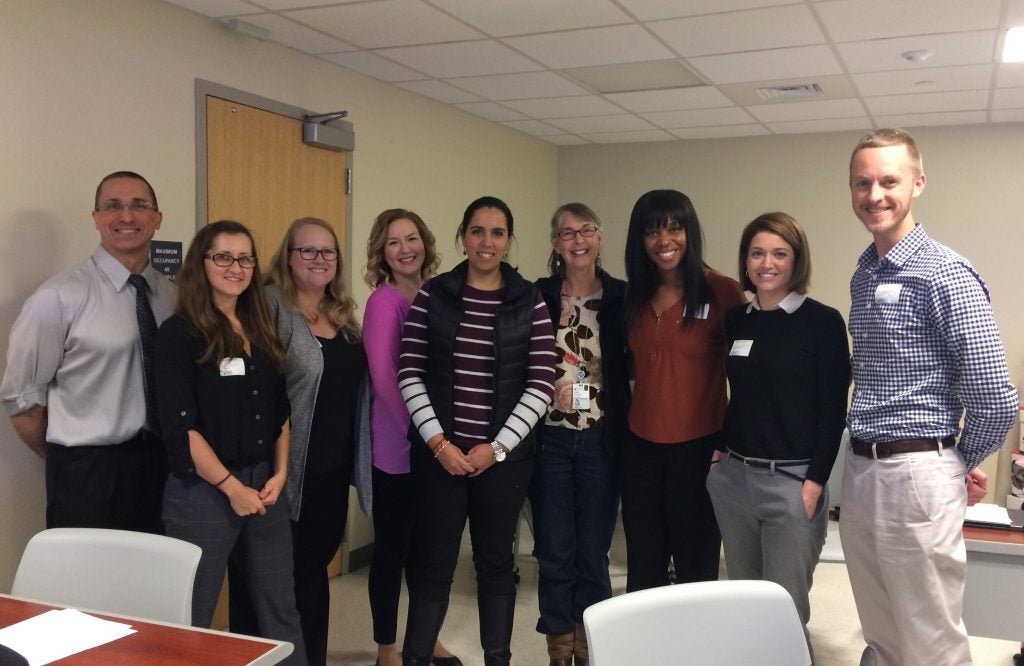 Greetings,
We held our first 3-day traineeship in November and it was a challenge to compress as much of the full traineeship as possible into 3 days. We hosted a wonderful and enthusiastic group of trainees that made it feel like the time flew by even faster!
Our journal club article in November was not brand new, but we had not previously critiqued it at journal club.
November Citation:
Plank LD, Mathur S, Gane EJ, et al. Perioperative immunonutrition in patients undergoing liver transplantation: a randomized double-blind trial. Hepatology. 2015;61(2):639-647.
Summary:
This was a prospective, randomized, double-blind clinical trial of patients on a liver transplant waiting list randomized to either peri-operative immunonutrition (IMN) or control formula. Preoperatively the IMN group received a powdered formula, that when reconstituted would provide 600 mL (1 kcal/mL), 34 gm protein, 7.5 g arginine, 2 g Omega-3 fatty acids, and 0.8 g ribonucleic acid. The control formula was similar in taste and calorie content, but only provided 26 gm protein, and had no supplemental arginine, no omega 3 fatty acids or RNA.
Post liver transplant, patients were fed via a nasojejunal tube within 12 hours of surgery and advanced to goal over 36 hours. The IMN and control formulas used postoperatively were isocaloric and isonitrogenous, but the IMN formula provided 12.4 gm arginine, 1.8 gm omega-3 fatty acids and 1.2 gm of RNA per liter of formula.
Body composition and muscle function were measured at study entry and, when possible, immediately prior to OLT and days 10, 30, 90, 180, and 360 days post transplant. The primary study outcome was total body protein (TBP) immediately pre-transplant and secondary outcomes included pre- and postoperative complications, body composition up to day 360, and muscle function as measured by handgrip strength and respiratory muscle strength.
Inclusion and Exclusion Criteria:
Inclusion criteria:
Patients 16 years of age or older listed for orthotopic liver transplantation (OLT) at the study facility.
Exclusion criteria:
Patients with acute liver failure and patients listed for re-transplant.
Major Results:
A total of 120 patients were randomized between November 2001 and July 2007. Four patients died on the waiting list in the control group and none in the IMN group (P = 0.055). An additional 15 patients were delisted (8 IMN, 7 CON). The remaining 101 patients underwent OLT. Patient characteristics were similar between the IMN and control groups, except cholestatic disease was more prevalent in the IMN group (8 IMN, 1 Control, statistical significance not reported). Malnutrition was reported in 52% of IMN patients and 59% of CON patients.
Seventy patients underwent assessments at both study entry and day of OLT. Assessment of 31 patients was not possible at the time of OLT due to logistical issues relating to the donor organ and recipient arrival at the hospital and scheduled time of surgery.
The was no significant difference between the IMN and control group in the preoperative change in the primary outcome of TBP, nor in the secondary measures of body weight, total body fat, grip strength, respiratory muscle strength, or fatigue score. Changes in TBP were 0.06 ± 0.15 (P = 0.69) in the IMN group and 0.12 ± 0.10 kg in the control (P = 0.26). Median MELD scores on day of transplant in both groups did not differ significantly from those at study entry. In the subgroup of patients who were malnourished at baseline, there were also no differences in preoperative TBP changes between groups. Adverse events were not different between groups in the preoperative period.
In the postoperative period, at days 10 and 30 the TBP had significantly decreased in both groups to a similar degree, with recovery in both groups by postoperative day 90.
There was no significant difference between the groups in clinical outcomes, including ICU and hospital length of stay, infectious complications, rejection, or complications over 12 months post-transplant. The incidence of major complications (grade 3 or higher) over the first 12 months was numerically greater in the control group (53%) compared to the IMN group (37%), but this was not statistically different.
Author's Conclusions:
"…we did not demonstrably improve nutritional status of waiting list patients prior to transplant with an immunonutritional intervention nor did we find evidence of improved early infectious complication rates posttransplant."
Evaluation:
The strengths of this study include the double-blind design, a sensitive marker for measurement of total body protein (neutron activation analysis), estimation of functional status (grip strength) and use of both pre-operative and post-operative feeding. One aspect of this study that immediately received our group's attention was the fact that the pre-admission control formula provided 23% less protein compared to the IMN formula (in addition to the 7.4 gm of additional amino acids provided by arginine in the IMN formula!). In a study with the primary outcome of total body protein, the formulas should have had similar protein content. The finding of no difference in total body protein, despite the difference in protein content of the formula, does highlight the notion that disease-induced malnutrition is not always amenable to nutrition intervention.
We also discussed the difficulties in trying to assure that patients will be compliant with their outpatient supplement regimen. The investigators did demonstrate that the serum EPA/DHA level of the immunonutrition group was significantly increased (compared to control), which suggests reasonable compliance with IMN formula consumption.
The authors also pointed out in the discussion section that one possible reason for the lack of difference between the groups in infectious complications was the possibility that post transplant anti-rejection medications may have negated any potential immunomodulation effects of the IMN formula.
Our Take Home Message(s)
Perioperative immunonutrition in patients undergoing liver transplantation does not appear to improve total body protein, functional status or outcomes compared to standard oral/enteral nutrition products.
Other News on the UVAHS GI Nutrition Website: (www.ginutrition.virginia.edu):
Latest PG Article: Have PN (Parenteral Nutrition)– Will Travel
Upcoming Webinars:
February 8: Nutrition in Acute Kidney Injury by Joe Krenitsky, MS, RD
March 20: Celiac Disease by Carol Rees Parrish, MS, RDJoe Krenitsky MS, RDN
PS – Please feel free to share with friends and colleagues.