Global Health Leadership Track
Track & Curriculum
Our Global Health Curriculum is a competitive specialized training track. Initially a joint collaboration between the departments of Internal Medicine and Family Medicine, it is now a multi-disciplinary track that includes residency programs from across the UVA Health System.
Residents have opportunities for international research and clinical electives in cooperation with the UVA Center for Global Health. Our most active elective sites are in Guatemala, Uganda, and South Africa. During the clinical electives, residents learn about diseases relevant to the local population, experience a different healthcare system, and discover a new culture in a safe, appropriately supervised environment. Residents contribute to the academic learning environment at partner sites by attending and leading teaching conferences; upon their return, they are expected to give a presentation about their experience to the UVA Department of Medicine.
Residents apply for positions during the intern year. Currently 2 to 4 internal medicine residents are accepted annually. The local didactic curriculum extends through the PGY-2 and PGY-3 years. Residents from many departments come together for discussions in monthly journal clubs or attend dinners with invited speakers. Two-week, intensive courses are offered each January. The first of these is on global health policy and practice and the second is infectious disease focused, examining diseases of burden in low and middle-income countries. Residents also have the opportunity to work in a Travelers ID clinic and the International Family Medicine Clinic, which serves refugees brought to the U.S. by the Charlottesville chapter of the International Rescue Committee.
Resident Testimonials
The Global Health Leadership Track has been a major highlight of my residency experience. I've had the opportunity to travel to Uganda and work directly with the Uganda Ministry of Health and the World Health Organization on a variety of projects, including outbreak response and Malaria incidence modeling. In addition to public health-oriented work, I've also had the privilege of working with, and learning from, colleagues from Uganda on the wards in the regional referral hospitals throughout the country. This exposure to tropical medicine has been priceless and lends well to my career aspirations in infectious disease.
The international work has been further complemented by the dedicated course work in January or February of each year. It allows for crucial camaraderie and shared experiences across specialties within the GHLT itself, which I have found incredibly valuable in navigating the complexities of international work. Through the GHLT I have built relationships and had valuable experiences both within the US and internationally that have truly made me a better physician and global citizen.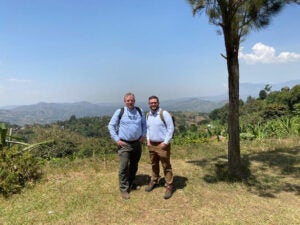 The global health leadership track broadened my perspective and horizons as a physician. Through various didactic and clinical experiences over the course of two years, we learned about tropical medicine, global and local health policy, health advocacy and various systems of delivery worldwide. I was able to care for patients at home through the International Refugee clinic at UMA, and abroad on a rotation in Honduras. With the help of my advisors in the track, I spent one month in Roatan, Honduras providing direct patient care at a primary care clinic and local emergency department. I also helped with a longitudinal quality improvement project aimed at chronic care for patients with asthma. I will carry these experiences with me throughout my career, as I look forward to spending time abroad improving healthcare delivery to underrepresented populations. Truly, I believe I am a better physician for my time in the GHLT.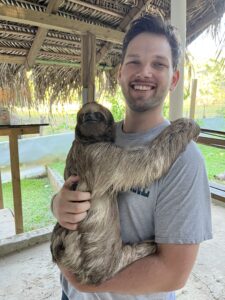 Global health has been an aspect of medicine that has resonated well with my career goals since an undergraduate. The GHLT promises an incredible and humbling opportunity to understand medicine beyond the US healthcare system, not to mention unforgettable memories and experiences.
Along with two of my co-residents, I was selected to work in a teaching hospital in Mbarara, Uganda. As a visiting resident physician, our roles were to provide input in clinical reasoning and collaborate with local physicians (residents and attendings) in decision-making, together with teaching third- and fourth-year medical students on medicine wards.
My time in Uganda has not only helped me see my travels as a way to enact global change on a personal level, but also as much-needed opportunities for reflection and learning. I plan to pursue a career in gastroenterology and hepatology and hope to someday provide sustainable management of complex liver disease on a global scale. As my career unfolds, I plan to continue passing on my knowledge and experiences at UVA to healthcare workers abroad.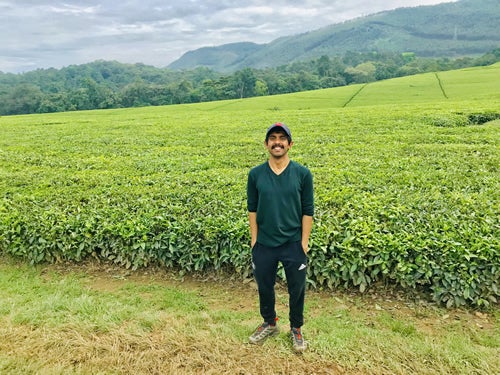 One of the reasons I chose to train at UVA was the opportunity to participate in the Global Health Leadership Track (GHLT) and experience international health during residency. The track provides classes on tropical medicine and global health policy, as well as allowing two months abroad during residency. The ability to go abroad twice during residency provides the opportunity for longitudinal relationships for research, teaching, and clinical work.
I spent my time in Mbarara, Uganda at a regional hospital. I spent the majority of my time doing rounds on the clinical wards in the hospital. This experience allowed me to learn about the practice of medicine in a lower-resource environment that focuses more on physical exam and cost-conscious medicine. It also allowed me to see different disease processes that are not as common in the U.S. I had the opportunity to teach Ugandan medical students on clinical rounds as well as in classroom experiences. The GHLT has taught me to be a better physician, in addition to providing the chance to travel and experience medicine in a different culture during residency.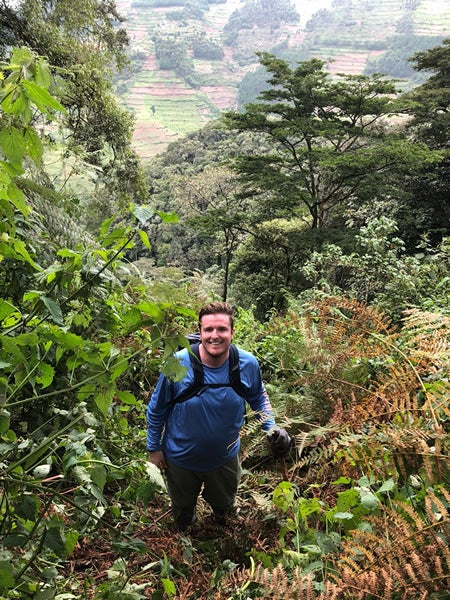 The Global Health Leadership Track is an amazing opportunity to work abroad, learn from seasoned mentors, and gain experience in research. By having a dedicated month abroad during both the second and third year of training, residents are able to develop relationships in their overseas practice site and develop projects based on an assessment of community needs. My time in Thohoyandou, South Africa, has given me a completely unique perspective and shaped my future goals as a physician.
Like many countries, South Africa has a shortage of physicians and nurses. Because of this, they rely on community healthcare workers to identify patients who need to be seen in clinic. Working with local department of health officials, we are comparing clinic appointment and medication adherence in those who see community healthcare workers versus those who do not. These data will help determine funding provided by the government. The project allowed me to integrate my residency training with clinical research, healthcare policy, and international experience.