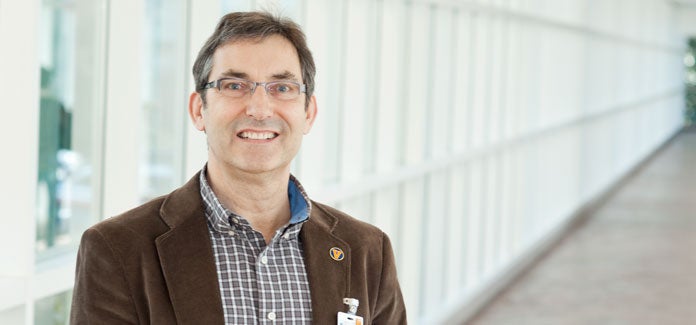 Congratulations to Center for Membrane and Cell Physiology Director, Lukas Tamm, PhD, Professor of Molecular Physiology and Biological Physics, for being elected to receive a Humboldt Research Award. This honor is awarded by the Alexander von Humboldt Foundation, a group dedicated to promoting academic cooperation between excellent scientists and scholars from abroad and from within Germany.
According to the foundation's website, "The award is granted in recognition of a researcher's entire achievements to date to academics whose fundamental discoveries, new theories, or insights have had a significant impact on their own discipline and who are expected to continue producing cutting-edge achievements in the future." Dr. Andreas Herrmann from the Humboldt-University, Berlin, Germany, nominated Dr. Tamm for this award.
On receiving the award, Dr. Tamm says, "This is a wonderful opportunity to expand my research into new areas and get access to specialized technologies that are available only in a very few places in the world."
As an awardee, Dr. Tamm is invited to spend time in cooperating on a long-term research project with specialist colleagues at one or more research institutions in Germany. Please join us in congratulating Dr. Tamm on this wonderful honor!