Nataliya Skrypnyk, MD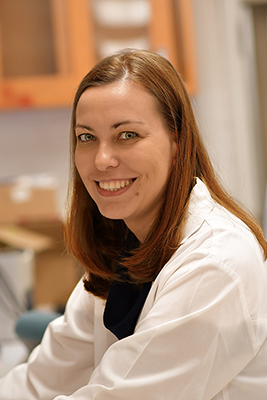 PRIMARY APPOINTMENT:
Instructor of Medicine
CONTACT:
UVA Division of Nephrology
P.O. Box 800133
Charlottesville, Virginia 22908
Telephone: 434- 924-2127
Fax: 434-924-5848
Email: ns7hx@virginia.edu
EDUCATION AND TRAINING:
MD, Danylo Halytsky Lviv National Medical University
RESEARCH AREAS:
Preventative mechanisms against AKI, AKI to CKD transition, mechanisms of CKD progression.
Lab Images
RESEARCH SUMMARY:
In the laboratory of Dr. Okusa I'm focusing on the role of S1P receptors in the rodent models of AKI. In the Dr. Lobo laboratory I'm studying involvement of innate immunity in the CKD progression and the role of natural IgM in the recovery after AKI.
SELECTED PUBLICATIONS:
Chiusa M, Hu W, Liao HJ, Su Y, Borza CM, de Caestecker MP, Skrypnyk NI, Fogo AB, Pedchenko V, Li X, Zhang MZ, Hudson BG, Basak T, Vanacore RM, Zent R, Pozzi A.The Extracellular Matrix Receptor Discoidin Domain Receptor 1 Regulates Collagen Transcription by Translocating to the Nucleus. (2019) DOI: 10.1681/ASN.2018111160
Ciara M. Shaver, Melinda G. Paul, Nathan D. Putz, Stuart R. Landstreet,Nataliya I. Skrypnyk,Mark P. de Caestecker, Lorraine B. Ware. Cell-free hemoglobin augments acute kidney injury during experimental sepsis. AJP Renal Physiology (2019) DOI: 10.1152/ajprenal.00375.2018
Benjamin M. Fox1, Hyo-Wook Gil1, Rushita A. Bagchi, Sara A. Wennersten, Korey R. Haefner, Nataliya I. Skrypnyk, Carolyn N. Brown, Danielle E. Soranno, Katja M. Gist, Benjamin R. Griffin, Anna Jovanovich, Charles L. Edelstein, Nathan Clendenen, Timothy A. McKinsey, Christopher Altmann and Sarah Faubel. Metabolomics assessment reveals oxidative stress and altered energy production in the heart after ischemic acute kidney injury in mice. Kidney International (2019) 95, 590-610
Skrypnyk NI, [additional authors], de Caestecker MP. Pyridoxamine reduces post-injury fibrosis and improves functional recovery after acute kidney injury. American Journal of Physiology – Renal Physiology Published May 18, 2016.  Vol. No.  DOI: 10.1152/ajprenal.00056.2016
Skrypnyk NI, [additional authors], de Caestecker MP. Bridging translation for acute kidney injury with better pre-clinical modeling of human disease. American Journal of Physiology – Renal Physiology Published March 9, 2016.  Vol. No.  DOI: 10.1152/ajprenal.00552.2015
Skrypnyk NI, [additional authors], de Caestecker MP. Delayed treatment with PTBA analogs reduces post injury renal fibrosis after kidney injury. American Journal of Physiology – Renal Physiology Published December 9, 2015 Vol. no.  DOI: 10.1152/ajprenal.00503.2015
Chiba T*, Skrypnyk NI*, Skvarca LB*, Penchev R, Zhang KX, Rochon ER, Fall JL, Paueksakon P, Yang H, Alford CE, Roman BL, Zhang MZ, Harris R, Hukriede NA, de Caestecker MP. Retinoic Acid Signaling Coordinates Macrophage-Dependent Injury and Repair after AKI. J Am Soc Nephrol. June 24, 2015. pii: ASN.2014111108.
Skrypnyk NI, Chen X, Hu W, Su Y, Mont S, Yang S, Gangadhariah M, Wei S, Falck JR, Jat JL, Zent R, Capdevila JH, Pozzi A. Activation of peroxisomal proliferator activated receptor(PPAR)α is beneficial for the prevention and treatment of non-small cell lung cancer. Cancer Res.  January 15, 2014.  74(2):621-31
Skrypnyk NI, RC Harris, de Caestecker MP. Ischemia-reperfusion model of acute kidney injury and post injury fibrosis in mice. J Vis Exp. 2013. August 9, 2013. (78)
Cianciolo Cosentino C*, Skrypnyk NI*, Brilli LL*, Chiba T, Novitskaya T, Woods C, West J, Korotchenko VN, McDermott L, Day BW, Davidson AJ, Harris RC, de Caestecker MP, Hukriede NA. Histone deacetylase inhibitor enhances recovery after AKI. J Am Soc Nephrol. May 2013; 24(6):943-53