Sylvia Cechova, PhD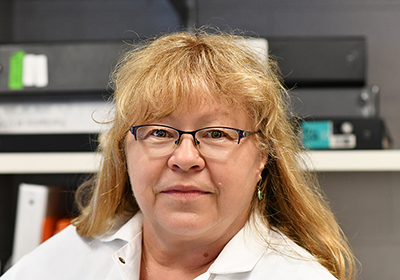 PRIMARY APPOINTMENT:
Assistant Professor of Research
CONTACT:
UVA Division of Nephrology
PO Box 800133
Charlottesville, VA 22908
Telephone: 434-924-4371
Fax: 434-924-5848
Email: sc9d@virginia.edu
EDUCATION AND TRAINING:
1985 M Sc Chemistry, Comenius University, Bratislava, Slovakia
1991 PhD Comenius University, Bratislava, Slovakia
1996-2002 Research Associate, University of Virginia, Department of Anesthesiology
2005-2009 Research Associate, University of Virginia, Department of Chemistry
RESEARCH AREAS:
Acute and Chronic kidney disease
Lab Images
RESEARCH SUMMARY:
In the last ten years, my scientific work has been done in the field of nephrology and hypertension to study the effect of several genes, namely Gstm1, Myh9, and Collectrin on the severity and progression of chronic kidney disease and hypertension using various animal models of kidney disease. Recently an important role of iron-mediated injury (ferroptosis) emerged in the research of acute and chronic kidney injury. Hepcidin is a circulating peptide that reduces ferroportin-mediated iron export and induces macrophage iron retention. There are many signaling pathways that can contribute to acute/chronic kidney disease and fibrosis. The focus of the current research is the contribution of the sphingolipid pathway on prevention or attenuation of fibrosis following AKI Dr. Okusa Lab and the role of natural IgM upregulation in the recovery after AKI Dr. Lobo Lab.
SELECTED PUBLICATIONS:
Scindia Y, Wlazlo E, Leeds J, Loi V, Ledesma J, Cechova S, Ghias E, Swaminathan S. Protective Role of Hepcidin in Polymicrobial Sepsis and Acute Kidney Injury. Front Pharmacol. 2019; 10:615. doi: 10.3389/fphar.2019.00615. eCollection 2019.  PMID: 31244655; PMCID: PMC6563000.
Li J, Cechova S, Wang L, Isakson BE, Le TH, Shi W. Loss of reticulocalbin 2 lowers blood pressure and restrains ANG II-induced hypertension in vivo. Am J Physiol Renal Physiol. 2019 Jun 1;316(6): F1141-F1150. doi: 10.1152/ajprenal.00567.2018. Epub 2019 Apr 3.  PMID: 30943068; PMCID: PMC6620588.
Cechova S, Dong F, Chan F, Kelley MJ, Ruiz P, Le TH. MYH9 E1841K Mutation Augments Proteinuria and Podocyte Injury and Migration. J Am Soc Nephrol. 2018 Jan;29(1):155-167. doi: 10.1681/ASN.2015060707. Epub 2017 Oct 9.  PMID: 28993503; PMCID: PMC5748898.
Dolina JS, Cechova S, Rudy CK, Sung SJ, Tang WW, Lee J, Hahn YS, Le TH. Cross-Presentation of Soluble and Cell-Associated Antigen by Murine Hepatocytes Is Enhanced by Collectrin Expression. J Immunol. 2017 Mar 15;198(6):2341-2351. doi: 10.4049/jimmunol.1502234. Epub 2017 Feb 3.  PMID: 28159899.
Cechova S, Zeng Q, Billaud M, Mutchler S, Rudy CK, Straub AC, Chi L, Chan FR, Hu J, Griffiths R, Howell NL, Madsen K, Jensen BL, Palmer LA, Carey RM, Sung SS, Malakauskas SM, Isakson BE, Le TH, Loss of collectrin, an angiotensin-converting enzyme 2 homolog, uncouples endothelial nitric oxide synthase and causes hypertension and vascular dysfunction., 2013; Circulation. 128(16) 1770-80. PMID: 24048198
Cechova S, Elsobky AM, Venton BJ, A1 receptors self-regulate adenosine release in the striatum: evidence of autoreceptor characteristics., 2010; Neuroscience. 171(4) 1006-15. PMID: 20933584| PMCID: PMC2991493
Cechova S, Zuo Z, Inhibition of glutamate transporters increases the minimum alveolar concentration for isoflurane in rats., 2006; British journal of anesthesia. 97(2) 192-5. PMID: 16793777
Cechova S, Pajewski TN, The soluble guanylyl cyclase inhibitor ODQ, 1H-[1,2,4]oxadiazolo[4,3-a]quinoxalin-1-one, dose-dependently reduces the threshold for isoflurane anesthesia in rats., 2004; Anesthesia and analgesia. 99(3) 752-7, table of contents. PMID: 15333406