Mission Statement
Excellence in Otolaryngology-Head and Neck Surgery through personalized medical care, education and research for a better tomorrow.
Historical Overview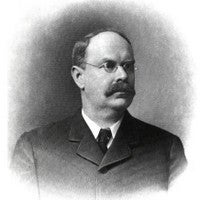 The Department of Otolaryngology-Head and Neck Surgery at the University of Virginia has a long and rich history. The earliest teaching began with lectures given in the 1890s by Dr. Paul Barringer, who later became Chairman of the Faculty. The Department of Eye, Ear, Nose and Throat was established in 1907 with Halsted Hedges as the first geographical full-time chairman. In 1928, Fletcher Woodward succeeded Dr. Hedges and became a leader and pioneer in the field, serving as president of the Triological Society and was the first person to perform a bronchoscopy in Virginia in 1928. When Dr. Woodward became gravely ill in 1951, G. Slaughter Fitz-Hugh took over as chair and served in that capacity for 25 years.
Dr. Fitz-Hugh recruited Copley McLean, MD in the mid 1950s and Robert Jahrsdoerfer, MD (now professor emeritus) in 1965. Dr. Fitz-Hugh ultimately faced mandatory retirement, and Robert W. Cantrell, MD was hired in 1976 as the first full-time academic chairman of the Department of Otolaryngology-Head and Neck Surgery. Some of his notable recruits include Mike Johns, MD, Roger Ruth, PhD, Ed Rubel, MD, Paul Lambert, MD, Jeff Corwin, PhD, Charles Gross, MD, and Paul Levine, MD, all of who have become major contributors and international leaders in the field.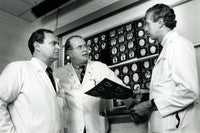 Paul Levine, MD joined the faculty from Stanford University in 1984, assuming the role of Department Vice-Chair and Director of the Division of Head and Neck Surgical Oncology. Upon joining, he became the fifth faculty member in the department. In July 1994, Dr. Cantrell was appointed Vice President and Provost for Health Sciences at the University and Dr. Levine was named Acting Chair. On April 1, 1997, Dr. Levine was formally named Chairman.
Since Dr. Levine's appointment as Acting Chair, the Department has continued to grow as a premier academic program. He has focused on strategic hires to develop each subspecialty area, expand the departmental presence in the community, and ensure that necessary transition plans are in place when physicians retire. In 2004, when Bradley Kesser, MD was recruited to the practice, Dr. Levine had in place the necessary faculty to have a premier otology/neurotology practice and to continue the work of Dr. Jahrsdoerfer as he transitioned into retirement. Today, the Division of Otology & Neurology has two fellowship trained neurotologists, Drs. Hashisaki and Kesser.
In 2007, Dr. Levine hired Spencer Payne, MD to continue the development of the rhinology and sinus surgery practice. Dr. Payne has completed a fellowship in Rhinology and Sinus Disorders at the Lahey Clinic in Boston. He brought with him the latest clinical skills in sinus surgery such as balloon rhinoplasty, and also an enthusiasm for teaching and research. He quickly created a parternship with Larry Borish, MD in Allergy & Clinical Immunology that involves research collaborations and a multidisciplinary allergy clinic. In addition, Dr. Payne has established a strong clinical collaboration with Dr. John Jane, Jr. in Neurosurgery to provide an endoscopic transnasal approach for pituitary surgery. With Dr. Payne's continually expanding practice, the department has successfully recruited a second rhinologist, Jose Mattosm MD, to join the faculty to further expand the division.
Mark J. Jameson, MD, PhD also joined the department in 2007 after completing his fellowship in Head and Neck Oncologic and Reconstructive Surgery and developing his skills in microvascular surgery. In addition to adding the most sophisticated reconstructive surgical skills to complex head and neck cancer cases, Dr. Jameson brought with him a passion for research. As an MD/PhD, his passion for investigation and basic and translational research efforts have helped the department augment its research presence and have fostered research aspirations in the department's residents. In 2010, David C. Shonka, Jr., MD joined the Division of Head & Neck Surgical Oncology after completion of fellowship training. Dr. Shonka has lead the division in developing a robust Head and Neck Endocrine practice. In 2015 Katherine Fedder, MD joined the Head & Neck Surgical Oncology Division and has played a key role in resident and medical student education. With Dr. Levine's stimulus and support, Drs. Jameson, Shonka, and Fedder have trained and now have an active program utilizing the da Vinci robot for transoral robotic surgery to provide a surgical alternative to patients whose only option in the past was chemoradiation therapy. With the addition of these three head and neck surgery faculty, the division has the appropriate number of faculty to continue the highest level of patient care following the retirement of  Drs. Reibel and Levine.
The Division of Facial Plastic & Reconstructive Surgery has continued to grow during Dr. Levine's tenure. Dr. Park's prestige and international recognition has grown significantly over the last ten years. In 2010, J. Jared Christophel, MD, MPH joined the division after fellowship training. During his first two years, Dr. Christophel focused on clinical effort and obtaining a Masters in Public Health. Dr. Christophel continues to perform clinical research addressing questions that are crucial to optimizing patient care.
In 2014, James Daniero, MD. was recruited to build a new Division of Laryngology, focusing on delivering cutting-edge care to patients with voice, swallowing, and upper airway disorders. Dr. Daniero has been successful in building a truly multidisciplinary Laryngology clinic and has developed interdisciplinary collaborations with the Curry School of Education, Transitional Care Hospital, UVA Medical Center, and nearby Universities. Dr. Daniero also expanded the Division service line to include sophisticated in-office laryngeal procedures.
The Division of Communicative Disorders & Audiology has continued to thrive over the past decade. In 2009, Drs. Bradley Kesser and A. Tucker Gleason were named as the new Directors of the Division. They have taken a strategic approach to develop a profitable bottom line while still providing the highest level of service to patients and referring physicians. Today, there are 11 audiologists in the division, all with a master or doctoral degree.
Sensing both a need in the community for additional general otolaryngology services and an opportunity for growth, Dr. Levine opened Charlottesville ENT in September 2003 with Daniel Landes, MD as the primary otolaryngologist. This community practice was located within steps of Martha Jefferson Hospital and Dr. Landes quickly developed close working relationships with community physicians and Martha Jefferson Hospital. Based on the success of the practice and the positive community response, Dr. Levine took advantage of a strategic market opportunity in 2007 when another community otolaryngology practice closed. John Mason, MD joined the Charlottesville ENT practice in August 2007. Together, Drs. Landes and Mason have built the premier community practice in Charlottesville. Both of these physicians were residency trained at UVA, and Dr. Mason completed his Neurotology fellowship training at UVA. Both have also brought invaluable experience as private practitioners.