Humanitarian Efforts
Whether it's right at home or across the globe, our faculty and residents travel the world to make a healthier and happier environment in which to live.
Mission of Hope, Bolivia
Mission of Hope, Bolivia was created for the purpose of providing free medical care and medicines to the poor in the country of Bolivia.  David C. Shonka, Jr., MD stands with Charles Gross, MD (Professor Emeritus) and otolaryngology-head and neck surgery residents.

Click Here to Learn More
Medical Brigades across Haiti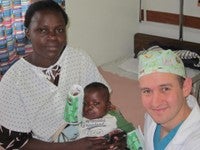 Dr. James Daniero has partnerships with several humanitarian organizations delivering health care to rural regions of Haiti including, Port Au Prince, Bonn Fin, and across the Central Plateau.  He makes annual trips to Haiti to support these efforts along with UVA students and residents.