Basic Science
Laryngology
Long-segment tracheal stenosis (windpipe narrowing) is currently a critical problem without a readily available clinical solution that can result in premature death and significant disability due to a severely restricted breathing passage. Tracheal stenosis can be congenital in nature or develop as result of tumor, airway injury, autoimmune disease, or infection. Circumferential replacement of the affected trachea has been a longstanding goal of the both the pediatric and adult airway research community for over 50 years.
Undeterred by this significant challenge, Drs. Daniero and Cottler have teamed up to develop a protocol using decellularized tracheal scaffolds to regenerate the trachea incorporating advanced techniques, such as 3D printing and innovative surgical approaches. Early successes have led to continued support from the study sponsor and the project continues to evolve bringing cutting edge airway research to the Departments of Otolaryngology-Head and Neck Surgery and Plastic Surgery.
Co-Principal Investigators: James Daniero, MD, Department of Otolaryngology – Head and Neck Surgery; Patrick Cottler, Ph.D., Department of Plastic Surgery
Study sponsor: LifeNet Health
Voice production requires the body's two vocal folds (also known as vocal cords) to form a partially closed valve at the top of the windpipe. As air leaks through this valve, the vocal folds vibrate producing the sound of voice. Nerve injury, aging, or other tissue loss damages the integrity of this valve and results in loss of voice, limiting an individual's ability to communicate, work, and interact in society.
Current methods of voice restoration following this type of injury include temporizing the problem with injection augmentation of the affected vocal fold(s) with a biocompatible tissue filler. This enlarges the vocal fold to provide a larger surface for the other vocal fold to contact, restoring valve function. However, the currently available range of products can only provide a 1 to 18-month duration of effect because the materials are slowly reabsorbed by the body. The injection technique is favorable because it can be performed under local anesthesia in the office setting. Conversely, permanent augmentation is provided through more invasive surgical implantation of the vocal fold using a permanent substance, such as a silicone block or Gore-Tex®.
Through a collaboration with Dr. Griffin, a biomaterials expert in the Department of Biomedical Engineering, Dr. Daniero is developing an advanced purposefully engineered permanent injectable bioscaffold that harnesses the body's own healing abilities to restore tissue bulk and avoid the need for more invasive surgery. The technology is currently in pre-clinical trials.
Co-Principal Investigators: James Daniero, MD, Department of Otolaryngology – Head and Neck Surgery; Don Griffin, Ph.D., Department of Biomedical Engineering
Study Sponsor: Coulter Translational Research Partnership Award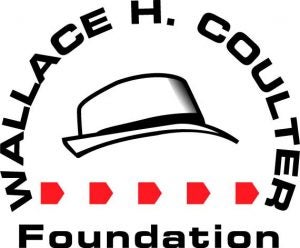 ---
Development of a microporous annealed particle hydrogel for long-term vocal fold augmentation
This study presented the development of the first synthetic biomaterial purposefully engineered for use in the vocal fold. MAP gel demonstrates matched biomechanical properties, a biostimulatory tissue integration effect, and has demonstrated permanence in a leporine model for 6 months without immune response. Additional studies are ongoing, employing a functional reproduction of glottic insufficiency using a staged vocal fold paralysis model and longitudinal quantitative volumetric analysis of injectable volume using magnetic resonance imaging to improve the ability to characterize the long‐term functional benefit of MAP in glottic incompetence. Further studies on the long‐term presence of MAP gel within the vocal fold are required to evaluate the possibility of a permanent tissue effect within the vocal fold and possibility of delayed reaction.
An estimated 7.5 million people in the United States have a voice disorder, one-third of which can be attributed to vocal cord paralysis or weakness. Diagnosis and treatment options are limited by the fact that characterization of voice conditions requires an understanding of a patient's specific anatomy and how air flows through their larynx – a problem that could be solved by combining CT imaging and computer modeling. The University of Virginia is uniquely positioned to study and impact treatment for this population with a research team comprised of a voice disorder expert from the Department of Otolaryngology and an engineer who studies flow dynamics in the Department of Mechanical and Aerospace Engineering.
Co-Principal Investigators: James Daniero, MD, Department of Otolaryngology – Head and Neck Surgery; Haibo Dong Ph.D., Department of Mechanical & Aerospace Engineering
Study Sponsor: The Center for Engineering in Medicine
Laryngotracheal stenosis (LTS) refers to a narrowing of the airway and windpipe due to scarring, which leads to difficulty breathing and can cause severe disability. This may result from injury or autoimmune disease, or it may be idiopathic in nature, meaning the underlying cause is unclear.  Surgical treatment for this disease may include endoscopic laser scar excision, balloon dilation, open tracheal resection, or tracheostomy, and many patients require multiple surgeries, as the disease tends to come back over time.  
Recent data suggests that patients who undergo balloon dilation as a part of their treatment may experience earlier recurrence than those who undergo laser scar excision alone, specifically for those with idiopathic subglottic stenosis.  This is thought to be due to an inflammatory reaction triggered at the time of balloon dilation itself, as has been demonstrated in the cardiovascular literature in the context of balloon angioplasty, though there has been no mechanistic evaluation of this stretch phenomenon in the airway to date.  
In collaboration with Dr. Cottler, an expert in wound healing, Dr. Daniero has developed a protocol for studying mucosal wound healing and response to stretch in LTS using human in vitro and leporine in vivo models. In vitro, laryngeal fibroblasts isolated from patients with LTS are subjected to various stretching paradigms in order to study microscopic and cellular responses to stretch. In vivo, a leporine model of iatrogenic subglottic stenosis is used to study response to balloon dilation versus scar excision. Together, these studies have to potential to restructure the discussion regarding the optimal treatment strategy and role of balloon dilation for adults with LTS. 
Co-Principal Investigators: James Daniero, MD, Department of Otolaryngology – Head and Neck Surgery; Patrick Cottler, Ph.D., Department of Plastic Surgery
Daniero Lab LTS Open Access Research Protocols:
Head And Neck Oncology
PRAS40 Phosphorylation Correlates with Insulin-Like Growth Factor-1 Receptor-Induced Resistance to Epidermal Growth Factor Receptor Inhibition in Head and Neck Cancer Cells
IGF1R signaling has previously been noted to reduce sensitivity of HNSCC cells to treatment with EGFR-TKIs. This study identifies PRAS40 as a likely key signaling molecule in this resistance pathway. On the basis of these findings, PRAS40 may be important in clinical resistance of HNSCC to single-agent–targeted therapy against the EGFR. Further investigation is warranted to better understand how this pathway can be manipulated to enhance treatment options for patients with HNSCC.
Link: https://pubmed.ncbi.nlm.nih.gov/32467173/
---
Survivin in Insulin-Like Growth Factor-Induced Resistance to Lapatinib in Head and Neck Squamous Carcinoma Cells
These results demonstrate that enhanced survivin expression correlates with IGF1R-mediated lapatinib resistance in HNSCC cells and suggest that regulation of survivin expression may be a key mechanistic element in IGF1R-based therapeutic resistance. Combinatorial treatment with survivin antagonists and EGFR-TKIs warrants further investigation.
Link: https://www.ncbi.nlm.nih.gov/pmc/articles/PMC6351440/
---
Antitumor effect of insulin‐like growth factor‐1 receptor inhibition in head and neck squamous cell carcinoma
OSI-906 and BMS-754807 inhibit IGF1R activity in HNSCC cell lines with reduction in prosurvival and proliferative signaling and with concomitant antiproliferative and proapoptotic effects. Such antagonists may have utility as adjuvants to existing therapies for HNSCC.
Link: https://www.ncbi.nlm.nih.gov/pubmed/31433065
---
Downregulation of IGF1R Expression Inhibits Growth and Enhances Cisplatin Sensitivity of Head and Neck Squamous Cell Carcinoma Cells In Vitro
This in vitro study provided evidence that the IGF1R axis is an important mediator of cisplatin sensitivity in HNSCC through regulation of both cell cycle progression and apoptosis. It has been demonstrated that a doxycycline-inducible shRNAmir effectively suppresses IGF1R expression in Cal27 and SCC25 HNSCC cell lines, leading to enhanced cisplatin toxicity in vitro. These results encourage further exploration of IGF1R downregulation or inhibition as a potential method for chemosensitization in head and neck cancer treatment.
Link: https://www.ncbi.nlm.nih.gov/pubmed/30350263
---
The Neddylation Inhibitor Pevonedistat (MLN4924) Suppresses and Radiosensitizes Head and Neck Squamous Carcinoma Cells and Tumors
In summary, our results demonstrate that the CRL4CDT2 ubiquitin ligase represents a novel molecular target for inhibition and radiosensitization in HNSCC. Furthermore, the results demonstrate that pevonedistat, currently in several clinical trials for human malignancies, exhibits promising anti-tumor and radiosensitizing activity in HNSCC, and that induction of rereplication represents a novel therapeutic strategy for radiosensitization.
Effect of Adipose-Derived Stem Cells on Head and Neck Squamous Cell Carcinoma
Using multiple in vitro and in vivo approaches, ASCs did not significantly stimulate HNSCC cell proliferation or migration and increased survival in only a single cell line. These findings preliminarily suggest that the use of ASCs may be safe in the setting of HNSCC but that further investigation on the therapeutic use of ASCs in the setting of HNSCC is needed.
Over 830,000 people were diagnosed with Head and Neck Squamous Cell Carcinoma (HNSCC) last year. Unfortunately, there is currently only one FDA-approved targeted therapy HNSCC, underscoring the need to develop new targeted therapies. Ceramide is a bioactive, signaling lipid in the sphingolipid family which has previously been shown to induce apoptosis, cell cycle arrest, and decrease hTERT expression in HNSCC in vitro. Our lab utilizes the C6 ceramide nanoliposome (CNL) asa nanoscale, therapeutic delivery vehicle for ceramide which is currently undergoing clinical trials. Our research explores if the CNL could be a potential therapeutic for HNSCC, the mechanism by which the CNL induces its anti-cancer effects, and if combining the CNL with other drugs can lead to novel, highly effective combination therapies.
Co-Principal Investigators:  Mark Jameson, MD, Department of Otolaryngology – Head and Neck Surgery; Mark Kester, Ph.D., Department of Pharmacology, Biomedical Engineering, Molecular Physiology and Biophysics
Facial Plastic Surgery
Developing an osteogenic biosynthetic implant for CF reconstruction could alter standards of care in trauma management, osteonecrosis treatment, and oncologic surgical defects. The primary objective of this project is to investigate the bone regeneration potential of this novel treatment strategy using a clinically-relevant, critical-sized segmental rat mandibular defect model and compare its efficiency with the only FDA-approved product available for CF bone regeneration.
Principal Investigator: J. Jared Christophel, MD, Department of Otolaryngology – Head and Neck Surgery
Study Sponsor: American Academy of Facial Plastic and Reconstructive Surgery
---
Assessment of Hedgehog Signaling Pathway Activation for Craniofacial Bone Regeneration in a Critical-Sized Rat Mandibular Defect
In this rat model study, activation of the hedgehog signaling pathway using smoothened agonist was associated with increased craniofacial bone regeneration compared with growth factors alone, including US Food and Drug Administration-approved recombinant human bone morphogenetic protein 2. Pharmaceuticals that target this pathway may offer a new reconstructive option for bony craniofacial defects as well as nonunion and delayed healing fractures.
Rhinology
Developing Compliant, Elastic Sensors for Spatial Mapping of Odor-evoked Response Potentials at Human Olfactory Epithelium
The human sense of smell, or olfaction, is one of our five critical senses, and yet 13.5% of the US population has impaired olfaction. Particularly among the elderly, dysfunctional sense of smell can lead to lower food intake, safety risks and decrease in personal hygiene. Affected individuals exhibit double to triple the magnitude of depressive symptoms, and are three times more likely to die within five years than those with a normal sense of smell. A research partnership between the UVA Department of Otolaryngology and Department of Materials Science & Chemical Engineering aims to develop better, more objective techniques for diagnosing and understanding impaired olfaction, using small, elastic sensors to directly measure odor-evoked nerve activity.
Co-Principal Investigators: Liheng Cai Ph.D., Department of Materials Science & Chemical Engineering; Jose Mattos, MD, Department of Otolaryngology – Head and Neck Surgery
Study Sponsor: The Center for Engineering in Medicine
The human sense of smell, or olfaction, is critical for human appetite, social interaction and communication. Individuals with olfactory dysfunction (OD) can exhibit impaired food intake, safety risks, decreases in personal hygiene, impairment to sexual life, decreases in overall quality of life, and increases in the risk of depression and social isolation. The role of eosinophilia in OD in the setting of atopic diseases has not been investigated, and only a handful of prior studies have investigated the role of eosinophilia in the sinus tissue of CRS patients. The purpose of this study is to prospectively study the development of type 2 (eosinophil)-mediated inflammatory response and correlate this with a negative impact on olfaction.
Principal Investigator: Jose Mattos, MD, Department of Otolaryngology – Head and Neck Surgery
Study Sponsor: American Academy of Otolaryngic Allergy
A large percentage of patients with AERD, a severe upper and lower respiratory disease, report worsening symptoms after exposure to certain alcoholic beverages. Our lab is currently evaluating mechanisms of this reaction.  We are pursuing both in vitro (lab) and in vivo (clinical patient) arms.  Our lab work involves exposing patient's blood to a variety of chemical compounds to better understand the physiologic changes.  Additionally we are nearing completion of a protocol to evaluate real time changes in blood and urine products after patient exposure to red wine and components of red wine extract.
Principal Investigator: Spencer Payne, MD, Department of Otolaryngology – Head and Neck Surgery
---
Suppression of aspirin-mediated eosinophil activation by prostaglandin E2: Relevance to aspirin and nonsteroidal anti-inflammatory drug hypersensitivity
Eosinophils can be directly activated by NSAIDs via cyclooxygenase-independent pathways to produce CysLTs and LTB4. This effect can be inhibited by PGE2 acting through the EP2 receptor. The recognized loss of EP2 receptor expression combined with low PGE2 levels explains in part the sensitivity to NSAIDs.
Otology and Neurotology
A subset of patients with pulsatile, pulse synchronous tinnitus (hears their own pulse in one ear) have abnormalities of the central venous outflow tract, the flow of blood from the brain out of the skull and into the jugular venous system. Using computer modeling and 3D printing, we are examining the venous outflow tracts of these patients looking for anatomic correlates that could cause turbulent blood flow and the pulse-synchronous tinnitus. These patients often show dehiscence of bone over the sigmoid sinus, and we are exploring the mechanism by which the bone that insulates the sinus from the ear/mastoid air cell system is lost over the sinus. Finally, the relationship of the anatomic findings, including transverse sinus stenosis, and idiopathic intracranial hypertension may elucidate the anatomic underpinnings of this clinical syndrome.
Co-Principal Investigators: Bradley Kesser, MD, Department of Otolaryngology – Head and Neck Surgery; Haibo Dong Ph.D., Department of Mechanical & Aerospace Engineering
Discovery of novel proteins involved in hearing and deafness
Our lab uses a combination of proteomics, protein biochemistry, cell biology and mouse genetics tools to discover novel components involved in the molecular process of hearing. In short, we 1) sequence proteins in the sensory hair cell using mass spectrometry, 2) compare the proteomics data with genetic data to identify possible deafness genes, 3) characterize the function of these proteins, and 4) use the CRISPR/Cas9 system to generate transgenic mouse models to evaluate the role of these putative deafness genes in vivo. Presently, we are applying this workflow on 10 different potential deafness genes.
Principal Investigator: Jung-Bum Shin Ph.D., Department of Neuroscience
---
Neurodegeneration and protection of sensory hair cells
Aminoglycosides comprise a highly potent class of antibiotics, but their clinical use is limited due to nephrotoxicity and ototoxicity. Despite longstanding research efforts, our understanding of the mechanisms underlying aminoglycoside ototoxicity remains limited, and methods for clinical intervention have yet to emerge. We have recently found that the regulation of protein homeostasis in hair cells is severely affected by aminoglycosides. Protein homeostasis is at the center of general cellular homeostasis, and its dysregulation can activate various stress pathways leading to cellular degeneration and death. We are currently exploring the involvement of novel stress pathways in aminoglycoside-induced hair cell degeneration, with special emphasis on the discovery of novel drugs to prevent hair cell degeneration by blocking stress pathways.
Principal Investigator: Jung-Bum Shin Ph.D., Department of Neuroscience
---
CRISPR/Cas-mediated gene therapy of deafness mutations
Gene therapy to repair deafness mutations is a highly relevant goal in deafness research. In a remarkably short time period, the CRISPR/Cas9 system has emerged as arguably the most efficient genome engineering tool to date. The goal of this project is to engineer a novel, modified CRISPR system that allows packaging in an adeno-associated vector, which presently is the only system for in vivo delivery of genetic material into adult sensory hair cells. This tool will be used to repair deafness mutations in a mouse model.
Principal Investigator: Jung-Bum Shin Ph.D., Department of Neuroscience