Outreach and Collaborations
Kohl's Growing Up Healthy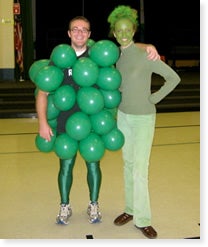 The Kohl's Growing Up Healthy Program (KGUH) is an innovative collaboration between the UVA Children's Fitness Clinic, the Social Issues in Medicine course at the University of Virginia Medical School, and the Albemarle County Extended Day Care Program. In the program, UVA medical students teach Kindergarten through 5th grade students about healthy nutrition and lifestyle habits to maintain a strong body and mind.
Since 2004, Kohl's has donated over $243,000 to the UVA Children's Hospital to fund health education programming aimed at helping kids to understand what it means to be healthy. So far, the Kohl's Growing Up Healthy program has been implemented in 16 Albemarle County Schools and 2 Charlottesville City schools and has reached over 700 children. The program will be coming to Walker Elementary and the Westhaven Afterschool Program in Fall 2012.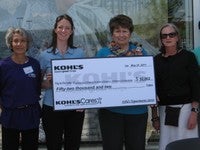 On March 31, 2012, Kohl's Department Store and the Children's Fitness Clinic will host the 2nd Annual Kohl's Growing Up Healthy Expo, a free event open to the public. Children can take partin nutrition lessons and games and learn things like My Plate and healthy portion sizes.
During the expo, Kohl's will present the UVA Children's Fitness Clinic with a check for $63,113 in continued support of the Kohl's Growing Up Healthy Program.
Community Obesity Task Force
The UVA Fitness Clinic has been a participant with the Family Health and Fitness Camp of the Thomas Jefferson Health District's Childhood Obesity Taskforce for the past two years.
For more information, contact:  Barbara.Yager@vhd.virginia.gov
NACHRI
The Children's Fitness Clinic was selected via a national search by NACHRI (National Association of Children's Hospitals and Related Institutions) to participate in the Obesity Focus Group to help define the best strategies to combat childhood obesity.