Pediatric Residency Program
UVA Peds Residency Open House
Join us virtually to meet our current Residents for an informal Q&A about our program
Click Here to Register
UVA Peds Residency Open House
Join us virtually to meet our current Residents for an informal Q&A about our program
Click Here to Register
Welcome!
At the University of Virginia, we are deeply committed to resident education and providing the highest quality care to our patients. Our residency program will give you an exceptional foundation in pediatric medicine and clinical research while allowing you to personalize your learning path and pursue your unique medical interests.
Equity and Inclusion
UVA Children's Hospital proudly serves Charlottesville's diverse population which includes under-represented minorities, economically disenfranchised, transgender youth, immigrants, and refugees from all over the world.
We leverage diversity and inclusion as part of our university's vision and mission statement. We are committed to the recruitment of a diversity of residents to our training program, and we esteem and value the uniqueness everyone brings to our residency family, our healthcare system, and our community. Also, the Department of Pediatrics has an Equity, Inclusion, and Diversity Committee that is dedicated to working together to increase diversity and inclusivity.
Our residents know that recognizing health inequities and training them at individual and population levels are the hallmarks of excellent pediatric care. This brings this dedication to patient visits, community outreach, and morning report presentations. Dr. Krista Roncone, one of our second-year residents recently presented a morning report on how the intersection of race affects the care provided to patients.
All of our pediatric residents participate in an innovative DEI curriculum. Every resident is given blocked time to participate in a community or educational DEI activity of their choice, either on their own or in a group. We give our residents autonomy to individualize their learning about the population or topic of their choice and share their experience during two dedicated noon conferences. In addition, we have noon didactics throughout the year in which we learn about vulnerable populations and hear insights and perspectives directly from members of those communities.
A Great Place to Live & A Great Teaching Hospital
Instagram
Visit our Instagram page to see our residents at work, and at play.
View Photos
Area leaders are devoted to having the City of Charlottesville and Albemarle County continue to be one of the Best Places to Live in America. Charlottesville is a place people love to call home.
Charlottesville has kept its small-town flavor while offering a wealth of big-city opportunities. Stroll the beautiful Downtown Mall and experience its wide choice of locally-owned restaurants and music venues; hike and ski the nearby Blue Ridge Mountains, or just enjoy the view while driving on Skyline Drive.
UVA Children's has been named the No.1 Children's Hospital in Virginia for the second consecutive year by U.S. News and World Report, and the publication also ranked six UVA Children's subspecialties among the top 50 nationally in their fields.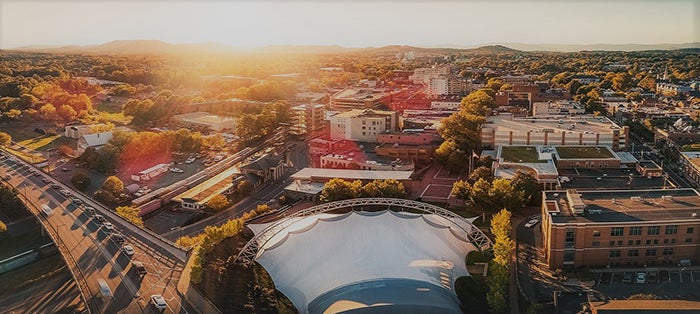 Instagram
Visit our Instagram page to see our residents at work, and at play.
View Photos
Highlights