PL3 Pediatric Residents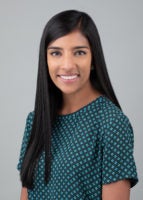 Lisa Biswas
University of Mississippi
Hey everyone! I am so happy you are interested in UVA!
I am from Jackson, Mississippi and went to undergrad at Mississippi State University (Hail State!). After getting my masters and doing research, I attended the University of Mississippi for medical school. Living in Mississippi my entire life, I knew residency was the perfect opportunity to try something new. When looking for a residency program, I knew I wanted to be somewhere that had friendly residents, strong academics, and a diverse patient population.
I did an away rotation at UVA and was immediately drawn to this program. I was impressed with the strong didactics, and the attending physicians have a true desire to teach and mentor. UVA excels in clinical training as well as providing opportunities for research and advocacy. The friendship and teamwork exhibited by the residents made me want to be in a program with co-residents that I would enjoy being around in and outside of the hospital. Being an academic institution, UVA also sees a wide variety of pathology. It was easily the place for me!
Charlottesville is a wonderful place to live. There are tons of things to do: wineries, hiking, breweries, festivals, incredible restaurants, and concerts. The best part is the people; everyone is so friendly and caring. Best of luck to you this interview season! If you have any questions about UVA or Charlottesville, I would be happy to talk to you.
---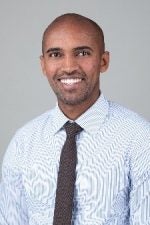 Alazar Haregu
University of Virginia
Pronouns: He/Him
Hello, and welcome to UVA! I am originally from Ethiopia but moved to the States during early childhood. I came to the University of Virginia for my undergraduate studies and went on to complete medical school here shortly thereafter.
In my search for a pediatric residency, there were several aspects of a program that I considered. These included program culture, size, and diverse clinical experiences, amongst other things. UVA was a perfect combination of what I wanted in a program. One of the many the many things that make our program standout is its culture. Attendings, fellows, and residents alike are very approachable and eager to make your training experience a great one.
In addition to the clinical experience, Charlottesville has been a great home for many years and has much to offer. Between the many restaurants, breweries and vineyards, and outdoor opportunities, it is an ideal region for a relaxing residency experience.
---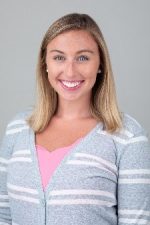 Caitlyn Neltner
University of Louisville
Pronouns: She/Her
Hi everyone and welcome to UVA Peds! I was born and raised right outside of Lexington, Kentucky (Go Cats!) and went to medical school in nearby Louisville. Needless to say, I was excited to venture out of my home state and Charlottesville was the perfect place to continue that adventure. My fiancé and I couples matched and we both loved our respective programs at UVA. I didn't go into the interview season with a preference on program size, but found that UVA's medium-sized program was a great fit for me. All of the residents I met on interview day and since moving here have been so supportive, helpful, and not to mention FUN! I am also continually impressed with each and every attending I come in contact with, and their willingness to make every moment a "teaching moment."
On top of all the great things UVA has to offer, Charlottesville is a great place to live. Aside from the beautiful surroundings, it is filled with tons of history, shopping and dining at the many local restaurants, wineries, breweries, and orchards. I can't imagine any other place I'd rather train. Savor the ability to explore new cities on the interview trail; I hope you love Charlottesville and UVA as much as we do!
---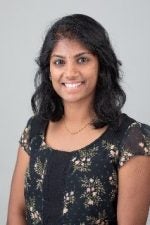 Sumathyuthee Kamalakannan
Ben-Gurion University
Pronouns: She/Her
Hello everyone, I am Sumath and I welcome you to UVA Peds! I am originally from India, but I spent most of my life abroad in Singapore and the US. I completed my bachelors at St. John's University where I majored in Biology and Social Work. I then went to Ben-Gurion University in Israel for medical school, it interested me for the medical curriculum with a special focus in global health.
While looking for a pediatric residency, I wanted to be in a place that was a nurturing environment for young physicians while offering opportunities to continue participating in global medicine. UVA was a fitting choice not only because there is an established global health track, but also because Charlottesville is one of the epicenters for refugee resettlement. Such opportunities are in abundance, if this is one of your interests. At the interview, I constantly heard from the current residents about how the faculty in the Children's Hospital have a strong commitment towards the education of the residents. I have now seen it first-hand, and I'm very happy about my decision to come here!
You'll hear this a lot, and I vouch for it: Charlottesville is a city for everyone. There is a small college town feel to it, but it can also be a great place to raise a family, to be an adventurist, a foodie, a wine connoisseur. I personally am looking forward for more nature walks and exploring restaurants in the area. I hope you consider joining us and all the very best for the interview season!
---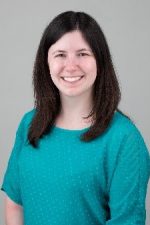 Miranda Miller
University of Texas, Houston
Hello! I'm so glad that you're interested in UVA Peds! I grew up in Arlington, TX and attended UT Austin for undergrad where I studied Biology and French (Hook 'em!). I went to UT Houston for medical school and thought I would stay in Texas for residency but decided to apply out-of-state to see what was out there. I thought I wanted to attend a large program in a large city that was close to home but ended up falling in love with UVA (a medium-sized program in a smaller city and my farthest interview from home). When I left my UVA interview, I called my mom and asked if she would move to Virginia with me.
The most prominent reasons I chose UVA were the program's noticeable emphasis on inclusion, kindness, and dedication to teaching. Everyone I met was friendly and warm and had a genuine interest in getting to know me. Additionally, UVA sees a large diversity of patients from around the world including a large refugee population (my first patient was French-speaking only). There are a wide range of pathologies and patient presentations so I knew I would get to see and learn from a variety of patients. Also, I am not sure what my post-residency goals are, so I wanted to be at a program where I would get extensive exposure to multiple sub-specialties, which is built into our curriculum. All of our attendings, residents, and other faculty (nurses, respiratory therapists, etc.) love to teach and create a benevolent environment of learning. People at UVA and in Charlottesville overall have made a large effort to make me feel welcome which made my move far away from home a lot easier.
Some things I love about Charlottesville include the multiple wineries (Pippin Hill is my favorite so far), the impressive restaurant selection for a small city (if you want recommendations, let me know!), and the gorgeous views while hiking. I hope you enjoy the interview process as much as I did, and find a program that is a great fit for you!
---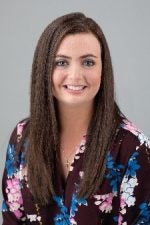 Julia Owens
Medical University of South Carolina
Hi everyone, and welcome to UVA! I was born in Charlotte, North Carolina, and went to undergrad at Clemson University where I graduated with a degree in Microbiology. I then moved down to Charleston, South Carolina, to attend the Medical University of South Carolina.
As a fourth year medical student I did an away rotation at UVA and fell in love with the program. As I continued on with interview season, what made UVA stand out to me is that the residents are extremely tight-knit and all of the attendings are very approachable and invested in resident education. In addition to the supportive environment, I felt that my pediatrics training at UVA would be unmatched, so I made the decision to move from the beach to the mountains.
When you're not in the hospital, Charlottesville is an amazing place to live. On my days off, I love to get outdoors and hike or visit the wineries with my dog, husband, and co-residents. For being a smaller town, I've also been pleasantly surprised by the number of amazing restaurants. Please feel free to reach out to me if you have any questions about our residency program or C-ville!
---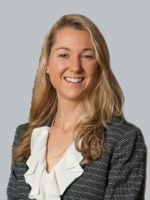 Meghan Phelan
Florida State University
Greetings and welcome to UVA Peds! I am excited you are considering our program.
My family is originally from the Washington, D.C. area, and I was born in Silver Spring, MD. When I was a young child we moved to sunny Florida. I always loved visiting extended family in the D.C. and Virginia area. I attended the University of Florida as an undergraduate (go Gators!). After graduation, with a degree in Biology and a minor in International Humanitarian Assistance, I moved to Rochester, MN, to continue my passion for science and medicine by studying at the Mayo Clinic and earning a post baccalaureate certification in Clinical Laboratory Science. After moving back to Florida, I was employed at the Mayo Clinic in Jacksonville and worked in the Stem Cell Transplant Clinical Laboratory before returning to school and attending the Florida State University College of Medicine.
During interview season, I logged many miles traveling the country, but when I interviewed at UVA, I knew I had found my home. I loved my interview day here and felt the warmth and welcoming environment immediately. I was seeking a top academic program with a strong community feel, and I have not been disappointed. The faculty and attendings are outstanding physicians with a wealth of knowledge and expertise, yet always supportive and dedicated to our success. Every member of the team is focused on our training, and providing us with opportunities and experiences that will allow us to continue developing into excellent physicians.
I am excited to be in Virginia; Charlottesville is only a short drive from the metropolitan D.C. area and is an easy weekend trip, with so much to explore near our nation's capital. Charlottesville is also a great place to call home; the community has a small-town feel where folks are friendly and there are lots of cool places to enjoy time off from the hospital. There are boutique restaurants, farmer's markets, and many wineries to visit while driving the rolling hills of the countryside. As an avid hiker, I have trekked many beautiful places domestically and abroad, but there is nothing more renewing and invigorating than a Sunday off work, hiking in the Blue Ridge Mountains. I occasionally miss the sunny beaches of Florida, but I love the breathtaking views of the Shenandoah Valley in my own backyard.
Finally, and perhaps most importantly, the collegiality and friendship of the resident community at UVA is overwhelmingly supportive. The co-residents are more than colleagues or friends, they are family. We enjoy each other's company outside of work, often getting together for dinners, chilling at the pool, hiking, or hanging out in one of the pubs or eateries in town.
The best advice I received during my interview season was to keep an open mind and evaluate every opportunity, but always listen to your heart. I did, and it led me to UVA and Charlottesville, my new home. I wish you the best of luck during interview season, and hope to meet you soon!
---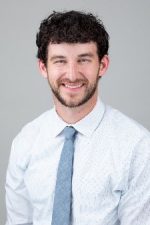 Grant Robinson
University of Mississippi
Hey everybody, and thanks for your interest in UVA Pediatrics! I was born and raised in Jackson, Mississippi, where I attended the University of Mississippi (Hotty Toddy), and got a degree/wrote a thesis in English (you really can do anything and go to med school). I was pretty non-traditional in the sense that I took a few years off, traveled, and then got my masters and did research.
Having lived in Mississippi all our lives, my wife and I were sad to leave but excited to venture outside of the state. Charlottesville immediately stood out as an appealing locale. The seasonal weather, the food, the abundance of outdoor activities, and the excellent music scene were just added bonuses outside of what is truly an excellent pediatrics program. The culture, ease of access to attendings as well as research, and general camaraderie among the residents is exactly what I was looking for in a program and was immediately evident during my away rotation and on my interview day. Resident life and friendship outside of the hospital encourages excellent relationships inside of the hospital, and the UVA Pediatrics program puts this into practice better than any other program to which I was exposed. Your co-residents are the people with whom you will spend the overwhelming majority of your time over the next three years, so resident life is important!
Should you have any questions about the program, the city, or anything else, please don't hesitate to reach out to me. Good luck and enjoy interview season!
---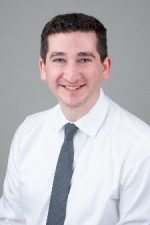 Michael Robinson
Rutgers University
Hello everyone! Welcome to UVA Pediatrics! I was born in Potomac, MD. I completed my undergraduate education at Syracuse University, where I majored in Business. Following graduation, I worked as a paralegal in New York City for nearly two and a half years while planning to attend law school. After some additional consideration, I decided to switch career paths. I spent two years in a pre-health post-baccalaureate program at New York University. After completing the program, I attended Rutgers-Robert Wood Johnson Medical School in New Brunswick, NJ. When it came time to look into residency programs, I had three criteria in mind. First, I wanted to work within a close-knit community of residents. Second, I preferred a program that saw interesting cases, but also trained well-rounded pediatricians and future specialists. Lastly, I wanted to live in a community that offered a lot of fun activities for my wife and daughter.
After visiting the residency program at UVA, I knew I had found the perfect place for me. Everyone was incredibly friendly and the residents clearly supported and cared for one another. Attending physicians love to teach and work closely with the residents. I knew that I wanted to come to UVA the moment I completed my visit.
Charlottesville is also a wonderful area to live in. The surroundings are beautiful, there are a lot of fun activities, and endless restaurants to visit. The community is also incredibly friendly. I am so happy to have matched at UVA. Please come visit our wonderful community. We all look forward to meeting you!
---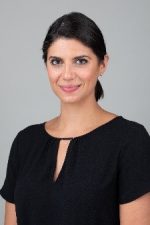 Christine Sawda
Medical University of South Carolina
Hi! Welcome to UVA Pediatrics! I'm originally from Spartanburg, SC and came up to Charlottesville the first time to get my undergraduate degree in Biology and Art History at UVA. I then did clinical research at Georgetown University until I went to medical school at the Medical University of South Carolina in Charleston. Going into interview season, I was looking for a small-to-medium sized program in a big city. However, when I came back to Charlottesville to interview, I knew this program was the right fit for me. I discovered that what was really the most important thing for me was to have a close-knit, family-style residency program. That's exactly what I have found at UVA. The dinner the night before my interview felt like being at a gathering with friends I'd known for years. And in the time I've been here so far, the program has exceeded all of my expectations. In addition to being some of the brightest people I've met, everyone is down to earth, kind, encouraging, and most importantly, fun!
Charlottesville is an awesome city that is perfect for a wide array of interests. There's a great outdoors scene with the mountains so close. It's also an extremely fit city, with a workout community for everyone. I love to go to yoga or a barre class and then head over to one of the many restaurants or bars afterwards. One of my favorite activities is trying the different trivia nights around town. And don't forget the vineyards! There really is something for everyone.
I look forward to meeting all of you during this interview season, and please feel free to reach out with any questions you may have. Go Hoos!
---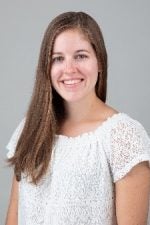 Katherine Turlington
University of Maryland
Hi! I grew up in Maryland and stayed there for college and medical school. I was looking for a change of scenery for my residency and Charlottesville was the perfect place. It is beautiful, incredibly green, and a cute college town. There is also plenty of hiking and outdoor activities to do on days off. The restaurants are surprisingly good for such a small town, and living here is low stress. The size of the program really allows us to get to know each other and still have flexibility in our schedule. Although UVA is not in a big city, it serves a large population and surrounding areas which make it busy and gives us plenty of interesting cases to see.
Please feel free to contact me if you have any questions about our program!
---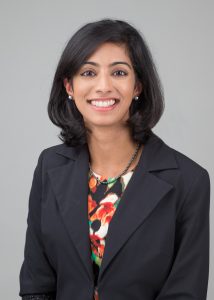 Silpa Thaivalappil
Virginia Tech Carilion
Welcome to UVA Pediatrics! I grew up in Maryland just outside of Washington D.C. and went to Georgetown University for college. I then got my MPH at University of Michigan-Ann Arbor and worked for a year in the Maryland Department of Health in Baltimore before heading south for medical school at Virginia Tech Carilion.
At the beginning of interview season, I did not understand what people meant when they talked about how all programs tend to be very similar in terms of academics, and that it all comes down to your "gut feeling" on interview day. Especially in pediatrics, where everyone is really nice…how on earth could "my gut" tell the programs apart?  But that quickly changed as I visited more and more places. UVA stood out as the residents seemed genuinely happy and there was an impressive camaraderie between the residents and faculty. In fact, UVA seemed too good to be true; I even came back to Charlottesville for a second look before finalizing my rank list. Much to my relief, my first impressions were confirmed!
Even though I haven't been here very long, I can say that my gut feeling still holds true! The residents and attendings have all been very supportive and eager to teach (even to the point of emailing me articles at 3 a.m. when I was on night shift!). Charlottesville may be small compared to places like D.C. or NYC, but it has an impressive amount of amenities, restaurants, and events! Best wishes on the interview trail and please reach out with questions.
---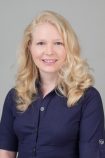 Anne Thompson
University of Iowa
Hello and welcome to UVA Pediatrics! I was born in Cincinnati, Ohio, but primarily grew up in the great state of "Iowa, you make me smile" (former state motto). After graduating from Washington University in St. Louis with a degree in English literature, I migrated East and worked for a healthcare consulting company in Washington, D.C. While I found my work stimulating (and I loved frequenting the art museums, running through the National Mall and Rock Creek Park, and incidentally visiting Charlottesville for the first time), I was drawn to the intellectual challenge and lifelong learning required by medicine as well as the intimate nature of the patient-physician relationship. I returned to St. Louis to pursue additional coursework and worked in cancer research at Washington University School of Medicine. For graduate school, I returned to the Hawkeye state and completed the MD/MPH program at the University of Iowa.
After interviewing across the country, no other place quite compared to the University of Virginia. UVA was my first choice for multiple reasons – the academic reputation, the size of the program allows for strong mentorship and a cohesive, collegiate group, the faculty attend Morning Report and often contribute their experience and expertise to discussions, the residents develop excellent teaching and presentation skills, exposure to a diverse patient population with wide-ranging pathology, and the temperate climate, mountain views, live music, and plethora of fine wine, grocers, and restaurants in Charlottesville. I hope you will have a chance to experience the charm of Charlottesville and UVA! Please feel free to reach out to me if you have any questions. Best wishes on the interview trail! I look forward to meeting you!