Life as a Resident
All our residents are assigned an advisor upon entering the residency. The program advisors meet with residents twice a year, the time with the advisor is used to track individual progress through the program by reviewing milestones accomplished. This time can also be used to review educational goals and to provide performance feedback.
Training is designed to provide an outstanding balance between general pediatrics and pediatric subspecialties, including clinical and basic research. The result will give you confidence as a general practitioner as well as a strong background should you choose to pursue a specialization or a career in academics.
Residents and their families can expect a healthy work/life balance at UVA. We offer an excellent pediatric residency program in an environment that is friendly, safe, and full of rich cultural opportunities.
Resident Wellness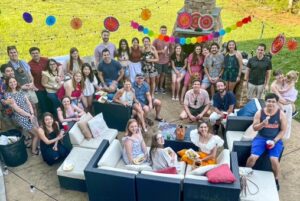 We know and recognize that wellness is also about building resiliency skills. There is growing evidence that residency training can be a time that tests the coping abilities of our physicians in training. There is also growing evidence that mindfulness and self-compassion are targeted skills shown to reduce burnout and improve personal and professional satisfaction. With this in mind – we have a longitudinal residency wellness curriculum that all residents get to participate in! This curriculum consists of three 90 minute experiential sessions focused on practicing skills of mindfulness, self-compassion, recognizing and addressing emotional triggers, creating nutrition and sleep plans and more! Residents are excused from all clinical duties to attend these sessions throughout the year to learn and practice these skills. We also hold monthly process groups run by a trained psychologist for residents who wish to attend with their classmates and debrief and discuss resident life. These meetings are confidential and an offering for anyone who address their personal wellbeing in this way.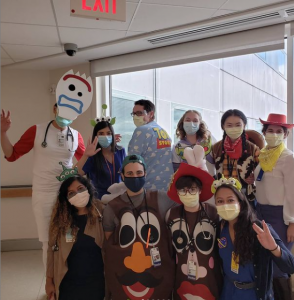 The pediatric residency program recognizes the importance of resident wellness. We have developed several ways to ensure our residents feel supported during their time here.
Our program has a Resident Wellness Committee composed of residents from all program levels. This committee is responsible for planning events to promote resident well-being. They coordinate activities such as cookouts, bowling, hiking, and fun group outings such as to the local trampoline park. They also participate in several local road races each year.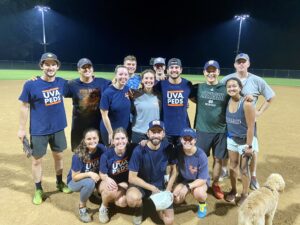 In addition to the Wellness Committee, the Residency Program hosts an annual retreat for interns and third-year residents. Residents are excused from all clinical duties during this time. It allows the residents to get together for a day of fun and fellowship and also to learn helpful career skills. The evening brings a relaxed dinner and an overnight stay at a lodge on the mountain. The residents love this break! We also have a great time at other organized events outside of work. The UVA pediatric softball team is always a hit (pun intended), and the faculty-resident softball game is a must-see.