Global Health Opportunities
Electives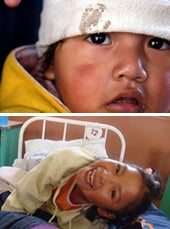 Each year many of our residents choose to do a global health elective. Residents may participate in these electives for one month during their second and third years of residency. In recent years our residents have traveled to countries in Central and South America, Africa, and Southeast Asia (including Costa Rica, Guatemala, Peru, Uganda, Tanzania, Rwanda, Liberia, Ghana, Cambodia, and Semester at Sea). A few residents have also chosen to do local electives in under-served communities in the U.S. through the Indian Health Service. Other global health related opportunities include rotating through the International Family Medicine Clinic and the International Adoption Clinic here at UVA.
Residents who have a long-standing interest in global health may elect to be part of the Pediatric Global Health Leadership Track during their time in residency.
Eligibility
Although components of the Pediatric Global Health Leadership Track are open to all members of the UVA pediatric residency community, residents must formally apply to be considered for the track. All interested residents are encouraged to apply; no prior travel or language experience is required.  Residents should apply to the Global Health Leadership Track by the middle of their intern year of residency.
In order to receive a Global Health Track Certificate upon completion of pediatric residency training, the resident must have fulfilled all program requirements.
For information on other global health opportunities throughout the University, please explore the UVA Center for Global Health or email: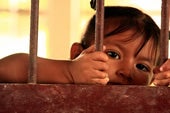 Amy C. Brown, M.D., M.H.S.
Director, UVA Pediatric Global Health Education
Barrett Barnes, MD
Director, UVA Pediatric Residency Training Program
Pediatric Global Health Leadership Track

The goal of the Pediatric Global Health Leadership track is to prepare physicians in pediatric training at UVA to deliver culturally competent care to individual patients and to become leaders in global health practice, research, policy and education
Core Components
Didactic sessions including a monthly international lecture series, regularly scheduled global health journal clubs and round table dinners in collaboration with other participating UVA Global Health Leadership track specialties (Internal Medicine, Family Practice, General Surgery, Emergency Medicine, Psychiatry, Radiology, and Anesthesia).
Global health courses offered by the UVA Department of Public Health Science including a two-week intensive course in Tropical Medicine and Policy and Practices in Global Health.
Global health elective at a pre-approved target international site for one month during the second and third years of residency.
Supervised global health research project and presentation.
Mentorship and career development