PL2 Pediatric Residents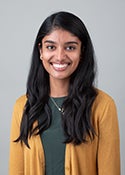 Ashley Akkal
University of Illinois at Chicago
Hey everyone, and welcome to UVA Pediatrics! I grew up in the suburbs of Chicago and did my medical school at Western Michigan. By the time I started interviewing for residency, I was ready to get out of the Midwest and explore a different part of the country. My interview experience at UVA was, without a doubt, the best one I had had throughout interview season. My fiancé​ and I were thrilled to have couples matched at UVA! Since starting residency here, I am happy to say that my initial impression of the residents and faculty here have held true. Everyone has been incredibly supportive, willing to teach, and fun to be around. In case you needed any more of a reason to consider UVA Peds, Charlottesville has been a wonderful place to live! With the beautiful surroundings, historical sites, wineries, and local dining, there is always plenty to do in your time off. We are looking forward to meeting you all on your interview trail, and hope you will consider joining us next year!
---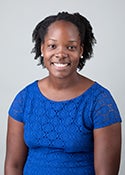 Cherise Brackett
University of Virginia
Pronouns: She/Her
Hello and welcome to UVA! So excited that you're interested in UVA Pediatrics. A little about me: I was born in Jamaica, lived in New York City for a while after moving to the U.S. at age five, then to Charlotte, NC which is where I call home. I went to UNC-Chapel Hill for undergrad and UVA for medical school (during basketball season I'm always torn about who to root for!). I chose to stay at UVA because of the great experiences I had as a medical student. I absolutely loved the pediatrics department! The residents and attendings I worked with were my kind of people. Everyone I worked with was very encouraging, supportive, and enjoyed teaching. It was clear that they were all committed to my learning and development as a future physician and my well-being outside of medicine.
In addition to UVA, Charlottesville has much to offer! I have yet to explore all the wineries, breweries, hikes, and amazing food available. For a small town, it has all the diverse food options you could think of, from Indian to Thai to French. I love to eat, so exploring different restaurants in C'ville is my favorite thing to do with my husband. If there is anything else you would like to know, feel free to reach out to me!
---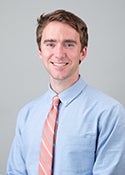 Marc Breidenbaugh
University of Virginia
Pronouns: He/Him
Hey everyone! I was born and raised in Richmond, VA, which is only an hour away from Charlottesville. I studied Biology at the College of William and Mary for my undergraduate degree, and I attended UVA for medical school. I'm so excited to be able to continue to call UVA my home for residency.
What struck me most about UVA when searching for pediatric residency programs were the people. I felt like the residents were all genuinely kind and easy to work with, and I could see myself enjoying spending time with them outside of work. Additionally, the attendings are all excellent teachers, and they always seem to really value resident ideas and inputs. In addition to the people, I really love Charlottesville. In my free time I enjoy trail running, hiking, playing piano, and attending concerts. Charlottesville has so many things to offer with its beautiful mountain scenery, numerous trails and hiking spots, vibrant music culture, and a wide variety of restaurants and wineries to explore. Even though I've been here for four years, I find myself constantly finding new and exciting things to do in the area. I hope you strongly consider UVA on your residency search. Let me know if you have any questions!
---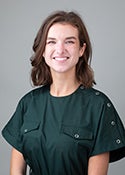 Rachel Crim
University of Mississippi
Hi all! I'm so glad you're interested in pediatrics at UVA. The program here is special and Charlottesville is an incredible town. I grew up in Jackson, Mississippi and attended the University of Mississippi. After obtaining my degree in physics, I wanted to see how life was outside state lines, so I took a year to work as—of all things—a pharma rep in Knoxville, TN. I loved Knoxville, and I knew residency would be the perfect chance to live somewhere with similar opportunities for both outdoor and cultural activities once I finished medical school in Mississippi.
Leaving home was a challenge made much easier by the fact that I knew an extremely supportive community awaited me in Virginia. During my interview, the sense of camaraderie among residents and attendings was immediately apparent. Initially I was intimidated by the program's academic success (I mean, 100% board pass rates for years on end?!), but what I quickly learned was that this was the result of a "we're all learning together" culture, which was exactly the type of atmosphere in which I wanted to train.
Both UVA and Charlottesville have so much to offer, and I hope you fall in love with the area as much as I have! Please don't hesitate to reach out if you have questions. Looking forward to meeting y'all!​
---
Karina Espinoza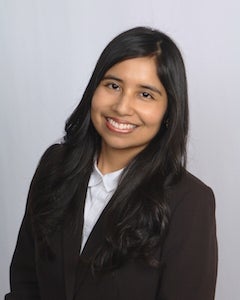 Virginia Commonwealth University
Hi, and welcome to UVA!
I was born and raised in Lima, Peru, but since undergrad have lived in California, Richmond, and now Charlottesville! I am SO happy to be training at UVA. What really struck me during my interview was how tight-knit the residency program was. And as I worked here, this has proven to be very true. Our residents are very kind, down-to-earth, and supportive people. The attending are also so eager to teach us. Lastly, UVA is strong in global health, and as I aspire to be a pediatrician overseas, I am blessed to be training here.
Outside of work, I enjoy visiting my family and friends in the area, cooking, baking, and being outdoors. Charlottesville is just beautiful; lots of mountains and trees! Do reach out to me if you have any questions, would love to chat!
---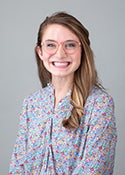 Meredith Jordan
University of Mississippi
I am from the great state of Mississippi. I went to Ole Miss for both undergraduate and medical school (Hotty Toddy!). My husband and I saw residency as an opportunity to venture outside of our home state. When I was looking for a residency program, I felt like most places were either academically enlightened or more focused on community and wellness. At UVA, I found a perfect blend of the two. I knew that here I would receive excellent training in an environment that feels like family.
Also, Charlottesville has become an incredible place to call home. C'ville offers plenty of hiking, vineyards, music…but more importantly, my dog Huck is thrilled with how dog-friendly this town is. I would love for you to join our UVA crew. Please reach out with any questions that come up throughout the interview season; we can't wait to meet you! ​
---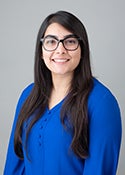 Marium Khan
Aga Khan University Medical College
Pronouns: She/Her
Hi everyone and welcome to UVA pediatrics! I am originally from Pakistan, and attended medical school at the Aga Khan University (I decided to go med school directly from high school!). I moved to Charlottesville about a year before the application cycle to work as a research assistant at UVA, and I was immediately hooked by both UVA and Charlottesville!
I knew I wanted to be a part of a medium-sized residency program because I wanted to know my co-residents well. It was also important for me to find a program which not only provided an excellent education but had an inclusive, kind, and encouraging environment. UVA encompassed all of this for me and everyone I interacted with during my interview day was extremely warm and supportive–not only each other but also of me! Another aspect that stood out was the faculty's dedication towards teaching–our morning reports are unparalleled to anything I have seen elsewhere, and all of the faculty genuinely love to teach residents and students. Even with only a little over a month as a resident, I have already learned so much by being exposed to a wide range of pathologies and a diverse patient population–I am so happy about deciding to stay here!
---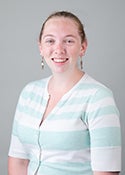 Casandra Kirschner
University of Washington
Pronouns: She/Her
Hi everyone and thanks for your interest in UVA Pediatrics! I am from Boise, Idaho where I completed my undergraduate degree at Boise State University. I then attended medical school at the University of Washington in Seattle with WWAMI rotations in Idaho.​ My decision to venture to the east coast was largely influenced by my parents living in Virginia and wanting to be closer to them (I also have two young daughters so being near their grandparents was important for them too!).
There were many aspects of UVA that interested me. I was looking for a medium sized program where I would have close relationships with the other residents and attendings. I wanted to spend most of my time in one location and not having to commute to distant hospitals/clinics for extended periods of the year. I am also interested in Global Health and wanted to be where there was an established program with opportunities to travel internationally. In addition to all of the wonderful clinical experiences at UVA, Charlottesville is a wonderful place to live especially with two young girls. There are many parks, restaurants, and short distances to the mountains or ocean for other outdoor choices. We have loved our time here so far! I hope you consider interviewing with us and enjoy the rest of 4th year!
---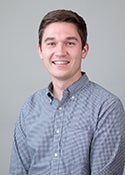 Nicholas LoSchiavo
University of Vermont
Hello! I am glad that you are considering UVA pediatrics; it's a great place to be! I grew up in the Chicago suburbs, and then I studied physiology at Brigham Young University–go Cougs!  After college I moved across the country to the Green Mountains where I completed medical school at the University of Vermont. It was there where I developed a love for maple syrup, Ben & Jerry's, and pediatrics.
When looking for a residency program, I wanted to go to a place that was a good fit for me, my wife, and son.  After interviewing at UVA and visiting Charlottesville, we quickly realized that this was the place for us. There is a strong sense of community amongst the residents, where everyone supports one another. The program places a strong emphasis on teaching, which is apparent by the approachability and willingness of the faculty to teach. Being a prominent academic institution, we see a wide variety of cases that enrich our learning and prepare us well for the next step.  Finally, Charlottesville is an amazing place to live for people of all ages and interests. It is easy to get around, and there's plenty of fun activities to do including exploring new restaurants, attending concerts, shopping on the downtown mall, hiking, and visiting amazing parks. Thanks for your interest in UVA and best of luck to you! Do not hesitate to reach out to any of us with questions.
---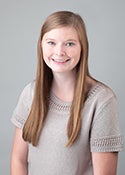 Chelsea Miller
East Tennessee State University
Hi! I'm so glad you are interested in UVA Peds! I was born and raised in Johnson City, TN and went to Clemson for undergrad (go Tigers!). I am a huge football fan and went to almost every game in college. One of those games brought me to Charlottesville where I got to watch my Tigers beat UVA (sorry Hoos), and to explore C'ville. I remember thinking that I would love to come back someday.
After college, I went back home to attend medical school at East Tennessee State University. During my fourth year, I had the pleasure of doing an away rotation at UVA in pediatric cardiology. I learned more that month than I ever have in my life! The learning curve was steep, but the attendings, fellows, and residents spent every free moment teaching and discussing cases. What I loved most about UVA was everyone's passion for medicine. The faculty didn't spend time teaching just to check a box, they spent hours talking about medicine because they genuinely love what they do. This really stood out to me and became a top priority in my residency search.
The more I learned about UVA, the more I realized that it was the ideal program for me. It is one of the few large academic centers that still has a small-program feel, with only 12 residents per class. Here you will see some of the sickest patients and rarest cases, but you will also learn bread-and-butter pediatrics and invest in the community. Residency is going to be challenging no matter where you go, but the people you are with can make it one of the most exciting and fun times of your life!
Charlottesville is an amazing city to live in–everything around here is beautiful, there's a wide array of restaurants, many hiking opportunities, and several events happening all the time. I wish you the best of luck on your interview season and am excited you are considering UVA. If you have any questions please don't hesitate to reach out!
---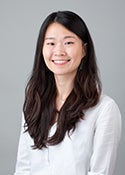 Grace Park
Indiana University School of Medicine
Hi everyone! I'm so happy that you are interested in UVA Pediatrics! I am originally from Seoul, South Korea and moved to Houston, Texas when I was 12 years old. I went to undergrad at Indiana University in Bloomington and medical school at Indiana University School of Medicine in Indianapolis. For those of you reading this who are about to begin your residency application journey, I totally understand what you're feeling—it's overwhelming! It is a big life and career decision. When I was looking at programs I focused on three things: education, location and most importantly, the people. I wanted to find a program with top-notch training in an area that blended city and nature. Charlottesville is culturally diverse and only three hours from the beach and twenty minutes from a national park, so it was an easy decision. In addition to that, I truly love the people at UVA. Everyone knows everyone and it feels like family here. As you begin to look at different programs, just remember that these people are the ones you will see the most, day and night, for the next three years. It makes a huge difference who you spend your time with.
A little more about me—when I'm not working, I love to cook and try different restaurants (yes, I am a foodie!) and Charlottesville is the perfect place for that. I also love to listen to music, play piano, and hang out with friends. If you have any questions about our program, please feel free to reach out to me or any one of us. We would be more than happy to chat. Good luck!
---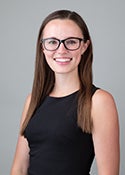 Sherilyn Salefsky
University of Arizona College of Medicine, Phoenix
Hey and welcome to UVA Pediatrics! I was born and raised in Phoenix, AZ. I went to the University of Arizona in Tucson for my undergraduate degrees. At that time, I wasn't sure that I wanted to be in the medical field, so I worked as a scribe in an Emergency Department in Tucson for two years after graduation. During that experience, I fell in love with taking care of patients. I then decided to apply for medical school and attended the University of Arizona College of Medicine in Phoenix.
When it came to applying for residency programs, my husband and I knew that we wanted to start a new adventure and I knew I wanted a small/medium program that placed a strong emphasis on hands-on experiences for residents, cultivated residents as teachers, and had opportunities for learning how to be the best advocate for patients. During my interview at UVA, I definitely had that "gut feeling" that this program was the perfect fit for me. I was amazed by the involvement of the faculty; they have an incredible amount of knowledge and are passionate about teaching residents in a kind yet challenging way. UVA serves a large population with a variety of pathologies and patient presentations which helps to create well-rounded general pediatricians and subspecialists alike.
Charlottesville has been the perfect place for our new adventure. My husband and I love hiking with our golden retriever in nearby Shenandoah National Park. There are great breweries and vineyards around the area that are fun to enjoy with co-residents who already feel like family. And as big sports fans, it's great to have a National Championship team to cheer for! We look forward to meeting you during interview season. If you have any questions, please feel free to reach out. Wahoowa!
---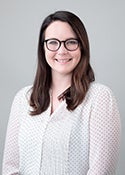 Erica Steele
Florida State University
Hey y'all! Thank you for your interest in UVA Pediatrics. I was born and raised near Tampa, FL. I attended Florida State University for my undergraduate education where I received my degree in Biological Science. After graduating, I completed my certification as a clinical research coordinator and was involved in multiple clinical research trials. Ultimately, I found my passion for the practice of medicine and decided to pursue my medical degree. I completed my medical education at my alma mater–GO NOLES! As I looked to residency, I knew I was ready for a change. I traveled to many different states during my interview trail but it wasn't until my interview at UVA that I truly felt I had found my home. The residents were friendly, seemed genuine and supported each other well, and the faculty was knowledgeable, kind, and approachable. UVA is an academic program with every opportunity I could hope for, and I knew I would be a well-trained pediatrician after residency. Even though intern year is challenging, I feel supported by both the faculty and my co-residents and I am so happy to be a part of this program.
When I'm not working, I love to spend time with my husband and my puppies! I also love to bake, hike, and workout. I enjoy Charlottesville's great restaurants, concerts, and beautiful vineyards. We are excited to welcome you to UVA!