PL2 Pediatric Residents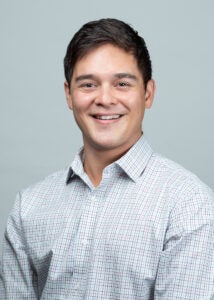 Samuel Baldazo
Dell Medical School at the University of Texas in Austin
Pronouns: He/Him
Welcome to UVA Pediatrics, I hope you find all the information you need. I'm from all over the place. I was born in Utah, grew up in Idaho, then graduated high school in Austin, TX. I went to college at the University of Notre Dame in Indiana, then returned to Texas to go to Dell Medical School, UT Austin. Academically, I'm passionate about value-based medicine and patient/family-centered decision-making. I enjoy staying active and working out and have really enjoyed all the outdoor spaces Charlottesville has to offer. I also love watching and discussing movies, finding indie video games on my Switch, and experimenting in the kitchen.
I chose to come to UVA for my pediatrics residency for a few concrete reasons. Firstly, as you could tell, the east coast is the last stop on my "tour of the USA," and I'm excited to experience this state and this area of the country. I also was drawn to a few specifics about this program, specifically the access to the medical-legal partnership, the home visit program, the opportunity to participate in the clinical educator track. Finally, as far as the program, I've been continually impressed by how nice everyone in the hospital is and how supportive the pediatrics faculty is. I'm excited to continue my academic journey here, good luck in your residency search process! Let me know if you need anything else, thanks!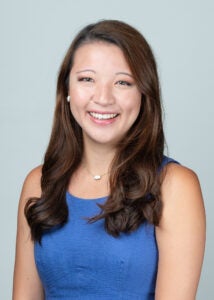 Nicole Byram
University of Virginia
Hi! I'm Nicole – welcome to UVA! Though I lived in North Carolina and Iowa as a child, I consider Richmond, VA my home. I earned my bachelor's degree in biochemistry & molecular biology with a minor in mathematics at the University of Richmond. I then attended UVA for medical school. I had the best experiences during medical school with attendings, residents, and medical students throughout the hospital but especially in the pediatrics department. I loved UVA so much that I wanted nothing more than to stay here for my pediatric residency. UVA offers a very supportive environment for both patient care and learning. What especially stood out to me as a medical student was the great relationships between the pediatric residents and how I could truly see myself as part of the program – and here I am! I can definitely say that the residents and faculty are friendly, welcoming, and genuinely interested in getting to know every resident.
When I have free time, I love exploring new restaurants with family and friends. I enjoy cooking, baking, and volunteering with kids at my local church. I also love day trips to the beach or D.C. Charlottesville is a great place to live that has tons of things to do both here in town and in surrounding cities. You will never be bored, and there really is an activity for everyone! Please reach out to me if you have any questions – I'm always happy to share about my UVA experience!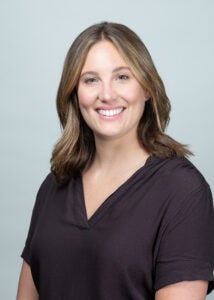 Hanna Carroll
Medical University of South Carolina
Pronouns: She/Her
Enneagram: 8w7
Hi everyone! Welcome to UVA pediatrics! I was born and raised in Charleston, SC, and ventured to the upstate to Clemson University for undergrad (Go Tigers). 4 years and National Championship later, I headed back to Charleston and the beach to the Medical University of South Carolina for medical school.
UVA had everything I wanted in a residency program: a diverse patient population, a wide variety of acuity and pathology, and a strong academic focus, but what stood out to me most was the people in the program. Even through zoom the camaraderie between the residents, attendings, and staff was apparent and was something I had not seen with other programs. I wanted to be in a program where the residents were a family, where they genuinely liked each other and enjoyed being together both in and out of the hospital. After my interview with UVA I realized I had found the perfect place…and the rest is history!
Moving to Charlottesville has been the icing on the cake, it really does live up to the hype. There is so much to see and do all the time and you will not find a more dog-friendly city (you can ask the light of my life, my dog Neville, and he will tell you it's true). If you enjoy: eating, vineyards and breweries galore, hiking, floating the river, music, and dogs…then Charlottesville is the place for you. I can't wait to meet you all and if you ever have any questions or need anything please reach out! Good luck with the interview season!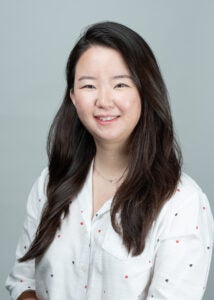 Jihae Choi
Eastern Virginia Medical School
I'm Jihae Choi. I was born in South Korea, but I spent most of my time hopping around different parts of Virginia. I grew up in Northern Virginia, right outside Washington, DC. I moved down to attend the University of Richmond where I majored in Chemistry and Studio Art (yes, you can study anything in college and still end up in med school), then I popped over to the East coast to attend Eastern Virginia Medical School. Interviewing during COVID season was crazy. We weren't allowed to do away rotations, we couldn't visit schools for interviews, and everything was virtual! To make matters even more complicated, I was couples matching with my "at the time" fiance and we were both applying to pediatrics!
During the virtual interview season, we both felt discouraged as the monotony of the virtual season started to make all the programs blend together. The stars aligned for us, however, when we interviewed at UVA. It checked all the boxes. In addition to being physically close to our families, the UVA community felt like a family in itself. During the virtual happy hour, all the residents seemed genuinely excited to talk to each other. You could really feel the love emanating from the residents. Once we got to UVA, the love and support from everyone were even more obvious. During my first week of intern year, I remember being surprised that the attendings and senior residents all knew my name already before I even knew theirs. Despite being a huge tertiary care facility, the enthusiasm of the residents and staff made adjusting to a new hospital and a new position as smooth as possible. ​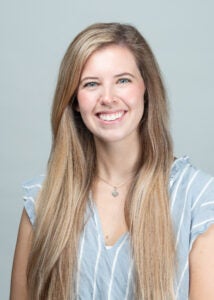 Lauren Ferguson
Virginia Tech Carillion School of Medicine
Pronouns: She/Her
Enneagram: 9w8
HELLO! I am so happy you are considering UVA peds! Though I was born in Germany because of the military, I only lived there a short time before moving to VA, and I'm a Virginia girl through and through: I grew up on the coast in Yorktown, VA (Hamilton fans: that Yorktown!), went to Virginia Tech for undergrad, masters, and med school (H-O-K-I-E-S HOKIES), visited my now-husband in DC the whole 2 years we dated long distance, and now I'm rounding out my VA tour in Charlottesville for residency!
As a triple Hokie, I was barely considering UVA going into the interview, though I knew it was a great program (the rivalry runs deep). But immediately after my interview, I said to my family "Dang it. I think I want to go to UVA." Big things on my list were an emphasis on medical education, being a referral center with tons of subspecialties, and a faculty that is close with the residents. It didn't take long to figure out those were huge pillars of the program, and painful as it was to contemplate being a Hoo, I'm so happy here! I've gotten more hugs from my co-residents in these first weeks of residency than in the rest of my life combined. The program is so supportive AND Charlottesville is a blast to live in. My husband and I love to run and hike, trying new restaurants, going to concerts and bars/wineries with our friends, and hosting game nights! Charlottesville is the perfect place for all of that! Good luck this season and let us know if you have any questions!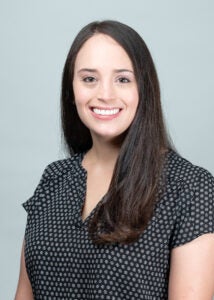 McKenzie Fredricks
Louisiana State University School of Medicine, New Orleans
Hi! I'm Mackenzie. I grew up in the great city of New Orleans ( WHO DAT?!), but ventured out to Nashville for college, where I attended Vanderbilt University and graduated with a BA in Medicine, Health and Society, and History of Art. After taking a year off to work in a healthcare consulting job in Dallas, TX, I moved home to attend medical school at LSU-New Orleans. It was the week classes started that I meet my classmate, Dylan, who is now my fiancé, and also an emergency medicine intern at UVA.
We are so excited to have matched at UVA and have loved living in Charlottesville with our two dogs, Cooper and Ollie. Coming from New Orleans, I had big expectations, that have definitely been met. There is a ton of great restaurants, wineries, and plenty of live outdoor music venues, but none of the interstate traffic!
All of the residents and faculty here are so nice and love to teach, which is great when starting as a new intern. I have really enjoyed bonding with my co-interns and upper levels, both inside and outside of the hospital and we are excited to meet each one of you!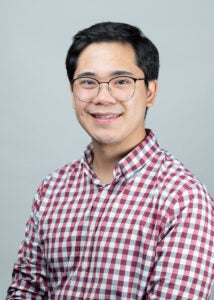 David Le
Eastern Virginia Medical School
Hey everyone, I'm David!
I was born and raised in Richmond and stayed for undergrad as well attending VCU. I majored in Biomedical Engineering, after which I vowed to find a career with less math. I ended up going to Eastern Virginia Medical School in Norfolk VA where, shamefully, I rarely went to the beach which was only 10 minutes away. As my wife and I were heading into the match season (both couples matching Peds), we were really looking for a program where the residents were not only close to each other but really looked at each other as family. Although the interview season was virtual, there was no program that came close in regards to the camaraderie that we experienced here. This same supportive environment truly flows from the top-down as well, with everyone one of the faculty and staff truly dedicated to your development as a physician, but also growth as a human being. As UVA is a quaternary health center, we cover a huge span of Virginia and see a really diverse patient population. In addition to this, having all of the subspecialties represented you have the full gamut of clinical and research opportunities any Pediatrician in training could want.
Although we traded the beach for the mountains, there is an almost endless amount of fun outdoor things to do, whether it is hiking Blue Hole (or as we call it, Snake Hole), taking your dog on walks through the many great state parks, to picnicking at any of the 40 plus wineries in Charlottesville. I myself am one of the biggest goofster gafsters around, and I couldn't imagine being happier and more supported anywhere else but here at UVA Pediatrics. Hope to see you soon!
Mae Lobrano
Louisiana State University School of Medicine, Shreveport
Pronouns: She/Her
Enneagram: 8w7
Hey, y'all! I am a proud born and raised New Orleanian with a passion for Mardi Gras and crawfish who has made her way to Virginia, and I am loving it! I attended Tulane University as a Community Service Scholar where I double majored in Neuroscience and Dance. After graduating, I decided to fulfill my lifelong dream of living in NYC where I worked as a personal care assistant for a very talented photographer who suffered a spinal cord injury and nannied for an amazing family on the Upper East Side. During my year there, my love for NYC, Broadway musicals, and Joe's Pizza grew. I returned closer to home to attend medical school at LSU Health Shreveport, School of Medicine. I knew in my search for residencies I wanted a tight-knit, home away from the home community that fosters a safe learning environment. UVA is all of those things and more for me! The residents, faculty, and others in the UVA community are some of the smartest and most kind people I have ever met. I am pushed to be my best self here. This program is interested in cultivating my career goals and interests in Adolescent Medicine, Child Forensic Medicine, and health policy. Charlottesville has SO MUCH to offer for me and my pup, Hoda (who I think is the most excited about moving here). We enjoy going on hikes, wineries, cideries, live music, rooftops, and amazing restaurants. It also doesn't hurt that the Blue Ridge Mountains are a perpetual backdrop! Thank you for your interest in UVA and feel free to reach out if you ever have questions! And Who Dat!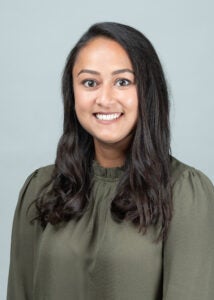 Jasmine Ragoowansi
University of Virginia Medical School
Pronouns: She/Her/Hers
Hi, I'm Jasmine! I am originally from New Jersey (the central part, which most definitely exists), but have lived in Virginia for nearly a decade. I did my undergrad at the College of William and Mary where I majored in Neuroscience and then came to UVA for medical school. In choosing a residency program, I did my best to keep an open mind, but I kept coming back to my love of the Pediatrics program here at UVA. I feel so lucky to be learning from such accomplished, yet humble attendings who truly care about my goals and who I am, not only as a physician but also as a person. The diversity of patient backgrounds and medical complexities creates the perfect environment for well-rounded medical education. On top of all of that, Charlottesville is surrounded by gorgeous mountains with picturesque vineyards, hikes, and views. The food and drink scene is great with new restaurants popping up so frequently that I can't keep up! In addition to exploring Charlottesville, I also love to cook, bake bread, watch TV, and hang out with my sweet puppy Daisy and those hobbies are very much still alive during my intern year. The only warning I have for you is that the streets of Charlottesville are paved in glue; once you come here, it's really hard to leave! Please feel free to reach out with any questions, I look forward to meeting you all!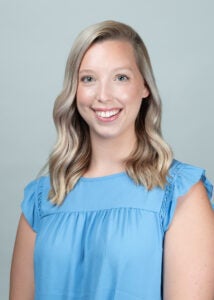 Carly Randall
Texas College of Osteopathic Medicine
Pronouns: She/Her
Enneagram: 2w3
Howdy, y'all! Welcome to UVA Pediatrics!
My name is Carly Randall and I am one of the Child Neurology Residents! I am a proud Texan who loves BBQ and Tex-Mex! I attended the University of Florida (GO GATORS!!) for undergrad where I majored in Biology and minored in Art History and Health Disparities. I came back home to complete medical school at Texas College of Osteopathic Medicine.
When it came to finding the perfect fit for residency, I was looking for a program where the residents felt like a close-knit, big family, diversity of patients and residents, a collegiate mentality where no one gets left behind, and exposure to a variety of case presentations. UVA checked off all those boxes! Also, the city of Charlottesville is great; there are many wineries, breweries, hiking trails, dog-friendly restaurants, and orchards for berry, peach, and apple picking. You are also close to the mountains, beaches, and big cities like Washington DC. There is honestly something for everyone here!
I am so happy that I matched at UVA and feel like I truly found my new home for my fiance, golden retriever, and me! If you have any questions about UVA Pediatrics, Charlottesville, or just advice about interview season, please don't hesitate to reach out!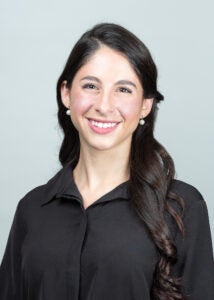 Krista Roncone
University of Virginia School of Medicine
Pronouns: She/Her
Welcome to UVA! I grew up in New York calling different parts of the state my home at different times. I've lived in the city, went to school in Rochester, attended college in the upstate area at SUNY Geneseo where I majored in biology and Spanish literature and linguistics, and now the Finger Lakes region is where I call home. I went to UVA for medical school where I fell in love with the pediatric residents and attendings, and when I realized I wanted to go into this field there was truly no other place I could imagine doing it but here! Our small-medium class is unique in the sense it allows our program to feel more comparable to a subspecialty residency where we have the opportunity to work closely with attendings and co-residents and form the special type of personal and professional bonds not always seen in a larger style program. I feel valued as an individual and feel that my unique interests are supported, but at the same time feel that I am part of something so much bigger than myself. Our diverse patients are the best part of the work environment, and cases span from the typical "bread and butter" pediatric learning opportunities to subspecialty services taking care of the most complex patients from our large catchment area. This allows for an amazing balance between strong foundational training for those interested in general pediatrics, and valuable exposure for those interested in pursuing a fellowship. Additionally, if being a doctor for all patients from every background is an important value to you, you will find no shortage of diverse patients within the UVA population that our hospital is truly honored to care for as a safety net public institution, and I feel this is the most important and rewarding part of training. While I am still deciding on what particular facet of pediatrics to pursue, my overarching career interests include Latino health and working with underserved populations, health disparities research, medical education, and medical journalism. In my medical school years, I was privileged to work with the strong Latino and international community here in Charlottesville and look forward to continuing these relationships as a resident. When outside of the hospital I enjoy spending time with our outgoing group of co-residents, exploring wineries, refurbishing old furniture or doing other DIY projects, cooking homemade pizza for friends, and spending time with my golden retriever, Miss Moose. I hope you find our program as special as we do, and if you have any questions please do not hesitate to reach out!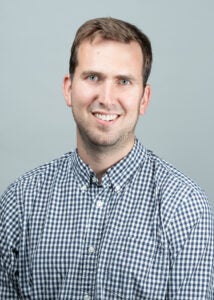 Kyle Willett
University Of Texas Southwestern Medical School at Dallas
Hi, I'm Kyle!
I'm the proud father of a spunky 2-year-old, an avid mountain biker, triathlon enthusiast, and drummer.
I grew up in Texas and went to med school at UT Southwestern. My wife and I were looking to experience living in a different location, and Charlottesville is a perfect mid-sized town to be close to the outdoors, spend time at breweries/concerts with residents, and raise a family.
When looking at programs, I looked at 3 criteria: the experience, the location, and the people. UVA Pediatrics was a perfect fit for me in that it (a) provides a good mix of inpatient and outpatient experience, (b) is located near green spaces to bring my family and spend time in the outdoors, and (c) is made up of an incredible group of people who are passionate about good training, while simultaneously being great friends in and out of the hospital.
If you're looking for a tight-knight group of residents at a tertiary referral center in an incredibly smaller city – look no further! We'd love to get to know you."
---