Life in Charlottesville
With the anticipation of your residency ahead of you, you'll be glad to know that Charlottesville and Albemarle County provide one of the most relaxing settings you could imagine. From the gently rolling slopes of the Blue Ridge Mountains to the casually cosmopolitan style of the Downtown Mall, you're sure to find plenty of fun and adventure with family and friends!
Here's what our residents have been saying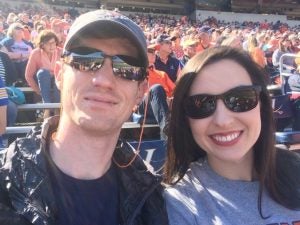 "What's not to love about Charlottesville? It's a great town in a beautiful part of central Virginia and is just a short drive from mountains, beaches, and our nation's capital, Washington DC. I assure you that you won't find many places where you can live within a five minute walk, bike, or drive of the hospital and still be only half an hour from a beautiful national park (Shenandoah), wineries, breweries, and lakes and streams aplenty. And while it's definitely not a big city (a plus in my book), it's got its fair share of restaurants, theaters, and concert venues so there's almost always something going on. All of your sports cravings can be satisfied with the UVA Cavaliers, who contend at the top of the ACC in almost every sport imaginable, and there are plenty of gyms and rec sports leagues for those that wish to get out in the community and get a little exercise at the same time. I could go on and on, but I won't so just come see it for yourself."
–Lucas Wilson, M.D.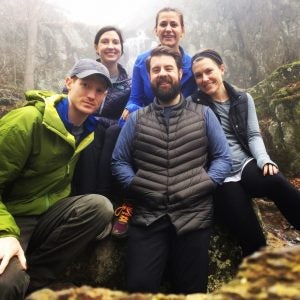 "I have absolutely fallen in love with Charlottesville! While it's just a little bit smaller than my hometown of Chicago, it has everything I could possibly want to do and more! I spend most of my time outside of the hospital hanging out with the residents at restaurants, wineries, and breweries. Most weekends, there's a group headed to a free concert or to the mountains for some hiking – or both! I also play on soccer, softball, and kickball teams with other residents (and fellows, nurses, pharmacists, and attendings). It's a perfect community, and I think I'll have a very hard time leaving! –Caileigh Pudela, M.D.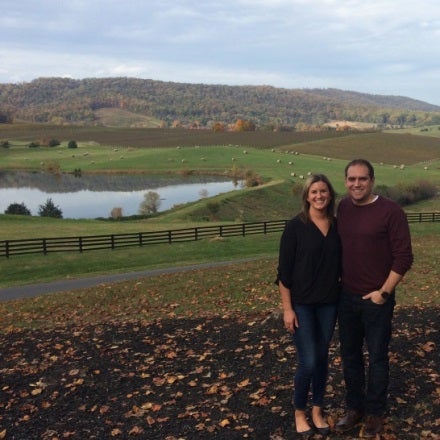 "Charlottesville is truly unique. Its location in the mountains of central Virginia provides a beautiful backdrop for the hikes, wineries, and breweries that
C-ville has become known for. It has the friendly, laid-back feel of a small town while offering the sporting events, concerts, and restaurants that you'd expect of a much larger city. There really is a little something for everyone. It has been the perfect place for my wife and me to spend the past few years." –Joey Mechak, M.D.
Activities and Attractions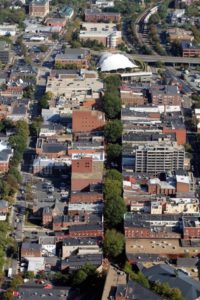 Charlottesville and the surrounding region is teeming with activities for a variety of interests and tastes, such as evenings at Sprint Pavilion for Fridays After Five, shopping at the City Market to support local vendors, running in many of the charity marathons, hiking  scenic trails, attending an event at the John Paul Jones Arena, or picking apples at a local orchard. You're sure to find something to do that will bring a welcome balance to your day!
Charlottesville-Albemarle Convention & Visitors Bureau
Explore things going on at the University and in the community. Find out what locals love! Following up on your choices will lead to plenty of links to other sites, too, like Shenandoah National Park in the Blue Ridge Mountains, and many more.
Exploring the University of Virginia & Charlottesville
See a brief QuickTime movie intro to the area. There are also ideas on getting around (including parking). The University also maintains several online maps; start your explorations at the Maps & Directions page.
Finding Your Home
Whether you're looking for housing at the University ("on-Grounds," as they say) or for an apartment or house "off-Grounds," there are people available to help direct your search.
Check out the available links at Faculty & Staff Housing, part of the University's Housing Division. From there you can compare rates, read terms and conditions, and fill out your application for on-Grounds housing.
For off-Grounds housing options, continue your search online through a site maintained by the Charlottesville Area Association of REALTORS®, providing listings in Charlottesville, Albemarle, and other nearby counties. As many of our residents can attest, you may have to look a little, but it's definitely affordable to buy a house here on a resident's salary.