Brian Holben
Technologist, Interventional Radiology
Marine Corps 1999-2007
When I started to talk about my plans to join the Marine Corps, a lot of my family and friends asked why I didn't choose one of the easier branches. This made me want to take on this challenge even more and prove to myself and them that the easier path isn't necessarily the right one to get you where you want to be. And of course, the dress blues played an inspiring role!
I traveled stateside all over the East and West Coast. I also traveled to Germany, Kuwait, and Iraq. While I served, the military emphasized the qualities my parents had stressed while I was growing up—qualities like honor, integrity, and discipline. The military also taught me the importance of teamwork and leading by example.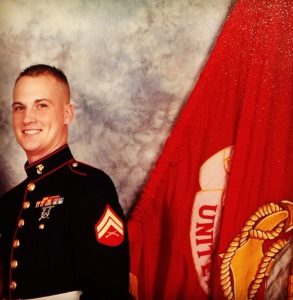 Once I finished service in 2007, I needed to find a career. I began looking at various school options. At the time, Radiology was a growing field that had several different career path options. After experiencing many of these fields through different family illnesses, Radiology became very intriguing.
I relocated to Charlottesville from my hometown in Pennsylvania. After moving, I heard about the Radiology Technologist School through UVA and PVCC. Once in the program, I learned about the well-known Interventional Radiology Department at UVA. The fast-paced and hard working environment fit me perfectly, and I set my goals on continuing my education in the Charles J. Tegtmeyer School of Interventional Radiology and Special Procedures. I became an Interventional Radiology Technologist.
Working in Interventional Radiology at UVA has been great. We have an amazing team, and in many ways we really are a family. It's similar to the military in that way. I enjoy Interventional Radiology because it's fast-paced, and you get to diagnose and treat patients. You truly feel like you're making a difference.