Integrated Interventional Radiology Residency Program
Introduction
In September, 2012, the American Board of Medical Specialties approved a request from the American Board of Radiology granting them the primary certification in interventional radiology. A new training pathway was developed in the form of a dedicated IR Residency. Training residents in interventional radiology at the University of Virginia has been in effect since 2002 through a pioneering Vascular and Interventional Radiology (VIR) track. Now with ACGME accreditation, the VIR track will be phased out and replaced with the new integrated interventional radiology residency program.
The Integrated IR Residency will provide a broad and more in-depth experience in the clinical diagnosis and care of patients with diseases commonly treated by an interventional radiologist. Furthermore, the residency allows the trainees an opportunity to become more familiar with and participate in research to further the field of vascular and interventional radiology.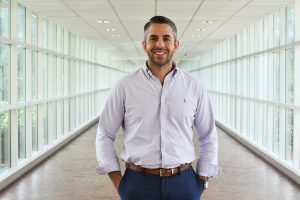 Read about a day in the life of an IR resident
If you've wondered what a day during your IR residency will look like, check out a day in the life of IR resident Dr. Christian Salinas.
Training
We offer up to three (3) residency positions each year through the NRMP match (1737416C0). The total period of training is six-years.
PGY-1 is spent in UVA's Department of Surgery
PGY-2 – PGY-6 the trainees rotate through all the diagnostic areas in preparation for the Core Exam at the end of PGY-4, and rotate through IR and IR-related services predominantly in their last two years of residency.
Clinical Radiology Training
The PGY2-4 years will focus primarily on diagnostic radiology (DR) rotations. The residents will rotate on the standard three months of IR similar to other DR residents, and will spend at least 18 months in IR during PGY 5-6.
IR Related Rotations
The residents will spend 2 months in vascular surgery in the PGY 3 where they will be involved in inpatient consults, outpatient clinics, and surgical procedures. The residents will also spend one month in the Surgical ICU to gain more experience in critical care. During the PGY5 year, the residents will spend 2 months in clinical rotations relevant to the practice of VIR (i.e. consult service for cardiology, vascular medicine, and hepatology). In the PGY6 year, the residents will have additional experience in noninvasive peripheral vascular lab, MRA, CTA, neuroangiography and neurointerventions.
Clinic
During PGY 2-6, trainees will have regular clinic days throughout the year. This is an opportunity for trainees to develop skills in the outpatient
management of patients undergoing IR procedures. Participation in clinic will be heavier in the PGY5 and 6 years
Research
The trainee will have up to three months dedicated basic, translation, or clinical research activities.
Dual Certificate in Interventional Radiology and Diagnostic Radiology
At the end of residency, and upon successfully passing the ABR certifying and subspecialty exams, the resident will receive a dual certificate in interventional and diagnostic radiology.
---
How to Apply
Applications for entry into our program July 1, 2020 will commence September 15, 2018.  Applications are only accepted via ERAS.
Documents Required
MyERAS application
Medical school transcript
Three letters of recommendation
USMLE Step I, Step II CK, CS (Step I at minimum). Step II  CK, CS prior to entry into the program.
Note, Step II CK, CS required for international medical graduates
Curriculum vitae
Medical School Performance Evaluation
Photo
ECFMG certified prior to appointment (international medical graduates only)
Interview
Applicants who are offered an interview will be notified via ERAS mail. You will be able to self-schedule using ERAS Scheduler for the listed dates. The scheduler will close one week prior to the interview day. Any changes after the closing of an interview day will be via email.
All applicants who are invited to interview will enjoy a social dinner outing with our residents, where you can relax and learn about our program in an informal setting. Our residents will be available during your interview day to answer questions, and to take you to lunch.
Contact
We appreciate your interest in our program. For questions or additional information, please email or call our Director for Medical Education Programs:
Basia Nowakowski
Director Medical Education Programs
Department of Radiology and Medical Imaging
Box 800170
University of Virginia Health System
Charlottesville, VA 22908
Phone: 434-982-0428
Fax: 434-924-8698
E-mail: bun4n@virginia.edu
---
Interventional Radiology Residency Program Directors
J. Fritz Angle, MD
Program Director
Interventional Radiology
Professor of Radiology and Medical Imaging, Surgery
Director of Vascular and Interventional Radiology
Phone: 434-924-9400
jfa3h@virginia.edu