Cardiothoracic Imaging
We are currently accepting applications for clinical instructor positions in 2020-2021 and 2021-22. PLEASE NOTE: If you are interested in a Cardiovascular Imaging Fellowship in Cardiology go here.
Our Program
The Department of Radiology and Medical Imaging at the University of Virginia offers one (1) fellowship position in Cardiothoracic imaging.
The Cardiothoracic Imaging fellowship will include a balanced combination of cardiovascular and thoracic imaging during the year of training. The cardiovascular imaging content of the training year will include interpretation of CT and MRI studies of the cardiovascular system, as well as hands-on experience in the acquisition of CT and MRI cardiac images for all indications including stress testing and pediatric and adult congenital heart disease. For thoracic imaging, the trainee will acquire experience in conventional radiography, CT and MRI of the chest, with focus in pulmonary, mediastinal and pleural pathology. Extensive experience will be gained in thoracic image guided procedures, mainly under US and CT guidance.
Cardiothoracic fellows will actively participate in multidisciplinary meetings with Cardiology, Cardiovascular and Thoracic surgery, Pulmonology and Pathology, as well as in daily teaching activities through interactions with residents, medical students, and clinical faculty. In addition to teaching at the workstation, fellows will have the opportunity to present formal case conferences in the classroom and small group settings.
Fellows are expected to engage in research during training. Participation in national meetings is encouraged and financial support is available for fellows presenting scientific research. Research opportunities in both cardiovascular and thoracic imaging are offered. Regular academic time is provided.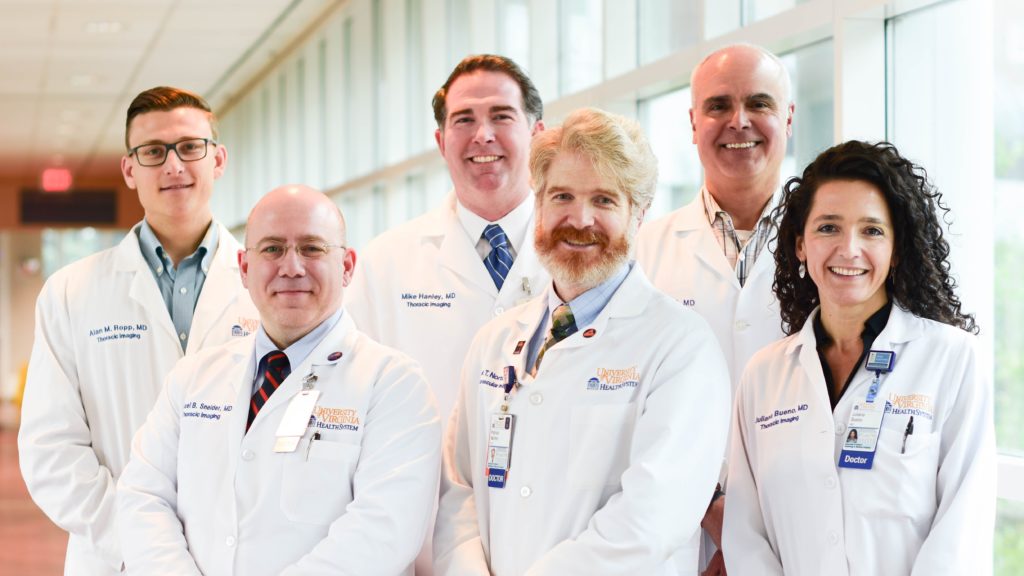 Our faculty currently includes Dr. Michael Sneider (Section Chief), Dr. Patrick Norton (Co-Director, Fellowship Program), Dr. Alan Ropp (Co-Director, Fellowship Program), Dr. Juliana Bueno, Dr. Michael Hanley (Vice-Chair of Educational Operations) and Dr. Juan Olazagasti.
We use state of the art equipment for cardiothoracic imaging, including a dual source/dual energy CT and 1.5T and 3T cardiovascular MRI systems. The Department of Radiology consists of 47 full-time Clinical Faculty, 13 Research Faculty, 40 Residents and 25 Fellows/Clinical Instructors.
We are currently accepting applicants for positions in 2019-2020, 2020-21 and 2021-2022. Interviews will take place until the positions are filled. Offers to external candidates will be made on a rolling basis.
Minimum entry requirements include successful completion of a diagnostic radiology residency and the ability to obtain a medical license in the Commonwealth of Virginia.
To apply for 2019-20, 2020-2021 or 2021-22 positions, please email the following required documents to Sandy Kerns at sk9ef@virginia.edu:

Curriculum vitae (CV)
Cover letter/personal statement
USMLE scores (or equivalent)
ECFMG (if applicable)
Applications from graduates of non-US radiology programs are considered on a case-by-case basis if the duration of the completed training is at least five years including one year of clinical training in the US. Please note that for international graduates, recommendation letters must be from radiologists in the US.
Fellows are selected on the basis of their medical training, general and academic achievements, and personal qualities. No preference is given to any particular medical school or geographic area, nor is race, sex, or national origin a consideration. International medical graduates need to have a permanently validated ECFMG certificate and have passed USMLE Steps 1, 2 and 3. They will be offered a visa for the duration of their fellowship.
A personal interview is required for all applicants; acceptance into the program will be on a rolling basis. In the case of exceptional circumstances, interviews can be scheduled at national meetings (RSNA, ARRS, SAR).
The University of Virginia is an affirmative action/equal opportunity employer committed to diversity, equity, and inclusiveness.
Evaluation
Fellows are provided with written evaluation of their performance four times during the program. The faculty performs evaluations of the fellows' performance at 3, 6, 9 and 12 months through New Innovations.
Anonymous evaluations by the fellows of the program are completed annually, and faculty are anonymously evaluated quarterly. Faculty are evaluated using a numerical scoring system on a wide variety of clinical, teaching, and research skills.
Salary, Benefits and Academic Stipend
Our fellows receive an annual salary that is competitive with what is offered by other institutions. They receive medical and dental care benefits for themselves and their immediate family. Additionally, malpractice insurance is provided at no charge.
Our fellows receive an annual stipend. This stipend is to cover expenses related to attending meetings or buying books. Each fellow is encouraged to attend one educational meeting of his/her choice.
Vacation and Leave Policy
Our fellows have 22 days of vacation time plus additional time off at holidays. Additional time off is granted for fellows presenting at national Radiology meetings.
Office Space
Fellows have combined office space with several cubicles, separate computers, telephones, and PACS.
With its picturesque countryside and natural beauty, a thriving arts and music scene, numerous events and cultural opportunities, and countless outdoor activities, Charlottesville is a great place to call home!
Fellow Testimonials
"This fellowship is unique because it allows us to get an extensive education in several subspecialties, with a large volume of chest patients. We are also able to work alongside both cardiology attendings and cardiac imaging attendings."
-Yoo Jin Lee, M.D.
Contacts
Patrick Norton, MD
Associate Professor, Cardiothoracic Imaging
Co-Director, Cardiothoracic Fellowship Program
UVA Department of Radiology
434.924.9391
ptn7y@Virginia.edu
Alan Ropp, MD
Assistant Professor, Thoracic Imaging
Co-Director, Cardiothoracic Fellowship Program
434-982-6018
amr9ar@virginia.edu
Sandy Kerns
Senior Education Coordinator
Phone: 434-924-9484
sk9ef@virginia.edu
Address
[For US Postal service delivery]
University of Virginia School of Medicine
Department of Radiology and Medical Imaging
Box 800170
Charlottesville, VA 22908
[Physical address (for all other forms of delivery)]
University of Virginia School of Medicine
Department of Radiology and Medical Imaging
1215 Lee Street
Charlottesville, VA 22908
The University of Virginia School of Medicine is accredited by The Liaison Committee on Medical Education (LCME). The University of Virginia is an Equal Opportunity/Affirmative Action employer; women, minorities, veterans and persons with disabilities are encouraged to apply.