Angiography and Interventional Radiology Mini-Fellowship
About
One-week mini-fellowships are available in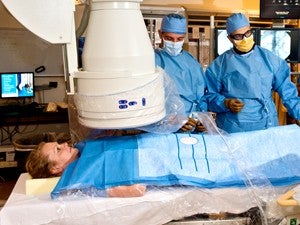 Interventional Radiology for practicing radiologists.Our division performs over 12,000 procedures on more than 5,000 patients per year in seven procedure rooms.
The participant will interact with a staff of 8 attending physicians, 5 fellows, and 12 full-time technologists. He/she will have the opportunity to observe a wide variety of cases that often includes: peripheral and renal/mesenteric angioplasty, atherectomy and stent placement, aortic endografts, TIPS/BRTO and other portal interventions, biliary and urinary interventions, venous angioplasty, varicose vein ablation and venous access. Valuable experience with recent advances in interventional radiology will also be gained. There are daily working conferences where participants can discuss case management, and daily educational sessions.
Tuition
The one week tuition is $2,500 (lodging not included).
Registration Applications can be obtained by calling or writing to:
Sandy Kerns
Senior Education Coordinator
SK9EF@hscmail.mcc.virginia.edu
434-924-9484