Why Choose Structured Education?

Your Future, Your Role and Your Patients
In 1973, Dr. Charles J. Tegtmeyer established the Charles J. Tegtmeyer Program of Interventional Radiology (IR) and Special Procedures at the University of Virginia. At the time of the program's inception, the field of interventional radiology was young: the first IR procedure had been performed just 9 years earlier.
Dr. Tegtmeyer, already a pioneer in this revolutionary field, recognized that well-trained vascular interventional technologists would be an essential component of the field's success. He established his program with the goal of ensuring that his technologists would receive formal education in every facet of angiography: patient care, anatomy and pathology, equipment and instrumentation, and procedures.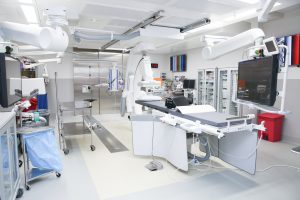 Today, registered radiologic technologists who are seeking a career in IR are often faced with a choice – train on the job, or pursue structured education? As technologists, we must recognize that a complex and unique career in interventional radiology merits specific clinical training as well as structured examination preparation. In 2020, the national pass rate for the American Registry of Radiologic Technologists Vascular Interventional (VI) Board was 59%. This does not reflect a gap in effort or clinical skill, but rather highlights the necessity for consistent formalized training. In the same way that physicians are taught and prepared, IR technologists need tailored and standardized formal training to be adequately prepared for VI boards as well as safe practice.
Advancements in medical imaging have contributed significantly to the growth and acceptance of minimally invasive procedures. Interventional devices have become increasingly more sophisticated and the complexity of procedures has grown, as has the diversity of patients and conditions we care for. This growth has made structured education even more essential. With this in mind, we are proud to offer a unique, paid internship that provides dedicated didactic time, prescribed learning and clinically directed learning objectives that ultimately helps our technologists achieve an unrivaled pass rate of 99% on the VI Boards.
Vascular interventional technologists hold one of the most gratifying and unique positions in medicine. They are experts at using complex imaging and post-processing tools to optimize diagnostic information. They hold expert knowledge for the devices used and are best suited to assist physicians in their appropriate and safe use. They are first assistants to physicians and, with a consistent and broad demand for formal, structured, training, will be recognized as essential.
Appropriately trained technologists become the educators, innovators and leaders of tomorrow. We strive to graduate technologists that will improve IR team care of patients, accelerate the practice and evolution of IR, and, hopefully, improve career advancement opportunities and colleague collaboration.
It is essential that we continue to support our field by seeing ourselves as our physician colleagues see us: as a requisite to the future of IR, consistent partners to interventionists, and core contributors to the exceptional and irreplaceable patient experience that only IR can provide.
As technologists, credentials mark our expertise. They are a nationally accepted measure of ability, a quantifiable indicator that not only can we be expected to meet a standard of practice, but that our specialty defines a standard of practice. As technologists, we need to elevate our role by relentlessly pursuing standardized training. We thank you for considering our program, and for granting us the privilege to share in your educational journey.