Musculoskeletal Imaging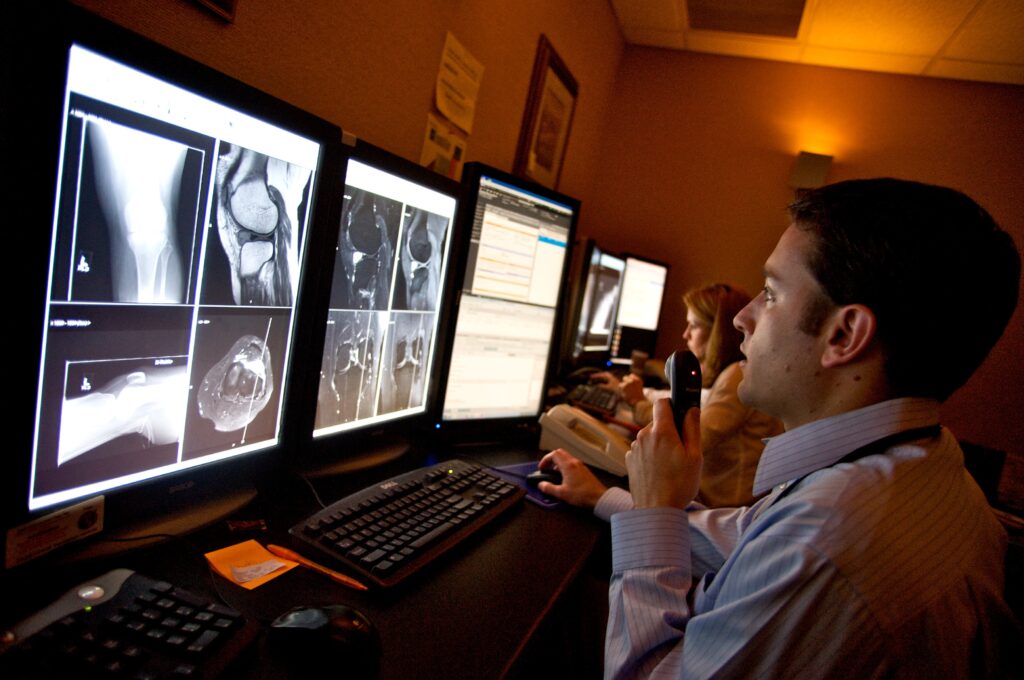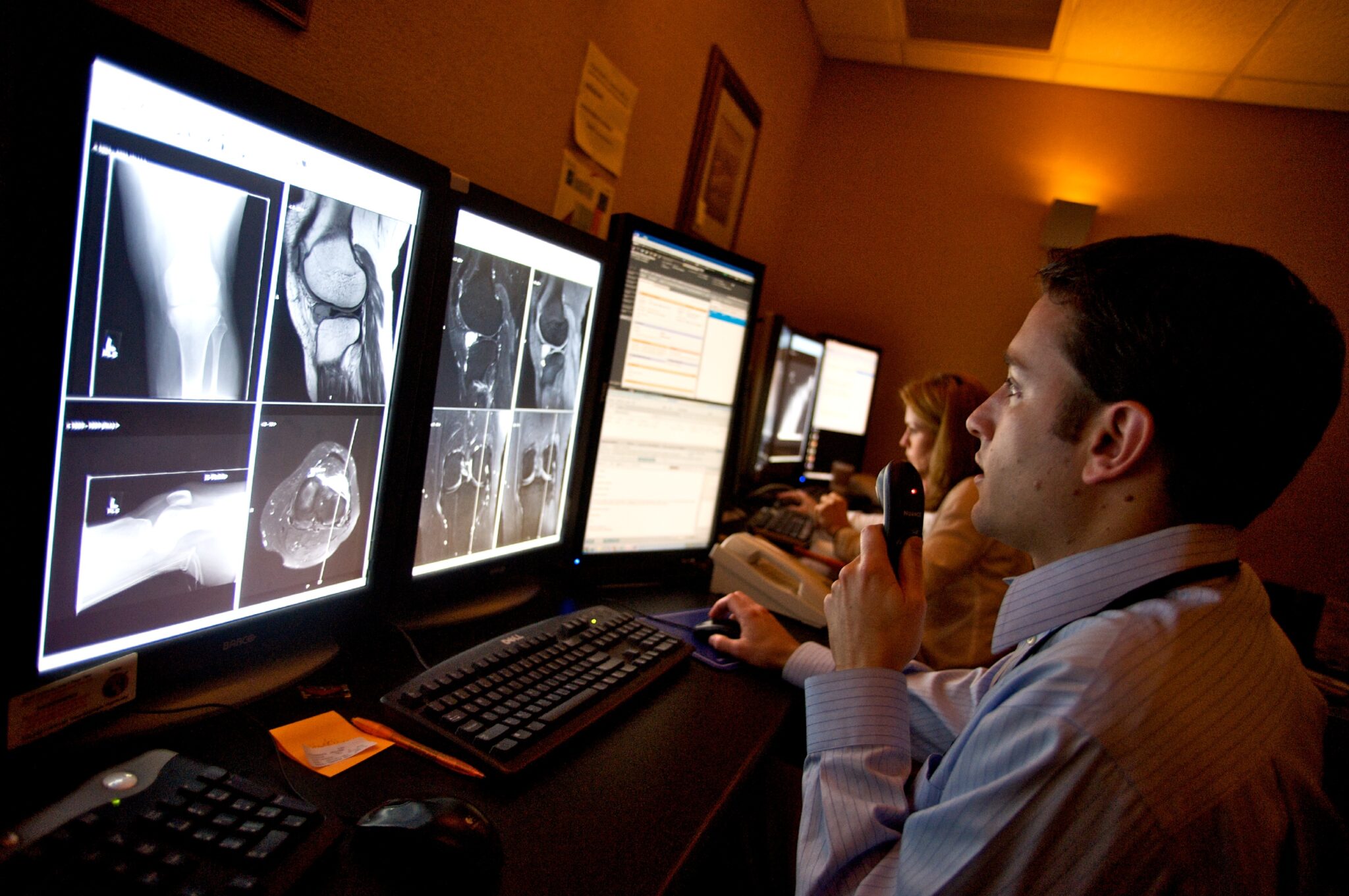 We participate in the Musculoskeletal Imaging Match program administered by the National Residency Match Program (NRMP)
We are now accepting applications for the 2022-2023 Musculoskeletal Imaging Fellowship Program.
For qualified physicians interested in advanced training, the Musculoskeletal Radiology Division seeks candidates for several non-tenured clinical instructor positions. Candidates must have an MD or equivalent, and have successfully completed a diagnostic radiology residency at an ACGME accredited institution.
Our Division
The Division of Musculoskeletal Radiology performs routine and complex diagnostic film reading and procedures relating to the musculoskeletal system. This includes plain films, ultrasound, CT, MRI, arthrography, biopsies of bone and peripheral soft tissue lesions, nerve blocks, epidurals, and joint injections for diagnostic and therapeutic purposes.
Our physicians work closely with other departments within the UVA Health System such as Sports Medicine, Orthopedics, Rheumatology, Radiation Oncology, Pathology, Neurosurgery, and others. Consultative services are also provided for especially complex cases to determine the imaging strategy best suited for each situation.
Recognizing the personal dedication required to pursue post-graduate fellowship training, we are committed to helping each individual further their expertise in utilizing imaging technologies to diagnose and treat disease.
During the training, we expect fellows to:
Provide excellent patient care and timely service to our referring clinicians
Foster a service-oriented atmosphere in our reading rooms as well as in our personal interactions with referring clinicians, imaging technologists, and radiology colleagues
Provide efficient image interpretation such that we add value to the patient's workup
Learn from each other and remember that we're all teachers as we interact with residents, medical students, and clinicians on a daily basis
Upon completion of the Musculoskeletal Imaging Fellowship Program, fellows will:
Have seen enough cases that they feel comfortable interpreting radiographs, CT, ultrasound and MRI studies involving the musculoskeletal system
Be comfortable performing a wide range of image-guided musculoskeletal procedures, including arthrography, bone and soft tissue biopsies, a variety of pain control injections, and ultrasound guided procedures
Confidently operate independently in all areas of our practice, including the interpretation of emergency radiology studies, having been given graded responsibilities as the year progressed
Complete at least one research project during the year, which includes submission of at least one manuscript for attempted publication or submission of an abstract to a meeting for presentation.
Minimum entry requirements include successful completion of a diagnostic radiology residency and the ability to obtain a medical license in the Commonwealth of Virginia.
To apply for 2022-23 positions:
Note: we are unable to accept the SSR Common Application
Note: interviews will be conducted virtually for this cycle to eliminate the need for travel during the COVID-19 pandemic.
EXTERNAL APPLICANTS: please apply through Workday at the following URL, https://uva.wd1.myworkdayjobs.com/UVAJobs , and search for requisition # R0017042. For full consideration applications must include a Cover Letter/Personal Statement, USMLE scores (or equivalent), ECFMG (if applicable), and 3 current letters of recommendation.
INTERNAL UVA APPLICANTS: please apply through your Workday Home page, search "Find Jobs", and search for requisition # R0017042. For full consideration applications must include a Cover Letter/Personal Statement, USMLE scores (or equivalent), ECFMG (if applicable), and 3 current letters of recommendation.
Please: 
Upload all requested documents through the CV portal (Workday does not provide a distinct portal for these documents).
Email all letters of recommendation to Sandy Kerns, MSK Fellowship Coordinator, at sk9ef@virginia.edu.
For questions about the position, please contact Sandy Kerns, MSK Fellowship Coordinator, via email at sk9ef@virginia.edu.
For questions about the application process, please contact Michelle Williams, Faculty Search Advisor via email at mew8js@virginia.edu.
Applications from graduates of non-US radiology programs are considered on a case-by-case basis if the duration of the completed training is at least five years including one year of clinical training in the US. Please note that for international graduates, recommendation letters must be from radiologists in the US.
Fellows are selected on the basis of their medical training, general and academic achievements, and personal qualities. No preference is given to any particular medical school or geographic area, nor is race, sex, or national origin a consideration. International medical graduates need to have a permanently validated ECFMG certificate and have passed USMLE Steps 1, 2 and 3. They will be offered a visa for the duration of their fellowship.
A personal virtual interview is required for all applicants; acceptance into the program will be on a rolling basis.
The University of Virginia is an affirmative action/equal opportunity employer committed to diversity, equity, and inclusiveness.
We have a total of 8 fellowship positions within our division in 3 different tracks:
Clinical MSK fellowship:
The majority of fellows, between 5 and 7 per year depending on research fellowship interest, will be in this category. Fellows spend nearly all their time on the clinical rotations described below. Limited academic time is generally available for fellows actively working on an academic project. Fellows in this track are expected to complete at least one paper for publication or submit one abstract for presentation at a national meeting.
Research MSK fellowship:
This track is intended for a fellow with an interest in research and potentially pursuing a career in academics. Between zero and two positions in this track are available based on candidate interests, with placement into this track occurring after the class has matched. Fellows in the research track still spend the majority of their time on the clinical schedule, although additional academic days will be available relative to the clinical MSK fellowship, with an expectation of increased research/academic productivity.
MSK/informatics hybrid fellowship:
One position per class will be in a hybrid MSK/informatics track. This track is intended for a fellow with a dual interest in MSK imaging and informatics. The hybrid fellow will asymmetrically divide time between clinical MSK work (~80%) and clinical informatics experience and research (~20%). The ideal candidate for the hybrid position is at least entertaining the idea of an academic career (though not required) and has aptitude (though not necessarily experience) in engineering or information technology/systems.
The UVA Department of Radiology and Medical Imaging has transitioned to a system of coverage for overnight ED studies which allows for final signing of studies overnight. Our MSK clinical instructors are in a rotating pool for a week at a time to provide this coverage.  Fellows are given a home workstation which allows for this coverage to largely be done from home if desired. Subspecialty attendings are available for backup coverage by pager should a question arise. Various advanced imaging studies or complicated cases where a subspecialty read is necessary can potentially receive a preliminary read such that they can be read by a subspecialist in the morning. Subspecialty services are also available for urgent overnight procedures, such that the MSK clinical instructors can focus on diagnostic studies. The program has helped our fellows to maintain and further the development of general radiology skills for both boards preparation and practice, as well as increased confidence in individual image interpretation.
Our division provides on-site coverage at the UVA Medical Center, Fontaine Outpatient Clinic, and the Northridge Outpatient Imaging Center. Musculoskeletal imaging performed at other outpatient sites is covered remotely. Distribution of fellow duties on a daily basis is as follows:
Hospital Early 7:00-4:00 , Cross sectional studies and procedures
Hospital Late 12:30-9:00, Plain film and procedures/urgent studies after 4:00
Fontaine Clinic – 8:00-5:00, Cross sectional studies
Fontaine Clinic – 8:00-5:00, Plain film/ultrasound
Fontaine Clinic – 8:00-5:00, Fluoroscopy procedures
Northridge – 8:00-5:00. M and W only. Plain film and fluoroscopy procedures
24/7 coverage 9 PM – 6 AM
Vacation or academic
In addition to the fellows providing overnight 24/7 coverage, one fellow at a time will be assigned to be the MSK call fellow for the week. The primary duty is on the weekend when the call fellow (along with the attending on call) catches up on any MRI or radiographic outpatient exams performed during the week, reads inpatient or other high priority diagnostic studies performed over the weekend, and performs any urgent musculoskeletal procedures. Fellows will also sign out any ED studies, potentially remotely via the home PACS workstation, that receive a preliminary read from the on-call resident up through 9:00 PM when the 24/7 fellow arrives. The fellow will be on pager call after 9:00 PM during the week and weekend, but pages are extremely rare given presence of late shift hospital fellow and 24/7 overnight fellow.
We are a non-ACGME accredited fellowship and our fellows are credentialed as clinical instructors. This allows them to final sign diagnostic studies and procedural reports. In addition to the 24/7 shift final signing responsibilities, our clinical instructors final sign radiographs and spine CT during the day as the year progresses. This graduated exposure to independence produces fellows who are confident when joining a job in either private practice or academics.
Spine imaging, outpatient as well as trauma, is split between MSK and Neuroradiology, providing our fellows with subspecialty level spine imaging training.
Large volume of bread-and-butter orthopedic sports medicine MRI cases.
Heavy procedural emphasis. We run a busy interventional service with 15-18 studies a day at Fontaine fluoroscopy, 10-12 studies at Northridge on Monday and Wednesday afternoons, several ultrasound guided interventions daily at Fontaine, and 1-2 biopsy procedures a day at UVA Medical Center.
Dedicated conferences geared solely towards our musculoskeletal fellows on a weekly basis. Additional multidisciplinary conferences are held with our orthopedic surgeons and other referrers, an average of one every other week.
24/7 coverage program helps to maintain general radiology skills for boards and practice and results in income potential significantly greater than most fellowship positions.
As a large fellowship, we have a large network of former fellows in practice throughout the US which can be highly beneficial when searching for a job post-fellowship.
Practice in a collegial environment with attending who are dedicated to teaching, all while living in one of the best places to live on the East Coast.
Income and Benefits
The 24/7 program helps to significantly boost income during the fellowship year. The nightly rate is currently $1400 (for the 2020-2021 academic year) with fellows taking a minimum of 6 weeks. Additional shifts may be available for those interested, with higher rates for covering of holidays. This pay is superimposed on the base pay which is linked to the UVA PGY salary level of support, which is currently $69,200. The 24/7 program in addition to the base salary therefore produces an income of roughly $125,000 for our fellows.
Fellows receive medical and dental care benefits for themselves and their immediate family. Additionally, malpractice insurance is provided at no charge. The benefit package for our fellows largely follows those available to other UVA employees and can be seen at http://www.hr.virginia.edu/hr-for-you/faculty/fac-benefits/.
Our fellows receive an annual stipend of $1,250 for books and $1,650 for travel for meeting attendance.
Vacation and Leave Policy
Our fellows have 22 days of vacation time plus additional time off at holidays. Additional time off may be granted for fellows presenting at national Radiology meetings.
With its picturesque countryside and natural beauty, a thriving arts and music scene, numerous events and cultural opportunities, and countless outdoor activities, Charlottesville is a great place to call home!
Fellow Testimonials
"I've had a great year.  It's been a very well rounded fellowship with great exposure to all modalities including plenty of MRI, US, and procedures. The MSK division is truly filled with great people."

"The 24/7 in house moonlighting is really amazing and I think sets the fellowship apart from others.  It's a great way to maintain skills, earn extra money, and reflects well on the interview trail regardless if you are heading into academics or private practice."

"Charlottesville is a great town with a lot of activities for young professionals and families."

"One of the most well-rounded fellowships with excellent instruction in MRI, diagnostic MSK ultrasound, and image-guided bone and soft-tissue procedures."

"The new 24/7 program allows you to maintain your general radiology skills, has a very manageable workload, and provides significant extra compensation over the course of the year."
Address
[For US Postal service delivery]
University of Virginia School of Medicine
Department of Radiology and Medical Imaging
Box 800170
Charlottesville, VA  22908
[Physical address (for all other forms of delivery)]
University of Virginia School of Medicine
Department of Radiology and Medical Imaging
1215 Lee Street
Charlottesville, VA  22908
The University of Virginia School of Medicine is accredited by The Liaison Committee on Medical Education (LCME). The University of Virginia is an Equal Opportunity/Affirmative Action employer; women, minorities, veterans and persons with disabilities are encouraged to apply.