Curriculum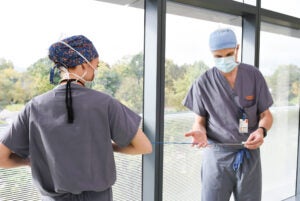 We offer up to three (3) categorical IR residency positions each year through the NRMP match (1737416A0). The total period of training is six years. If you wish to complete all your training at UVA Medical Center, can rank the joint Surgery/Interventional Radiology Program NRMP Code 1737440P3 One year General Surgery training position. This is a Joint Advanced-Preliminary track between Interventional Radiology-Integrated and General Surgery at the UVA Medical Center. For Interventional Radiology-Integrated Residency applicants who wish to pursue the full course of training at the UVA Medical Center must rank the UVA General Surgery joint preliminary PGY-1 program on the supplemental rank order list.
PGY-1
Intern year is spent in UVA's Department of Surgery (recommended)
– Tailored to IR, with extra time on vascular surgery, ICU, and high operative rotations
PGY-2
Focused on diagnostic rotations and learning the fundamentals
– 4 weeks of dedicated IR time
– 4-week SICU rotation
PGY-3
9 months, diagnostic radiology
– 2 months, vascular surgery, focusing on consults and endovascular cases
– 4 weeks of dedicated IR time
PGY-4
Final diagnostic year, preparing for Core exam
– 4 weeks of dedicated IR time
– Core exam
PGY-5
Finish out diagnostic requirements, including nuclear medicine (16 weeks) and breast imaging (12 weeks)
– 6 months IR
– 3 months "AngioClinic"
– 1 month dedicated research time
PGY-6
12 months IR
– 2 weeks in VA setting
– 1 month on non-invasive cardiovascular imaging rotation
"AngioClinic" Rotation
In the PGY-5 year, each resident will rotate through 3 months of AngioClinic. This rotation encompasses time on:
IR clinic
Neurointerventional Radiology procedures
Vascular Medicine Clinic and inpatient consults
Vein Clinic and outpatient procedures
Dialysis Clinic
Hepatology Clinic
IR and hepatobiliary tumor board
1 month of dedicated research time
IR Related Rotations
Additional time will be spent on rotations such as neurointerventional radiology and noninvasive peripheral vascular lab. As a PGY-6, in addition to general IR call, residents will take stroke call with the NeuroIR team. Rotations on NeuroIR will allow residents to master catheter skills while treating complex cases including AVMs, aneurysms, carotid disease, and stroke.
Throughout the PGY-5 and PGY-6 years, residents will rotate in the peripheral vascular lab in order to complete the Registered Physician in Vascular Interpretation requirements.
Community Outreach
IR residents, NPs, techs, and attendings support our community by participating in loco-regional peripheral artery disease (PAD) screening.
Screening fairs run throughout the year with staff evaluating for PAD, aneurysms, and venous disease.
IR Clinic
During PGY 2-6, IR residents will cover IR clinic days, ensuring that they feel comfortable with the pre- and post-procedural care for our patients.
Dual Certificate in Interventional Radiology and Diagnostic Radiology
At the end of residency, and upon successfully passing the ABR Core and Certifying exams, the resident will receive a dual certificate in interventional and diagnostic radiology.
Early Specialization in Interventional Radiology (ESIR)
The purpose of ESIR is to offer an alternative pathway for diagnostic radiology residents who indicate an early wish to enter into Interventional Radiology (IR).  ESIR training requires residents to complete 12 IR or IR-related rotations during their PGY2 – 5 years, with documentation of having performed 500 IR or IR-related procedures.  Diagnostic radiology residents who select to complete the ESIR curriculum and meet the IR procedural requirements, may receive credit for year one, in the IR Residency (Independent), and directly enter into year two of the independent residency, completing training within six years.
The University of Virginia Diagnostic Radiology residency program has received ACGME accreditation and offers this opportunity to our trainees.