IR-Independent Residency

The 1-2 year IR-Independent residency will provide a broad and more in-depth experience in the clinical diagnosis and care of patients with diseases commonly treated by an interventional radiologist. Furthermore, the residency allows the trainees an opportunity to become more familiar with and participate in research to further the field of vascular and interventional radiology.
The residency curriculum is configured to provide education and competency experiences in IR and IR-related services as vascular surgery, surgical ICU, body procedures, Neuro interventional, NICV, and consult services that includes IR clinic.  In the first year of the two-year residency, the trainee will spend at least six months in IR.  In the second year, a minimum of eight months.
The program offers up to three independent residency positions that will match through the NRMP.
Applicants to the program must have completed a diagnostic radiology residency in an ACGME- or RCPSC-accredited diagnostic radiology program.  Applicants must have passed the ABR Core exam at the time of entry into the program.
To be eligible for appointment in the second year of education in an independent program, residents must have completed an Early Specialization in Interventional Radiology (ESIR) curriculum in a diagnostic radiology program that has prior approval from the Review Committee for ESIR participation.
Graduates of the IR-Independent residency qualify to take the IR/DR exam that is offered by the American Board of Radiology (ABR).  The dual certification recognizes competency in both diagnostic and interventional radiology.
---
IR-Independent Residency Program Director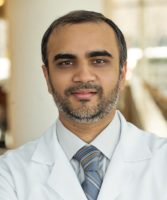 Minhaj Khaja, MD
Program Director, IR-Independent Residency
Associate Professor of Radiology
Division of Vascular and Interventional Radiology
Phone: 434-924-9401
msk9f@virginia.edu
---
Curriculum
We offer up to three independent positions per year.
Year
Description
Year 1
- 8 months IR
- 2 months clinic/consult
- 1 month vascular surgery
- 1 month ICU
- Up to 1 month body procedures
Year 2
- 10 months IR
- 1 month NICV
- 1 month body procedures/Neuro IR
** Residents who meet the ESIR requirements will complete the second year curriculum.
---
How to Apply
We are no longer accepting applications for entry into the program July 1, 2021.
Applicants to the program must have completed or are completing a diagnostic radiology residency in an ACGME- or RCPSC-accredited diagnostic radiology program.
Documents Required
MyERAS application
Medical school transcript
Three letters of recommendation
USMLE Step I, Step II CK, CS, Step III
Up to date curriculum vitae
Medical School Performance Evaluation
Photo
ECFMG certified at the time of application (international medical graduates only)
Interview
All applicants who are invited to interview will be able to experience our daily case conference and huddle; hear about the program from senior faculty and residents, chat with our interviewing faculty, followed by lunch in an informal setting with our residents and fellows, where you can relax and, have your questions answered.
Contact
We appreciate your interest in our program. For questions or additional information, please email or call:
Basia Nowakowski
Director of Medical Education Compliance
Department of Radiology and Medical Imaging
Box 800170
University of Virginia Health System
Charlottesville, VA 22908
Phone: 434-982-0428
E-mail: basian@virginia.edu