Diagnostic Radiology Residency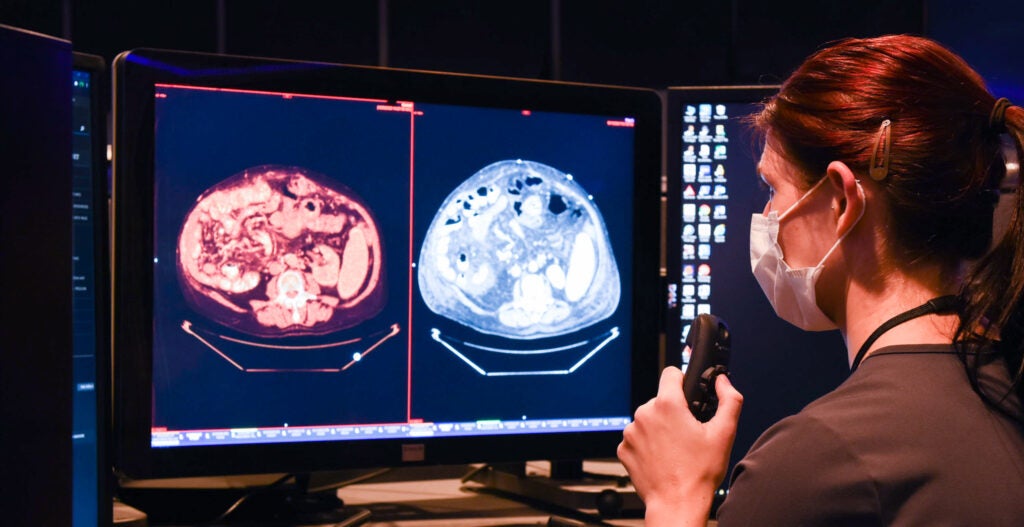 Goals of Our Program
We aim to develop within our residents the skills and interpretive ability necessary to perform as competent clinical diagnostic radiologists, and to encourage critical thinking and creativity as a basis for sound clinical practice. Residents are exposed to all aspects of radiology and medical imaging through our eight subspecialty areas and learn a disciplined approach to medical problem solving and decision making. A comprehensive understanding of medical imaging techniques is emphasized, followed by hands-on experience that will challenge residents to assume greater responsibilities as the training progresses.
Upon completion of training, residents will be well prepared to perform and interpret diagnostic and therapeutic imaging procedures and be acquainted with numerous investigational procedures. They will be able to serve as consultants in the appropriate selection of diagnostic exams. Above all, residents will be well-versed in performing their duties with collegiality and a keen sensitivity for the physical and psychological well-being of patients, residents, faculty, and staff.
We're proud that our Diagnostic Radiology Residency program is ranked in the top 20 diagnostic radiology programs in the United States by the Doximity Residency Navigator.
UVA Radiology Trainee Recruitment Video
We've created a video to give potential trainees a glimpse into our program, people and culture. Hear from current residents and our department chair about what makes UVA Radiology special while moving through the department's world-class facilities.
A Day in the Life of Radiology Residents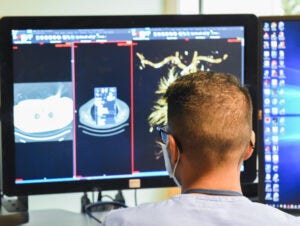 To get a sense of what your days might look like during your own diagnostic radiology residency at UVA, read about a day in the life of diagnostic radiology residents Dr. Xavier Mohammed (with a focus on how COVID-19 affects residency) or Dr. Nicole Kapral.
Residency Tracks
Early Specialization in Interventional Radiology (ESIR)
A pathway for diagnostic radiology residents who indicate an early wish to enter into Interventional Radiology (IR).
Diagnostic Radiology/Nuclear Medicine Dual Pathway
A 16-month pathway for diagnostic radiology residents that leads to a dual certification in diagnostic radiology and nuclear medicine.
Global Health Leadership Track
For residents interested in global health and the impact of diagnostic imaging and image-guided interventions in communities with limited resources.
Diversity and Inclusion Fund
Representatives from each residency class work to enhance diversity and inclusion in radiology through education, service and leadership.
A Message from the Program Director
Residency is one of the most exciting stages on our journey as physicians. It's a point of convergence, where our professional goals materialize in a specialty and our personal life enters a phase of incomparable growth. Choosing the place where you will achieve your goals of growth in both arenas is one of the most important decisions you will make. We are so grateful you are exploring UVA as an option for this next phase of your life.

I am proud to lead a program with a history of excellence in education and training of competent radiologists in both diagnostic and procedural skills. Our program supports the professional and personal development of our trainees by prioritizing education and fostering an environment of collaboration, collegiality and, above all, respect. We care for a diverse population of patients in Virginia and surrounding states and recognize the importance of our role in representing our community. We value and celebrate our differences, acknowledging that each of our trainees and faculty brings something unique that will enrich our team. ​

From community acquired pathology to complex cases that require multidisciplinary management, the breadth and diversity of pathology at UVA are keys to the success of our training programs. During their residency, trainees are exposed to a great volume and variety of cases, and our workflow is set up to encourage residents to develop autonomy, responsibility and resilience. They are ready to hit the ground as competent and independent radiologists by the end of their residency. It is a privilege for us faculty members to be a part of this phase in our residents' lives and to enhance the care of our patients by facilitating the training of excellent radiologists.

Charlottesville is a unique, vibrant and active community and is a wonderful place for our residents to call home. I hope you get to visit and see it for yourself!

Juliana Bueno, MD
Program Director
Vice Chair of Education
Program Directors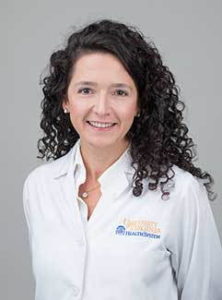 Juliana Bueno, MD
Program Director
Vice Chair of Education
Associate Professor of Radiology, Thoracic Imaging
434-924-9401
jmb3dt@virginia.edu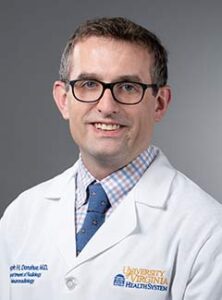 Assistant Professor of Radiology, Neuroradiology
434-982-1736
jd2uc@virginia.edu