4th-year Medical Students Scholarship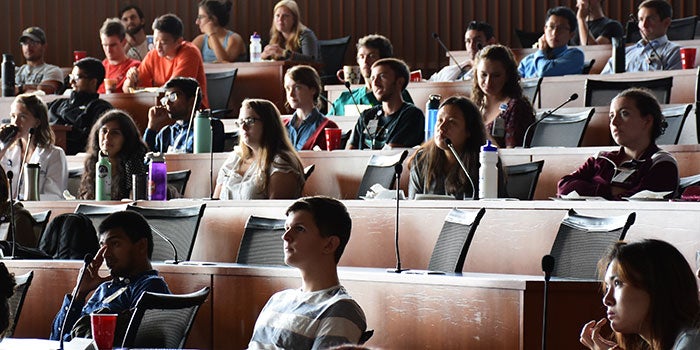 Overview
The UVA Department of Radiology and Medical Imaging is proud to offer up to $1,500.00 in scholarships to help offset the costs of travel and housing for up to seven highly qualified medical students per year who wish to do a visiting radiology elective at our institution. Visiting rotations are during the months of June through October. Scholarships are for medical students whose backgrounds, interests or goals will bring diverse experiences and interests to UVA's Department of Radiology and Medical Imaging.
The purpose of these scholarships is to provide medical students the opportunity to experience what it is like to live and work in Charlottesville, while experiencing firsthand our department's inclusive culture and welcoming environment. This elective experience will hopefully encourage students to consider a career in radiology, enhance the students' knowledge of academic medicine and provide them with specific mentoring and networking opportunities.
Two of the available URiM Leadership Program and Travel Scholarships are sponsored by the UVA GME Office, for students who have a strong interest in acquiring leadership skills in diversity, equity and inclusion initiatives. Students interested in a leadership scholarship must express their interest in their application. Click here to learn more.
The URiM Leadership Program is open for students accepted into elective rotations at UVA between July and October. Please note: two separate applications are not required.
Students may do the 4-week General Diagnostic or 4-week Interventional Radiology elective. At the conclusion of the elective, they will be expected to function at the level of an advanced medical student. Students will be expected to actively participate in morning teaching conferences and attend daytime didactic lectures, conferences and Grand Rounds with our residents and other medical students. Becoming involved with a scholarly or teaching project will be highly encouraged.
Eligibility
Competitive applicants should have demonstrated academic excellence, leadership skills and a variety of extracurricular experience. Students should be strongly considering a career in Diagnostic or Interventional Radiology. The program is open to all 4th-year visiting medical students or UVA-INOVA students who are first generation medical school attendees and/or part of a URiM group, as well as all applicants with strong interest in working in topics of diversity, equity and inclusion.
Requirements
Please Note: Two separate applications are not required, but you must specify if you are interested in the URiM Leadership Program scholarship in your application.
Must attend an LCME‐accredited medical school
Be on track to complete all required basic coursework and clerkships at and graduate from their home institution
Completed VSLO application (should include medical school transcript)
Updated Curriculum Vitae
Personal Statement outlining why you want to participate in this program and how it will help you achieve your overall career goals. Please specify if you would like to be considered for the URiM Leadership Program scholarship and/or program content.
2×2 photograph
USMLE Step 1 score
USMLE Step 2 score, if available
Due Date
Applications for the scholarship should be submitted to RadEducation@virginia.edu, in addition to your request of a rotation through VSLO. Scholarship applications are being accepted—while scholarships remain available—through October 1st of each year.
Contact Information
Please submit your application materials and forward any questions to:
Medical Education Staff
Email: RadEducation@virginia.edu