How to Apply
Applications for entry into our program on July 1, 2023, will commence on September 7, 2022. Our program's application review process begins in November 2022 and ends in February 2023. Applications are only accepted via ERAS.
Documents Required
MyERAS application
Medical school transcript
Three letters of recommendation
USMLE (per USMLE guidelines)
Curriculum vitae
Medical School Performance Evaluation
Photo
ECFMG certified prior to appointment (international medical graduates only)
Interview
In 2022-23, all interviews will be conducted virtually. If you wish to apply to both our DR and IR-Integrated Residency programs, you must submit two separate applications, one to each program.
Applicants who are offered an interview will receive an invite via Thalamus.  You will receive a unique link that will allow you to access to the system (free for applicants) and various informational materials.  You will be able to self-schedule for the listed dates. The scheduler will close one week prior to the interview day. Any changes after the closing of an interview day will be via email to vcd3gq@virginia.edu.
You will meet with our IR and DR faculty and hear from our Chair, as well as hear from and speak with residents about our program. All applicants who are invited to interview will be able to participate in our resident-lead chat sessions prior to your interview day.
Pre-Employment Drug Testing and Background Check
Resident/fellow appointment is conditional based on the approval of the Clinical Staff Credentials Committee (CSCC) and the Clinical Staff Executive Committee (CSEC) and based on successful completion of credentialing, including but not limited to our review and acceptance of information from the criminal background check, successful completion of the pre-employment drug screen, passing applicable medical licensing exams (USMLE, COMLEX or MCCQE), receipt of a Virginia Medical License (if applicable), honest and accurate completion of all required paperwork and training modules prior to Orientation. For more information, please see the sample GME Contract linked here.
For Residency and Fellowship Applicants Requiring Visa Sponsorship
Institutionally, we sponsor the J1 clinical visa. Decisions about sponsorship of other visa type are made at the department level. All graduates of international medical schools must hold a valid certificate issued by the Educational Commission for Foreign Medical Graduates (ECFMG) to be appointed as a resident or fellow following the Accreditation Council for Graduate Medical Education.
Interventional Radiology-Integrated Program
Interventional Radiology-Integrated (NRMP Code 1737416C0): Now with ACGME accreditation, the VIR track has been phased out and replaced with the new 6-year interventional radiology (integrated) residency program. This 72-month program includes a Fundamental Clinical Skills (FCS) year at UVA Health, making the program categorical.  The FCS year includes inpatient and outpatient surgical experience as well as management of patients in the intensive care units.
Follow Us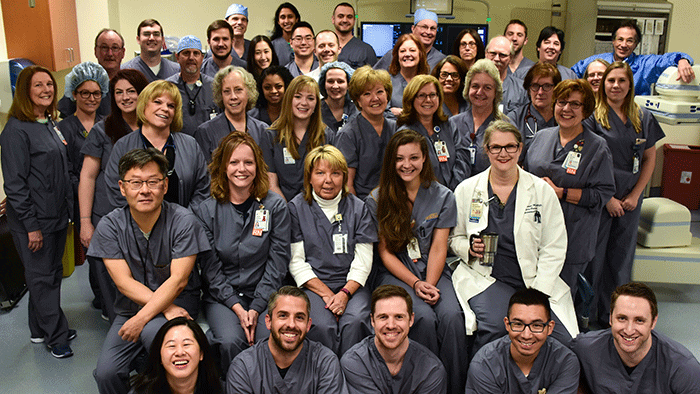 Follow the UVA Interventional Radiology Residency program on Twitter to keep up with the latest UVA IR events, news and behind-the-scenes looks at the residency experience.
Contact
We appreciate your interest in our program. For questions or additional information, please email or call:
Laura Renshaw
Interventional Radiology Programs Administrator
Department of Radiology and Medical Imaging
Box 800170
University of Virginia Health System
Charlottesville, VA 22908
Phone: 434-982-0428
Fax: 434-924-8698
E-mail: vcd3gq@virginia.edu