How to Apply
Applications for entry into our program July 1, 2022, will commence September 15, 2020, and our program will begin the review process beginning October 21, 2020. Applications are only accepted via ERAS.
Documents Required
MyERAS application
Medical school transcript
Three letters of recommendation
USMLE (per USMLE guidelines)
Curriculum vitae
Medical School Performance Evaluation
Photo
ECFMG certified prior to appointment (international medical graduates only)
Interview
Due to COVID-19, travel restrictions, and our desire to keep you, our faculty, and residents safe, all interviews will be conducted virtually.
Applicants who are offered an interview will receive an invite via Thalamus.  You will receive a unique link that will allow you to access to the system (free for applicants) and various informational materials.  You will be able to self-schedule for the listed dates. The scheduler will close one week prior to the interview day. Any changes after the closing of an interview day will be via email to basian@virginia.edu.
You will meet with our IR and DR faculty and hear from our Chair, as well as hear from and speak with residents about our program.
All applicants who are invited to interview will be able to participate in our resident-lead chat sessions prior to your interview day.
Surgery/Interventional Radiology Joint Program
Surg-Prelim/Int Radiology (NRMP Code 1737440P3):  One year General Surgery training position. This is a Joint Advanced-Preliminary track between Interventional Radiology-Integrated and General Surgery at the UVA Medical Center. Interventional Radiology-Integrated Residency applicants who wish to pursue the full course of training at the UVA Medical Center must rank the UVA General Surgery joint preliminary PGY-1 program on the supplemental rank order list.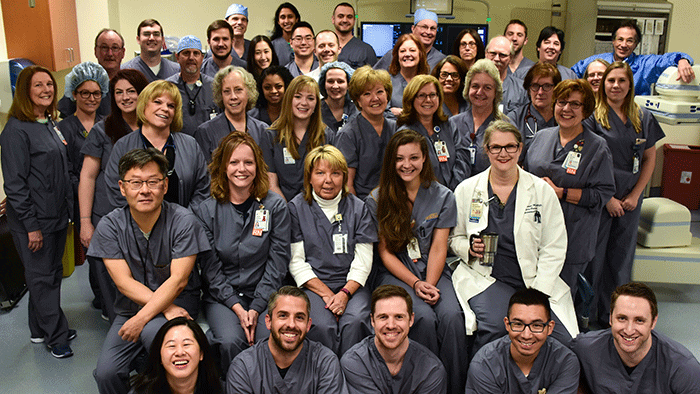 Follow Us
Follow the UVA Interventional Radiology Residency program on Twitter to keep up with the latest UVA IR events, news and behind-the-scenes looks at the residency experience.
Contact
We appreciate your interest in our program. For questions or additional information, please email or call:
Basia Nowakowski
Director of Medical Education Compliance
IR Programs
Department of Radiology and Medical Imaging
Box 800170
University of Virginia Health System
Charlottesville, VA 22908
Phone: 434-982-0428
E-mail: basian@virginia.edu