Early Specialization in Interventional Radiology (ESIR)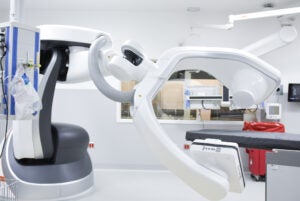 The purpose of ESIR is to offer an alternative pathway for diagnostic radiology residents who indicate an early wish pursue further training in Interventional Radiology (IR). ESIR training requires residents to complete 12 IR or IR-related rotations during their PGY 2-5 years, with documentation of having performed 500 IR or IR-related procedures. Diagnostic radiology residents (up to three each year) may apply for an ESIR position. Once in the program, Dr. Wilkins jointly manages ESIR residents alongside Dr. Juliana Bueno and Dr. Joe Donahue.
Diagnostic radiology residents who complete the ESIR curriculum, meet the IR procedural requirements, and match into the IR residency (Independent) may receive credit for year one and enter directly into year two of the program at UVA or another institution.