Resident Lifestyle
During Residency
Socializing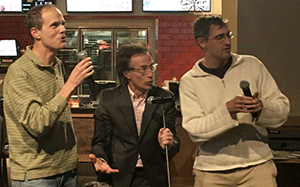 We believe in a "work hard, play hard" mentality. Opportunities abound, including outings such as field trips and picnics, lively athletic programs, as well as the diverse array of cultural opportunities offered by both UVA and Charlottesville.
We are also located a short distance from Washington D.C., Virginia Beach, the Outer Banks of North Carolina, the Appalachian Trail, and many other recreational and travel opportunities.
Learn more about living in Charlottesville, including things to do, housing, schools and more, by clicking here.
Diversity
With our large number of residents from all backgrounds and in various stages of life, we take great pride in both diversity and a strong sense of community amongst our residents. Each year our program attracts a broad group of talented physicians and a culture of mutual respect prevails, regardless of the resident's year or background.
UVA Radiology is proud to have a fund specifically devoted to supporting and increasing resident diversity and inclusion efforts. Click here to learn more about the scope of the department's efforts in and commitment to diversity, equity and inclusion.
After Residency
Our Alumni Association, the Keats Society, takes an active role in promoting the interests of the current and former residents. The Society hosts welcoming sessions every year when the matches are announced and when the fourth year residents graduate. A cocktail reception is held yearly at the Radiological Society of North America (RSNA) annual meeting, which is a great opportunity for current and former residents to interact. The Keats Society also holds a spring Homecoming biennially.