Residency Programs
Radiology and Medical Imaging Residency Programs at UVA
Residency Program Information
The UVA Department of Radiology and Medical Imaging offers two residency programs:  A four-year ACGME-accredited program in Diagnostic Radiology—one of the most diverse disciplines in the field of medicine; and a six-year Interventional Radiology (integrated) program.
Our residency programs are considered two of the best in the country and admission is highly competitive for the resident positions available each year. There are eight positions available in the diagnostic program. Two positions are available for applicants who want to pursue a career in our Interventional Radiology (Integrated) program.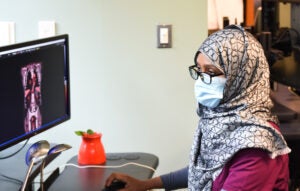 The UVA Health System includes a 604-bed hospital, level I trauma center, NCI-designated comprehensive cancer center, nationally recognized cancer, heart and urology programs and specialty clinics throughout Central Virginia. UVA Health has been selected as the #1 hospital in Virginia for five out of the last six years, and No. 18 on the list of 'Top 50 Teaching Hospitals in America.'
Imaging services are available at the main University Hospital, Hospital West, the UVA Children's, the NCI-designated UVA Cancer Center, Diagnostic Imaging Centers at Fontaine Research Park and Northridge Transitional Care Facility, the Breast Care Center, Orange County Diagnostic and Mammography Center, UVA Imaging Zion Crossroads, and our mobile mammography coach.
With significant investment in technology, the Department of Radiology and Medical Imaging employs some of the most modern and innovative radiographic and imaging technology available. We are heavily engaged in the clinical use and development of computerized tomography, ultrasound, magnetic resonance imaging, nuclear medicine and vascular and interventional radiology. Over a typical year, our department interprets more than 650,000 diagnostic scans and performs more than 10,000 image-guided procedures.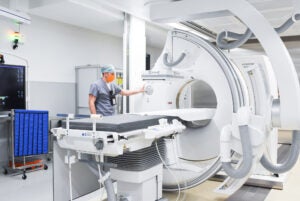 UVA's Department of Radiology and Medical Imaging has an outstanding research infrastructure and strongly supports active resident participation in research. While broad in scope, our Medical Imaging Research Division has particular strengths in cardiovascular imaging, neuroscience imaging, lung imaging, MRI pulse sequence development, and small animal imaging. One resident per year is accepted into the Radiology Research Track, and our diagnostic and IR residents participate in research during their time in residency as well; some join ongoing research projects, while others initiate their own projects. Many residents present their work at national meetings and a competitive internal funding program is in place for radiology trainees to financially support resident research.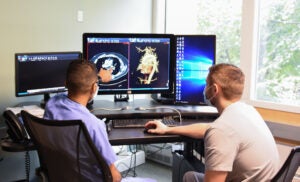 From medical schools and institutions around the country, and even around the world, ten trainees per year gather in Charlottesville to begin their Diagnostic or IR-Integrated journey as residents in our department. Some attended Medical School at UVA and nearly 90% of our resident graduates stay at UVA for their Fellowships.
While a significant amount of time is spent in and around the hospital, a resident's life is certainly not limited to the confines of the clinical setting. Camaraderie extends well beyond the reading room, as many of our residents take full advantage of the considerable number of extracurricular activities available in the area. With such a large group—40 residents total—it's easy to find others who might want to get together for a run or a bike ride, perhaps grab some local fare and drink at a nearby brewery, and then catch a free outdoor concert at the historic downtown pedestrian mall. Click here to view photos from recent resident 'Wellness Days' – gatherings of residents outside of work to foster collegiality and connection.
All Are Welcome
We are committed to creating a learning environment where respect and tolerance prevail. We value differences in background, origin, ethnicity, gender, gender identity, age and beliefs in our residents and faculty, and consider them of highest importance in the creation of a space where we can learn from each other. Aligned with the mission of our institution, the Department of Radiology and Medical Imaging fosters an atmosphere of tolerance and free exchange of ideas, where we are personally and professionally enriched by our differences.
Reflected in our multicultural house staff is our belief that diversity allows us to provide the highest standards of quality care to our patients. UVA Radiology is proud to have a fund specifically devoted to supporting and increasing and Diversity and Inclusion in our residency programs.
UVA Radiology Residency Diversity Fund
We are fortunate to live in an equally inclusive community, which stands for respect of ideas regardless of their origin; home to a multicultural community, Charlottesville is a national example of strength and unity at times of adversity, and a place where we all feel safe and welcomed.

Read about a day in the life of our Residents
Ever wonder what your day might look like during your residency program? Want to know how COVID-19 has changed residents' daily lives? Click here to read about Dr. Xavier Mohammed's residency experience during the COVID-19 pandemic. You can also read about a day in the life of diagnostic radiology resident Dr. Nicole Kapral or IR residents Dr. Sara McCann and Dr. Yasser El-Abd.