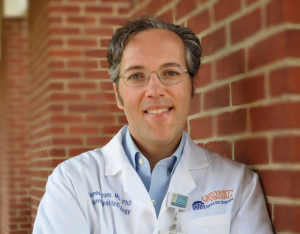 Dr. James Stone, M.D., PhD, Associate Professor and Vice Chairman of Clinical Research in the UVA Department of Radiology and Medical Imaging, is part of a collaborative team that has been awarded a three-year, $2.1 million grant from the Department of Defense for their efforts to model and predict how regular exposure to artillery blasts effects the brains of military personnel.
"The current study will allow us to better understand how artillery blast exposure over a career may influence brain health in service members and to help answer the question of 'how much is too much?' as it relates to artillery blast exposure," Dr. Stone said. "The model may be used to inform practices designed to decrease the cumulative exposure of a service member to blasts over their career to help protect their health."
For this study, Dr. Stone will partner with researchers at the U.S. Naval Medical Research Center, the Walter Reed Army Institute of Research, and the NIH. It will build upon earlier collaborative work done by Dr. Stone and researchers at those institutions.
Read more on NBC29.com or in the UVA Health Newsroom.