Clinical Research
Welcome to Clinical Research in the Department of Anesthesiology at the University of Virginia led by the Vice Chair Dr. Bhiken Naik, MBBCh, MSCR. Our work is a collaboration between physicians, clinical research coordinators, statisticians, bioinformaticist and data scientists. Our Clinical research spans both prospective clinical studies and retrospective, observational research.
We work across multiple disciplines and specialties to improve patient safety and identify quality improvement opportunities. We create and define objective metrics to evaluate  physician performance, and provide opportunities for cost effective and reproducible research.
Furthermore, the Division provides data support to administrative systems within the department and the institution. This includes a generation of reports on clinical practice and outcomes, dashboard maintenance at the departmental and institutional levels, and evaluation and benchmarking of educational activities (e.g. case listings for residents) and clinical workload (e.g. call distribution).
Research Projects and Forms
Research is supported by our data-science group, which includes a staff PhD biostatistician, a data engineer and a data scientist. In addition, we have a well resourced clinical research support team, led by Dr. Ikeda Keita, PhD. For research projects, data requests and forms, please see the 'Research Instructions and Forms' section below.
Medical Students Residents & Fellows
We welcome medical students, residents, and fellows who are interested in participating in research activities within our department. Please read more about 'How to Get Involved' below.
About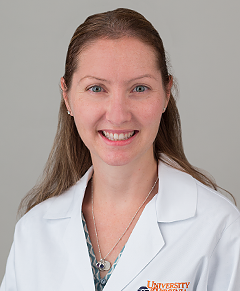 Lauren K. Dunn, MD, PhD
Associate Professor
Lauren K. Dunn, MD, PhD
Dr. Dunn is an Associate Professor of Anesthesiology and Neurological Surgery. Her clinical work focuses on the care of patients undergoing craniotomy and complex spine surgery, as well as general anesthesia. Her research interests are analgesia and postoperative pain management, sleep and fatigue and physician well-being.
She is the recipient of a Foundation in Anesthesia Education and Research (FAER) Research in Education Grant studying interventions to improve anesthesiology resident wellness. She is a member of the American Society of Anesthesiologists Committee on Physician Well-being and Committee on Women and serves on the Editorial Boards for Anesthesia & Analgesia and the Journal of Neurosurgical Anesthesiology.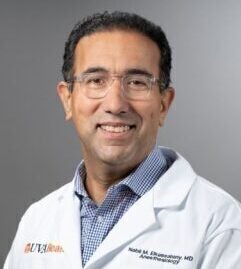 Nabil Elkassabany, MD
Professor
Nabil Elkassabny, MD
Dr. Elkassabany is the Vice-Chair of Clinical Operations for the UVA Department of Anesthesiology.  He is a Professor of Anesthesiology, specializing in Regional and Acute Pain Medicine.  Prior to joining the UVA Anesthesiology Nabil Elkassabany was an Associate Professor in the Department of Anesthesiology and Critical Care at the Perelman School of Medicine, University of Pennsylvania in Philadelphia. He was the Director of the sections of Regional and Orthopedic Anesthesiology. He was also the Director of the Anesthesia Service at the ambulatory surgery facility at Penn Medicine at University City.
Dr. Elkassabany did his undergraduate and medical education at Alexandria University, Egypt. He completed his anesthesia residency training at Cleveland Clinic, Cleveland, Ohio and his regional anesthesia subspecialty training at the University of Florida at Gainesville, Florida. He earned a Master Degree in Clinical Epidemiology and Biostatistics in December 2012 from the Perelman School of Medicine at the University of Pennsylvania and his MBA in December 2021 from the Fox School of Business, Temple University in Philadelphia. Dr. Elkassabany is also the Fellowship Program Director for Regional Anesthesia and Acute Pain Medicine at the University of Pennsylvania.
He was inducted to the Academy of Master Clinicians at the University of Pennsylvania in 2018. His research interest focuses on patients' outcomes after orthopedic surgery, specifically patients who receive regional anesthesia in different clinical settings. He is especially interested in improving patient outcomes after major joint arthroplasty and defining the value added by regional anesthesia and acute pain medicine to patients' perioperative experience. Nabil is a member of the Board of Directors for the American Society of Regional Anesthesia and Pain Medicine (ASRA). He also Chairs the Educational Track Subcommittee on Regional Anesthesia and Acute Pain Medicine at the American Society of Anesthesiologists (ASA). Dr. Elkassabany will be starting on July 1st, 2022.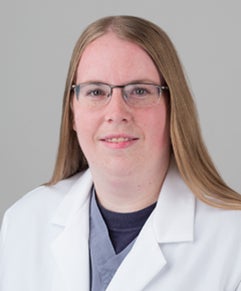 Amanda M. Kleiman, MD
Associate Professor
Amanda M. Kleiman, MD
Dr. Kleiman is an Associate Professor of Anesthesiology at the University of Virginia. Her clinical interest/focus centers on caring for patients undergoing cardiothoracic and major vascular surgery as well as liver transplantation. Her research interests include improvement of the care of cardiothoracic surgical patients, echocardiography, and education research focusing on maximizing the quality of resident and medical student education.
Dr. Kleiman has grant funded research examining sleep disturbance following cardiac surgery and its relationship to delirium and dementia. Her particular education research interests include biases in education, the effect of stress, sleep, and wellness on resident training, and novel education/learning techniques. Outside of work, she enjoys being outside with her friends and golden retriever puppy.
Read Dr. Kleiman's Full Bio
Link to Dr. Kleiman's Publications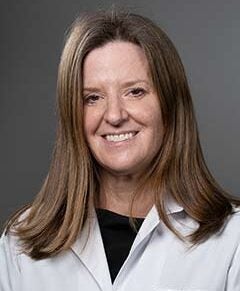 Lynn R Kohan, MD
Pain Management Division Chief
Lynn R Kohan, MD, Pain Management Division Chief
Dr. Kohan is a Professor of Anesthesiology and Pain Management in the Department of Anesthesiology at the University of Virginia. Her clinical work encompasses care for patients with a wide range of pain disorders in both the in patient and out patient settings.
Dr. Kohan is American Board of Anesthesiology (ABA) certified in anesthesiology and pain medicine. She serves in leadership positions with the American Society of Regional Anesthesia and Pain Medicine, the Association of Pain Program Directors, The Association of Anesthesiology Specialty Program Directors, the American Academy of Pain Medicine, and the Virginia Pain Society.
In addition, she serves on the editorial boards of several pain journals including Pain Medicine, Anesthesia and Analgesia, Interventional Pain Medicine, Annals of Headache Medicine, and Pain Medicine Case Reports.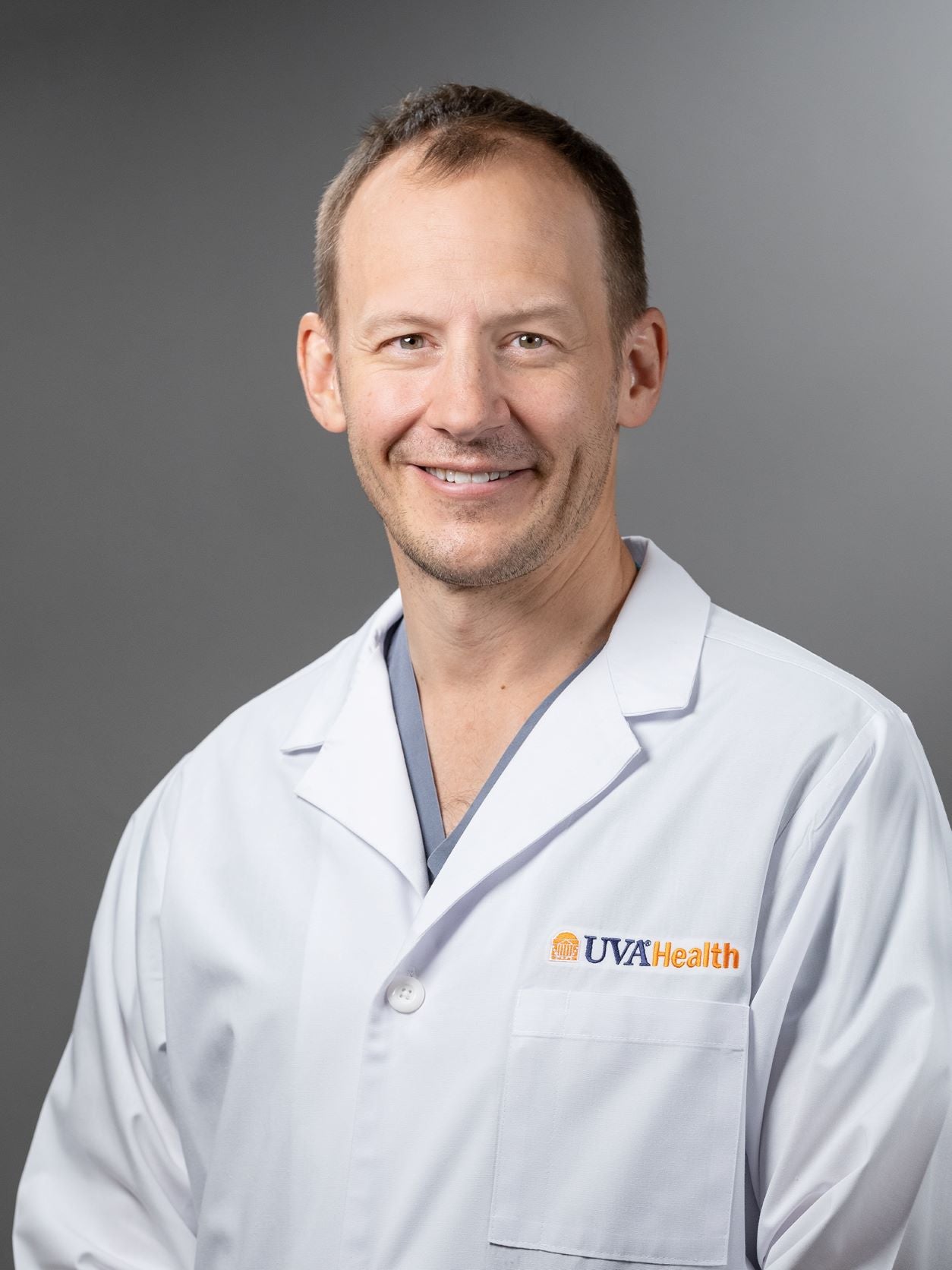 Michael Mazzeffi, MD, MPH, FASA
Anesthesiology Vice Chair of Faculty Affairs & Development, Medical Director Cardiothoracic Intensive Care Unit
Michael Mazzeffi, MD, MPH, FASA
Dr. Mazzeffi is a cardiothoracic anesthesiologist and critical care physician. He also serves as the Vice Chair for Faculty Affairs and Development in the department of Anesthesiology. He completed medical school at Tulane University, residency at Mt. Sinai School of Medicine, and his fellowships at Emory University.
He has Master's degrees in Public Health and Clinical Research and maintains an active research program in perioperative outcomes research and blood coagulation. His research has been funded by the Society of Cardiovascular Anesthesiologists and Anesthesia Patient Safety Foundation. He is an active member of the Society of Cardiovascular Anesthesiologists and is chair of its ECMO committee. He is also a fellow of the American Society of Anesthesiologists.
Outside of work he enjoys running, traveling, fly-fishing, and spending time with family.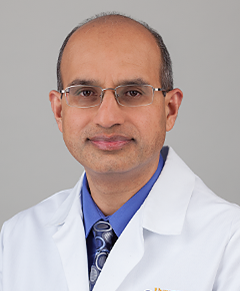 Bhiken Ishwarlal Naik, MD
Vice Chair Clinical Research
Bhiken Ishwarlal Naik, MD
Dr. Naik is a tenured Professor of Anesthesiology and Neurological Surgery, Associate Medical Director of the Nerancy Neuroscience Intensive Care Unit and the Vice-Chair of Clinical Research for the Department of Anesthesiology.
He is board certified in Anesthesiology, Critical Care and Neurocritical Care through the American Board of Anesthesiology. His clinical practice encompasses patients with neurological diseases in the operating room and intensive care unit. Dr. Naik's research interest includes predictions of postoperative complications, creating data equity for low-middle-income countries and developing recovery trajectories after surgery using mHealth technology.
Dr. Naik is the Principal Investigator for the Multicenter Perioperative Outcomes Group at UVA and is currently completing his Masters in Clinical Research at the School of Public Health. He serves on multiple national committee's including the American Society of Anesthesiologist, Society of Neuroscience in Anesthesiology and Critical Care and the North American Spine Society.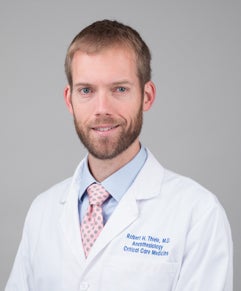 Robert H. Thiele, MD
Critical Care Anesthesia Division Chief
Robert H. Thiele, MD, Critical Care Anesthesia Division Chief
Dr. Thiele is a cardiac anesthesiologist and intensivist (ICU doctor) at UVA. A Professor of Biomedical Engineering, and an engineer by training, he is particularly interested in transesophageal ultrasonography and critical care ultrasound, as well as the use and development of advanced monitoring technology. He is an at-large member of the Board of Directors for the University Physicians Group, in addition to serving on the Finance Committee and Investment Subcommittee.
Read Dr. Thiele's Full Bio
Link to Dr. Thiele's Publications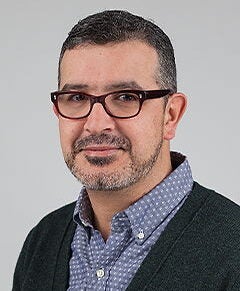 Mohamed Tiouririne, MD
Professor
Mohamed Tiouririne, MD
Dr. Tiouririne is a professor in the Department of Anesthesiology at the University of Virginia. He is a trained Obstetrician and Gynecologist, Anesthesiologist and a Critical Care Medicine Doctor. Dr. Tiouririne is considered an expert in Obstetric Anesthesiology and holds a dual appointment with the department of Obstetrics and Gynecology. His interests expand beyond the labor and delivery unit and encompass critical care medicine with a specific interest in maternal critical care.
He is the medical Director of our Surgical Admission Suite and Post Anesthesia Care Unit (PACU). Dr Tiouririne served as the Director of Obstetric Anesthesiology for many years and served as the Co-chair for the establishment of the Society of Obstetric Anesthesia and Perinatology recommendation for ERAS after Cesarean section. He was the recipient of the Dean's Clinical Excellence Award in 2017.
Read Dr. Tiouririne's Full Bio
Link to Dr. Tiouririne's Publications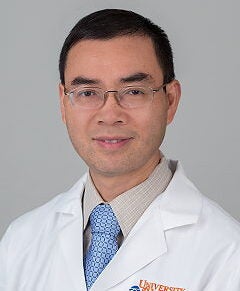 Zhiyi Zuo, MD, PhD
Executive Vice Chair
Zhiyi Zuo, MD, PhD, Executive Vice-Chair
Zhiyi Zuo, M.D., Ph.D., is a physician-scientist and has been a faculty member at the University of Virginia for more than 20 years. He takes care of the full range of neurosurgery patients and patients for other surgeries.
Currently, his research team focuses on two projects: 1) mechanisms of postoperative cognitive dysfunction and delirium, and 2) cerebral vascular remodeling and brain ischemic injury. His research has been funded continuously by extramural funding for more than 20 years and is well cited.
He has been awarded by many professional societies, such as American Society of Anesthesiologists that is the largest anesthesiologist society in the world, for his research work.
07/12/2023:  Naik/Elkassabany
8/23/2023:  Naik/Mazzeffi
9/13/2023:  Naik/Dunn
10/11/2023:  Naik/Kleiman
11/08/2023:  Naik/Kohan
12/13/2023:  Naik/Tiouririne
1/10/2024:  Naik/Zuo
2/14/2024:  Naik/Thiele
3/13/2024:  Naik/Elkassabany
4/10/2024:  Naik/Mazzeffi
5/08/2024:  Naik/Dunn
6/12/2024:  Naik/Kleiman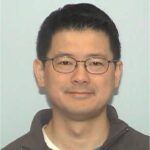 Keita Ikeda, PhD
Research Scientist
KI2D@uvahealth.org
Dr. Ikeda received his Bachelor of Science in Aerospace Engineering from the University of Southern California. He completed his Masters of Science in Aerospace Engineering with a minor in Mathematics at  North Carolina State University. He received his Ph.D. in Biomedical Engineering at the University of North Carolina, Chapel Hill.
Dr. Ikeda's current research focuses on Subcellular Energetics in Hypoxia, Inflammation, and Stress conditions and studying Molecular Mechanisms of Physical Exercise in Sepsis.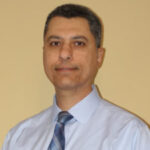 Amir Abdel Malek, BS MS
Data Scientist
AKA5Z@uvahealth.org
Amir Abdel Malek has an MS in Industrial Engineering from the New Jersey Institute of Technology. He has spent most of his 25-year career in the healthcare industry, specializing in process improvement, clinical and administrative data analytics, and data mining. As a Data Scientist at the University of Virginia, he leverages big data in support of research and operational initiatives in the perioperative arena.
Siny Tsang, PhD
Biostatistician
ST2SB@uvahealth.org
Dr. Tsang is the Biostatistician for the Department of Anesthesiology. While her primary role is to perform data analysis and interpretation of results for on-going projects, she also collaborates with research teams throughout the design, planning, and implementation process to help produce high quality statistical deliverables.
Dr. Tsang has extensive experience in a variety of statistical analysis techniques and large datasets. She earned her PhD in Quantitative Psychology from the University of Virginia, and completed her post-doctoral training in the Psychiatric Epidemiology Training program at Columbia University.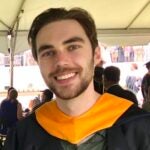 Ryan Folks, MS
Data Scientist and Machine Learning Engineer
mailto:VCZ2AJ@uvahealth.org
Ryan Folks is a data scientist and machine learning engineer for the Department of Anesthesiology at the University of Virginia. Ryan received his bachelors of science in mathematics from James Madison University in 2021 and his masters in data science from the University of Virginia in 2022.
Ryan specializes in computer vision and deep neural networks, and is interested in global health research, predictive modeling for postoperative outcomes, as well as learning about new machine learning techniques like transformers, functional data analysis, and machine learning on graphs.
Clinical Research is Actively Supported by the Following Grants:
"Bundle of Love: The effect of self-CARE (Compassion Appreciation Rest and Exercise) on anesthesiology resident wellness" GR014108 GF11096-167460-101, 7/1/2021-6/30/2023
PI: Lauren K Dunn
Non Profit: Foundation for Anesthesia Education and Research
"A Randomized Double-Blinded Controlled Parallel Group Non inferiority Phase III Study to Evaluate the Efficacy and Safety of the INTERCEPT_Raphael" GR015890 GI15655-165582-101-PROTOCOL CLI00125, 6/8/2020-6/30/2023
PI: James D Gorham
Industry: Cerus Corporation
"Smartphone Artificial" GR100450, 9/1/2022-7/31/2023
PI: Bhiken Ishwarlal Naik
Non Profit: Meridian Institute
"Evaluation of the Clinical Performance of the Quantra® System with the QStat® Cartridge in Trauma and Liver Transplantation" GR015881 GI15650-165551-101, 8/27/2020-8/26/2023
PI: Katherine Trumbull Forkin
Industry: HemoSonics, LLC
"An Instrument to Assess the Functional Impact of Chronic Pain Phase II" GR016240 GI16039-169651-101, 10/1/2021-8/31/2023
PI: Lynn R Kohan
Industry: Barron Associates, Inc.
"A Sequenced Strategy for Improving Outcomes in People with Knee Osteoarthritis Pain (SKOAP)" GR016831 GO12945-166452-101, 10/1/2020-8/31/2023
PI: Lynn R Kohan
U.S. Higher Education Institutions: The Johns Hopkins University
"Comparison of fibrinogen concentrate and cryoprecipitate in pediatric cardiac surgery patients" GR016392 GI18584-166551-101, 2/2/2021-2/1/2024
PI: Peggy Penny McNaull
Foreign Industry: Octapharma USA, Inc.
"Discrete Wavelength Frequency Domain Near Infrared Spectroscopy for Non-Invasive Measurement of Cytochrome Oxidation State" GR013755 GB11038-168494-101, 9/21/2021-9/20/2024
PI: Robert Thiele
Federal Government: U.S. NIH Institute of Biomedical Imaging & Bioengineering
"Gut microbiome R21" GR101212, 2/1/2023-1/31/2025
PI: Zhiyi Zuo
Federal Government: U.S. NIH Institute on Aging
"Sedana INSPiRE-ICU1" GR100353, 8/15/2022-8/14/2027
PI: Danny J Theodore
Foreign Industry: Sedana Medical AB 
University of Virginia Faculty Select Publications List
July 2022 – March 2023
Aggarwal A, Barad M, Braza DW, McKenzie-Brown AM, Lee D, Mayer RS, Przkora R, Kohan L, Koka A, Szabova A. "Pain Medicine Milestones 2.0: A Step into the Future." Pain Med. 2023 Feb 14. PMID: 36786406
Patel J, Duong A, Tang T, Cui C, Kohan L, Abd-Elsayed A, Ma JZ. "Gender Disparities in Academic Pain Medicine: A Retrospective, Cross-Sectional Bibliometric Analysis." J Pain Res. 2022;15:3893-3897. PMID: 36536696
Banik RK, Peng S, Kohan L, Rana P, Darrow DP, Hagedorn JM. "Radiofrequency ablation of lumbar medial branch nerves in a patient with a deep brain stimulator: Our experience and literature review." Pain Med. 2022 Nov 15. PMID: 36377777
Gill JS, Kohan LR, Hasoon J, Urits I, Viswanath O, Cai VL, Yazdi C, Aner MM, Kaye AD, Simopoulos TT. "A Survey on the Choice of Spinal Cord Stimulation Parameters and Implantable Pulse Generators and on Reasons for Explantation." Orthop Rev (Pavia). 2022;14(4):39648. PMID: 36381501
Boomgaardt J, Dastan K, Chan T, Shilling A, Abd-Elsayed A, Kohan L. "An Algorithm Approach to Phantom Limb Pain." J Pain Res. 2022;15:3349-3367. PMID: 36320223
Kohan L, Pellis Z, Provenzano DA, Pearson ACS, Narouze S, Benzon HT. "American Society of Regional Anesthesia and Pain Medicine contrast shortage position statement." Reg Anesth Pain Med. 2022 Sep;47(9):511-518. PMID: 35715014
Brenner B, Ericson T, Kohan L. "Advances in Non-Invasive Neuromodulation." Curr Pain Headache Rep. 2022 Oct;26(10):709-717. PMID: 36074256
Ortiz N, Shahgholi L, Kohan L, Wahezi SE. "The Effect of Local Anesthetics and Contrast Agents on Radiofrequency Ablation Lesion Size." Pain Med. 2023 Mar 1;24(3):269-274. PMID: 36165694
Wahezi SE, Duarte R, Kim C, Sehgal N, Argoff C, Michaud K, Luu M, Gonnella J, Kohan L. "An Algorithmic Approach to the Physical Exam for the Pain Medicine Practitioner: A Review of the Literature with Multidisciplinary Consensus." Pain Med. 2022 Aug 31;23(9):1489-1528. PMID: 35179576
Brenner B, Brancolini S, Eshraghi Y, Guirguis M, Durbhakula S, Provenzano D, Vorenkamp K, Shah S, Darden M, Kohan L. "Telemedicine Implementation in Pain Medicine: A Survey Evaluation of Pain Medicine Practices in Spring 2020." Pain Physician. 2022 Aug;25(5):387-390. PMID: 35901479
Lyman J, Khalouf F, Zora K, DePalma M, Loudermilk E, Guiguis M, Beall D, Kohan L, Chen AF. "Cooled radiofrequency ablation of genicular nerves provides 24-Month durability in the management of osteoarthritic knee pain: Outcomes from a prospective, multicenter, randomized trial." Pain Pract. 2022 Jul;22(6):571-581. PMID: 35716058
Roach J, Cha S. "Monitoring During Vascular Surgery." Anesthesiol Clin. 2022 Dec;40(4):645-655. PMID: 36328620
Chiao SS, Razzaq KK, Sheeran JS, Forkin KT, Spangler SN, Knio ZO, Kellams AL, Tiouririne M. "Effect of enhanced recovery after surgery for elective cesarean deliveries on neonatal outcomes." J Perinatol. 2022 Oct;42(10):1283-1287. PMID: 35013588
Elmer DA, Coleman JR, Renwick CM, Amato PE, Werner BC, Brockmeier SF, Slee AE, Hanson NA. "Comparing bupivacaine alone to liposomal bupivacaine plus bupivacaine in interscalene blocks for total shoulder arthroplasty: a randomized, non-inferiority trial." Reg Anesth Pain Med. 2023 Jan;48(1):1-6. PMID: 36261261 (Not listed: D. Aric Elmer, MD)
Amato PE, Coleman JR, Dobrzanski TP, Elmer DA, Gwathmey FW Jr, Slee AE, Hanson NA. "Pericapsular nerve group (PENG) block for hip arthroscopy: a randomized, double-blinded, placebo-controlled trial." Reg Anesth Pain Med. 2022 Aug 23. PMID: 35998937 (Not listed: D. Aric Elmer, MD)
Fox WE, Patel J, Cross MW, McNeil JS, Raphael J, Blank RS. "Managing Anticoagulation for COVID-19-Related Lung Transplantation." J Cardiothorac Vasc Anesth. 2023 Feb;37(2):334-335. PMID: 36414531
Calgi MP, McNeil JS. "Abdominal Aortic Aneurysms (Etiology, Epidemiology, and Natural History)." Anesthesiol Clin. 2022 Dec;40(4):657-669. PMID: 36328621
Brenner B, Guerra J, Williams C, Littlewood K, Kern J, Tanaka K, McNeil JS, Mangunta V. "Heparin Insensitivity and Thrombotic Risk Associated With Sequential Uses of Prothrombin Complex Concentrate and Andexanet Alfa for Apixaban Reversal During Acute Type A Aortic Dissection Repair: A Case Report." A A Pract. 2022 Nov 1;16(11):e01636. PMID: 36599062
Mazzeffi MA, Holmes SD, Taylor B, Ghoreishi M, McNeil JS, Kertai MD, Bollen BA, Tanaka K, Raphael J, Glance L. "Red Blood Cell Transfusion and Postoperative Infection in Patients Having Coronary Artery Bypass Grafting Surgery: An Analysis of the Society of Thoracic Surgeons Adult Cardiac Surgery Database." Anesth Analg. 2022 Sep 1;135(3):558-566. PMID: 35977365
Young AM, Strobel RJ, Rotar EP, Kleiman A, McNeil JS, Teman NR, Hawkins RB, Raphael J, Mehaffey JH. "Perioperative acetaminophen is associated with reduced acute kidney injury after cardiac surgery." J Thorac Cardiovasc Surg. 2022 Sep 13. PMID: 36207161
Mazzeffi M, McNeil J, Singh K, Tanaka K. "Retrograde Autologous Priming in Minimally Invasive Mitral Valve Surgery: Simple, Safe, and Effective." J Cardiothorac Vasc Anesth. 2022 Aug;36(8 Pt B):3036-3037. PMID: 35618592
McNeil JS, Mazzeffi MA, Tanaka KA. "Less Pain, Less Blood Pressure." Anesth Analg. 2022 Aug 1;135(2):e16-e17. PMID: 35839510
Dunn LK, Pham E, Kabil E, Kleiman AM, Hilton EJ, Lyons GR, Ma JZ, Nemergut EC, Forkin KT. "The Impact of Physician Race and Sex on Patient Ranking of Physician Competence and Perception of Leadership Ability." Cureus. 2023 Feb;15(2):e34778. PMID: 36909083
Michaud KL, Thiele RH, Forkin KT. "Anesthetic Management of Laparoscopic Adrenalectomy for a Patient with Concomitant Pheochromocytoma and Bilateral Carotid Artery Stenosis." Case Rep Anesthesiol. 2023;2023:2172464. PMID: 36647391
Lattimore CM, Kane WJ, Sarosiek BM, Coleman CM, Turrentine FE, Forkin KT, Bauer TW, Adams RB, Zaydfudim VM. "Efficacy of opioid spinal analgesia for postoperative pain management after pancreatoduodenectomy." HPB (Oxford). 2022 Nov;24(11):1930-1936. PMID: 35840502
Yoon U, Bartoszko J, Bezinover D, Biancofiore G, Forkin KT, Rahman S, Spiro M, Raptis DA, Kang Y, ERAS4OLT.org "Working Group. Intraoperative transfusion management, antifibrinolytic therapy, coagulation monitoring and the impact on short-term outcomes after liver transplantation-A systematic review of the literature and expert panel recommendations." Clin Transplant. 2022 Oct;36(10):e14637. PMID: 35249250
Forkin KT, Mitchell RD, Chiao SS, Song C, Chronister BNC, Wang XQ, Chisholm CA, Tiouririne M. "Impact of timing of multimodal analgesia in enhanced recovery after cesarean delivery protocols on postoperative opioids: A single center before-and-after study." J Clin Anesth. 2022 Sep;80:110847. PMID: 35468349
Redinger J, Kabil E, Forkin KT, Kleiman AM, Dunn LK. "Resting and Recharging: A Narrative Review of Strategies to Improve Sleep During Residency Training." J Grad Med Educ. 2022 Aug;14(4):420-430. PMID: 35991104
Dunn KE, Finan PH, Huhn AS, Gamaldo C, Bergeria CL, Strain EC. "Wireless electroencephalography (EEG) to monitor sleep among patients being withdrawn from opioids: Evidence of feasibility and utility." Exp Clin Psychopharmacol. 2022 Dec;30(6):1016-1023. PMID: 34096756
Huhn AS, Finan PH. "Sleep disturbance as a therapeutic target to improve opioid use disorder treatment." Exp Clin Psychopharmacol. 2022 Dec;30(6):1024-1035. PMID: 34110889
Finan PH, Hunt CA, Mun CJ, Lerman SF, Tennen H, Smith MT, Haythornthwaite JA. "Association of affective state with the assimilation of daily pain expectancy and pain experience." Pain. 2022 Nov 1;163(11):2254-2263. PMID: 35439798
Strobel RJ, Krebs ED, Cunningham M, Chaudry B, Mehaffey JH, Sarosiek B, Durieux M, Dunn L, Naik BI, Blank RS, Martin LW. "Enhanced Recovery Protocol Associated With Decreased 3-Month Opioid Use After Thoracic Surgery." Ann Thorac Surg. 2023 Jan;115(1):241-247. PMID: 35779605 (Not listed: Lauren Kingsley Dunn, M.D., Ph.D.)
Kuck K, Naik BI, Domino KB, Posner KL, Saager L, Stuart AR, Johnson KB, Alpert SB, Durieux ME, Sinha AK, Brummett CM, Aziz MF, Cummings Iii KC, Gaudet JG, Kurz A, Rijsdijk M, Wanderer JP, Pace NL. "Prolonged Opioid Use and Pain Outcome And Associated Factors after Surgery Under General Anesthesia: A Prospective Cohort Association Multicenter Study." Anesthesiology. 2023 Jan 24. PMID: 36692360
Vlisides PE, Mentz G, Leis AM, Colquhoun D, McBride J, Naik BI, Dunn LK, Aziz MF, Vagnerova K, Christensen C, Pace NL, Horn J, Cummings K, Cywinski J, Akkermans A, Kheterpal S, Moore LE, Mashour GA. "Carbon Dioxide, Blood Pressure, and Perioperative Stroke: A Retrospective Case-Control Study." Anesthesiology. 2022 Oct 1;137(4):434-445. PMID: 35960872
Durieux ME, Naik BI. "Scientia Potentia Est: Striving for Data Equity in Clinical Medicine for Low- and Middle-Income Countries." Anesth Analg. 2022 Jul 1;135(1):209-212. PMID: 35709448
Neuman MD, Feng R, Ellenberg SS, Sieber F, Sessler DI, Magaziner J, Elkassabany N, Schwenk ES, Dillane D, Marcantonio ER, Menio D, Ayad S, Hassan M, Stone T, Papp S, Donegan D, Marshall M, Jaffe JD, Luke C, Sharma B, Azim S, Hymes R, Chin KJ, Sheppard R, Perlman B, Sappenfield J, Hauck E, Hoeft MA, Tierney A, Gaskins LJ, Horan AD, Brown T, Dattilo J, Carson JL, "REGAIN (Regional versus General Anesthesia for Promoting Independence after Hip Fracture)" Investigators*, Looke T, Bent S, Franco-Mora A, Hedrick P, Newbern M, Tadros R, Pealer K, Vlassakov K, Buckley C, Gavin L, Gorbatov S, Gosnell J, Steen T, Vafai A, Zeballos J, Hruslinski J, Cardenas L, Berry A, Getchell J, Quercetti N, Bajracharya G, Billow D, Bloomfield M, Cuko E, Elyaderani MK, Hampton R, Honar H, Khoshknabi D, Kim D, Krahe D, Lew MM, Maheshwer CB, Niazi A, Saha P, Salih A, de Swart RJ, Volio A, Bolkus K, DeAngelis M, Dodson G, Gerritsen J, McEniry B, Mitrev L, Kwofie MK, Belliveau A, Bonazza F, Lloyd V, Panek I, Dabiri J, Chavez C, Craig J, Davidson T, Dietrichs C, Fleetwood C, Foley M, Getto C, Hailes S, Hermes S, Hooper A, Koener G, Kohls K, Law L, Lipp A, Losey A, Nelson W, Nieto M, Rogers P, Rutman S, Scales G, Sebastian B, Stanciu T, Lobel G, Giampiccolo M, Herman D, Kaufman M, Murphy B, Pau C, Puzio T, Veselsky M, Apostle K, Boyer D, Fan BC, Lee S, Lemke M, Merchant R, Moola F, Payne K, Perey B, Viskontas D, Poler M, D'Antonio P, O'Neill G, Abdullah A, Fish-Fuhrmann J, Giska M, Fidkowski C, Guthrie ST, Hakeos W, Hayes L, Hoegler J, Nowak K, Beck J, Cuff J, Gaski G, Haaser S, Holzman M, Malekzadeh AS, Ramsey L, Schulman J, Schwartzbach C, Azefor T, Davani A, Jaberi M, Masear C, Haider SB, Chungu C, Ebrahimi A, Fikry K, Marcantonio A, Shelvan A, Sanders D, Clarke C, Lawendy A, Schwartz G, Garg M, Kim J, Caruci J, Commeh E, Cuevas R, Cuff G, Franco L, Furgiuele D, Giuca M, Allman M, Barzideh O, Cossaro J, D'Arduini A, Farhi A, Gould J, Kafel J, Patel A, Peller A, Reshef H, Safur M, Toscano F, Tedore T, Akerman M, Brumberger E, Clark S, Friedlander R, Jegarl A, Lane J, Lyden JP, Mehta N, Murrell MT, Painter N, Ricci W, Sbrollini K, Sharma R, Steel PAD, Steinkamp M, Weinberg R, Wellman DS, Nader A, Fitzgerald P, Ritz M, Bryson G, Craig A, Farhat C, Gammon B, Gofton W, Harris N, Lalonde K, Liew A, Meulenkamp B, Sonnenburg K, Wai E, Wilkin G, Troxell K, Alderfer ME, Brannen J, Cupitt C, Gerhart S, McLin R, Sheidy J, Yurick K, Chen F, Dragert K, Kiss G, Malveaux H, McCloskey D, Mellender S, Mungekar SS, Noveck H, Sagebien C, Biby L, McKelvy G, Richards A, Abola R, Ayala B, Halper D, Mavarez A, Rizwan S, Choi S, Awad I, Flynn B, Henry P, Jenkinson R, Kaustov L, Lappin E, McHardy P, Singh A, Donnelly J, Gonzalez M, Haydel C, Livelsberger J, Pazionis T, Slattery B, Vazquez-Trejo M, Baratta J, Cirullo M, Deiling B, Deschamps L, Glick M, Katz D, Krieg J, Lessin J, Mojica J, Torjman M, Jin R, Salpeter MJ, Powell M, Simmons J, Lawson P, Kukreja P, Graves S, Sturdivant A, Bryant A, Crump SJ, Verrier M, Green J, Menon M, Applegate R, Arias A, Pineiro N, Uppington J, Wolinsky P, Gunnett A, Hagen J, Harris S, Hollen K, Holloway B, Horodyski MB, Pogue T, Ramani R, Smith C, Woods A, Warrick M, Flynn K, Mongan P, Ranganath Y, Fernholz S, Ingersoll-Weng E, Marian A, Seering M, Sibenaller Z, Stout L, Wagner A, Walter A, Wong C, Orwig D, Goud M, Helker C, Mezenghie L, Montgomery B, Preston P, Schwartz JS, Weber R, Fleisher LA, Mehta S, Stephens-Shields AJ, Dinh C, Chelly JE, Goel S, Goncz W, Kawabe T, Khetarpal S, Monroe A, Shick V, Breidenstein M, Dominick T, Friend A, Mathews D, Lennertz R, Sanders R, Akere H, Balweg T, Bo A, Doro C, Goodspeed D, Lang G, Parker M, Rettammel A, Roth M, White M, Whiting P, Allen BFS, Baker T, Craven D, McEvoy M, Turnbo T, Kates S, Morgan M, Willoughby T, Weigel W, Auyong D, Fox E, Welsh T, Cusson B, Dobson S, Edwards C, Harris L, Henshaw D, Johnson K, McKinney G, Miller S, Reynolds J, Segal BS, Turner J, VanEenenaam D, Weller R, Lei J, Treggiari M, Akhtar S, Blessing M, Johnson C, Kampp M, Kunze K, O'Connor M, Looke T, Tadros R, Vlassakov K, Cardenas L, Bolkus K, Mitrev L, Kwofie MK, Dabiri J, Lobel G, Poler M, Giska M, Sanders D, Schwartz G, Giuca M, Tedore T, Nader A, Bryson G, Troxell K, Kiss G, Choi S, Powell M, Applegate R, Warrick M, Ranganath Y, Chelly JE, Lennertz R, Sanders R, Allen BFS, Kates S, Weigel W, Li J, Wijeysundera DN, Kheterpal S, Moore RH, Smith AK, Tosi LL, Looke T, Mehta S, Fleisher L, Hruslinski J, Ramsey L, Langlois C, Mezenghie L, Montgomery B, Oduwole S, Rose T, "REGAIN (Regional versus General Anesthesia for Promoting Independence after Hip Fracture) Investigators. Pain, Analgesic Use, and Patient Satisfaction With Spinal Versus General Anesthesia for Hip Fracture Surgery : A Randomized Clinical Trial." Ann Intern Med. 2022 Jul;175(7):952-960. PMID: 35696684
Ashken T, Bowness J, Macfarlane AJR, Turbitt L, Bellew B, Bedforth N, Burckett-St Laurent D, Delbos A, El-Boghdadly K, Elkassabany NM, Ferry J, Fox B, French JLH, Grant C, Gupta A, Gupta RK, Gürkan Y, Haslam N, Higham H, Hogg RMG, Johnston DF, Kearns RJ, Lobo C, McKinlay S, Mariano ER, Memtsoudis S, Merjavy P, Narayanan M, Noble JA, Phillips D, Rosenblatt M, Sadler A, Sebastian MP, Schwenk ES, Taylor A, Thottungal A, Valdés-Vilches LF, Volk T, West S, Wolmarans M, Womack J, Pawa A. Recommendations for anatomical structures to identify on ultrasound for the performance of intermediate and advanced blocks in ultrasound-guided regional anesthesia. Reg Anesth Pain Med. 2022 Dec;47(12):762-772. PMID: 36283714
Grosh T, Kim J, Graff V, Mariano ER, Elkassabany NM. "Is there a correlation between Altmetric Attention Scores and citation count in Regional Anesthesia and Pain Medicine journal articles?." Reg Anesth Pain Med. 2022 Oct;47(10):649-650. PMID: 35580935
Vandepitte C, Van Pachtenbeke L, Van Herreweghe I, Gupta RK, Elkassabany NM. "Same Day Joint Replacement Surgery: Patient Selection and Perioperative Management." Anesthesiol Clin. 2022 Sep;40(3):537-545. PMID: 36049880
Chang JL, Goldberg AN, Alt JA, Ashbrook L, Auckley D, Ayappa I, Bakhtiar H, Barrera JE, Bartley BL, Billings ME, Boon MS, Bosschieter P, Braverman I, Brodie K, Cabrera-Muffly C, Caesar R, Cahali MB, Cai Y, Cao M, Capasso R, Caples SM, Chahine LM, Chang CP, Chang KW, Chaudhary N, Cheong CSJ, Chowdhuri S, Cistulli PA, Claman D, Collen J, Coughlin K, Creamer J, Davis EM, Dupuy-McCauley KL, Durr ML, Dutt M, Ali ME, Elkassabany NM, Epstein LJ, Fiala JA, Freedman N, Gill K, Gillespie MB, Golisch L, Gooneratne N, Gottlieb DJ, Green KK, Gulati A, Gurubhagavatula I, Hayward N, Hoff PT, Hoffmann OMG, Holfinger SJ, Hsia J, Huntley C, Huoh KC, Huyett P, Inala S, Ishman S, Jella TK, Jobanputra AM, Johnson AP, Junna MR, Kado JT, Kaffenberger TM, Kapur VK, Kezirian EJ, Khan M, Kirsch DB, Kominsky A, Kryger M, Krystal AD, Kushida CA, Kuzniar TJ, Lam DJ, Lettieri CJ, Lim DC, Lin HC, Liu SYC, MacKay SG, Magalang UJ, Malhotra A, Maurer JT, May AM, Mitchell RB, Mokhlesi B, Mullins AE, Nada EM, Naik S, Nokes B, Olson MD, Pack AI, Pang EB, Pang KP, Patil SP, de Perck EV, Piccirillo JF, Pien GW, Piper AJ, Plawecki A, Quigg M, Ravesloot MJL, Redline S, Rotenberg BW, Ryden A, Sarmiento KF, Sbeih F, Schell AE, Schmickl CN, Schotland HM, Schwab RJ, Seo J, Shah N, Shelgikar AV, Shochat I, Soose RJ, Steele TO, Stephens E, Stepnowsky C, Strohl KP, Sutherland K, Suurna MV, Thaler E, Thapa S, Vanderveken OM, de Vries N, Weaver EM, Weir ID, Wolfe LF, Woodson BT, Won CHJ, Xu J, Yalamanchi P, Yaremchuk K, Yeghiazarians Y, Yu JL, Zeidler M, Rosen IM. "International consensus statement on obstructive sleep apnea." Int Forum Allergy Rhinol. 2022 Sep 6. PMID: 36068685
Elkassabany NM, Mariano ER, Kopp S, Albrecht E, Wolmarans M, El-Boghdadly K. "PECS2 or PICK2." Reg Anesth Pain Med. 2022 Jul;47(7):450-451. PMID: 35443995
Porter S, Prendiville E, Allen BFS, Booth G, Boublik J, Burnett GW, Elkassabany N, Hausman J, Klesius L, Le-Wendling L, Machi AT, Maniker R, Parra M, Rosenquist R, Spofford CM, Suresh S, Tedore T, Wilson EH, Zhou JY, Woodworth G. "Development of entrustable professional activities for regional anesthesia and pain medicine fellowship training." Reg Anesth Pain Med. 2022 Jul 25. PMID: 35878963
Dahl JJ, Krebs ED, Teman NR, Hulse M, Thiele RH, Singh K, Yount KW, UVA Cardiac ERAS group. "Cardiac Enhanced Recovery Program Implementation and Its Effect on Opioid Administration in Adult Cardiac Surgery." Semin Thorac Cardiovasc Surg. 2022 Aug 17. PMID: 35985451
Wenker IC, Boscia AR, Lewis C, Tariq A, Miralles R, Hanflink JC, Saraf P, Patel MK. "Forebrain epileptiform activity is not required for seizure-induced apnea in a mouse model of Scn8a epilepsy." Front Neural Circuits. 2022;16:1002013. PMID: 36160949
Miralles R, Patel MK. "That's a Wrap: Could Controlling Activity-Regulated Myelination Prevent Absence Seizures?." Epilepsy Curr. 2022;22(6):395-397. PMID: 36426188
Duan GY, Duan ZX, Chen H, Chen F, Chen F, Du ZY, Chen LY, Lu KZ, Zuo ZY, Li H. "Cognitive function and delirium following sevoflurane or propofol anesthesia for valve replacement surgery: A multicenter randomized controlled trial." Kaohsiung J Med Sci. 2023 Feb;39(2):166-174. PMID: 36354206
Liu L, Zuo Z. "Excessive dietary salt promotes neuroinflammation to worsen retinopathy in mice with streptozotocin-induced diabetes." Biochim Biophys Acta Mol Basis Dis. 2022 Sep 1;1868(9):166426. PMID: 35533904
Guo Y, Zuo W, Yin L, Gu T, Wang S, Fang Z, Wang B, Dong H, Hou W, Zuo Z, Deng J. "Pioglitazone attenuates ischaemic stroke aggravation by blocking PPARγ reduction and inhibiting chronic inflammation in diabetic mice." Eur J Neurosci. 2022 Sep;56(6):4948-4961. PMID: 35945686
Wang J, Shan W, Chen X, Zuo Z. "Whisker trimming induces anti-anxiety like status via activation of dorsomedial hypothalamus nucleus in mice." Brain Res. 2022 Aug 15;1789:147946. PMID: 35597326
Xin J, Shan W, Li J, Yu H, Zuo Z. "Activation of the Lateral Habenula-Ventral Tegmental Area Neural Circuit Contributes to Postoperative Cognitive Dysfunction in Mice." Adv Sci (Weinh). 2022 Aug;9(22):e2202228. PMID: 35616407
Sun Z, Yang N, Jia X, Song Y, Han D, Wang X, Sun J, Li Z, Zuo Z, Guo X. "Nobiletin Attenuates Anesthesia/Surgery-Induced Neurocognitive Decline by Preserving the Expression of Clock Genes in Mice." Front Neurosci. 2022;16:938874. PMID: 35873828
Zuo Z. "Have we forgotten something when caring for patients for surgery?." Front Med (Lausanne). 2022;9:952893. PMID: 35966850
Tanaka KA, Alejo D, Ghoreishi M, Salenger R, Fonner C, Ad N, Whitman G, Taylor BS, Mazzeffi MA. "Impact of Preoperative Hematocrit, Body Mass Index, and Red Cell Mass on Allogeneic Blood Product Usage in Adult Cardiac Surgical Patients: Report From a Statewide Quality Initiative." J Cardiothorac Vasc Anesth. 2023 Feb;37(2):214-220. PMID: 35644751
Gloff MS, Mazzeffi M, Eaton M. "Preoperative Anemia Treatment in Cardiac Surgery: Past Due and Time to Act." J Cardiothorac Vasc Anesth. 2023 Feb;37(2):276-278. PMID: 36379832
Dave SB, Deatrick KB, Galvagno SM Jr, Mazzeffi MA, Kaczorowski DJ, Madathil RJ, Rector R, Tabatabai A, Haase DJ, Herr D, Scalea TM, Menaker J. "A descriptive evaluation of causes of death in venovenous extracorporeal membrane oxygenation." Perfusion. 2023 Jan;38(1):66-74. PMID: 34365847
Tanaka KA, Pontikes AE, Van D, Vandyck K, Butt A, Mazzeffi MA, Thakral R, Stewart KE. "Relationships Between Body Mass Index, Allogeneic Transfusion, and Surgical Site Infection After Knee and Hip Arthroplasty Surgery." Anesth Analg. 2023 Jan 1;136(1):123-129. PMID: 35389377
Mazzeffi M, Tanaka K. "Forget-Me-Not: The Primary Hemostasis Defect in Extracorporeal Membrane Oxygenation May Require Unique Treatment." ASAIO J. 2023 Jan 1;69(1):e52. PMID: 35439191
Strauss ER, VanDyck K, Mazzeffi MA. "Tranexamic acid for cesarean delivery: induction of a regimen for postpartum hemorrhage?." Am J Obstet Gynecol. 2023 Jan;228(1):110-111. PMID: 35998746
Kiefer J, Mazzeffi M. "Complications of Vascular Disease." Anesthesiol Clin. 2022 Dec;40(4):587-604. PMID: 36328617
Stein SR, Ramelli SC, Grazioli A, Chung JY, Singh M, Yinda CK, Winkler CW, Sun J, Dickey JM, Ylaya K, Ko SH, Platt AP, Burbelo PD, Quezado M, Pittaluga S, Purcell M, Munster VJ, Belinky F, Ramos-Benitez MJ, Boritz EA, Lach IA, Herr DL, Rabin J, Saharia KK, Madathil RJ, Tabatabai A, Soherwardi S, McCurdy MT, NIH COVID-19 Autopsy Consortium, Peterson KE, Cohen JI, de Wit E, Vannella KM, Hewitt SM, Kleiner DE, Chertow DS. "SARS-CoV-2 infection and persistence in the human body and brain at autopsy." Nature. 2022 Dec;612(7941):758-763. PMID: 36517603 (Not listed: Michael Angelo Mazzeffi, M.D., M.P.H., M.Sc., F.A.S.A.)
Denault A, Couture EJ, De Medicis É, Shim JK, Mazzeffi M, Henderson RA, Langevin S, Dhawan R, Michaud M, Guensch DP, Berger D, Erb JM, Gebhard CE, Royse C, Levy D, Lamarche Y, Dagenais F, Deschamps A, Desjardins G, Beaubien-Souligny W. "Perioperative Doppler ultrasound assessment of portal vein flow pulsatility in high-risk cardiac surgery patients: a multicentre prospective cohort study." Br J Anaesth. 2022 Nov;129(5):659-669. PMID: 36184294
Porter SB, Pla R, Chow JH, Keneally R, Douglas R, Desvarieux T, Crowe MM, Mazzeffi MA. "Preoperative Pressure Ulcers, Mortality, and Complications in Older Hip Fracture Surgery Patients." J Am Acad Orthop Surg Glob Res Rev. 2022 Nov 1;6(11). PMID: 36322619
Kartiko S, Koizumi N, Yamane D, Sarani B, Siddique AB, Levine AR, Jackson AM, Wieruszewski PM, Smischney NJ, Khanna AK, Chow JH, CRUSH COVID Investigators. "Thromboelastography Parameters do not Discriminate for Thrombotic Events in Hospitalized Patients With COVID-19." J Intensive Care Med. 2022 Nov 29;8850666221142265. PMID: 36448250 (Not listed: Michael Angelo Mazzeffi, M.D., M.P.H., M.Sc., F.A.S.A.)
Levy LE, Kaczorowski DJ, Pasrija C, Boyajian G, Mazzeffi M, Krause E, Shah A, Madathil R, Deatrick KB, Herr D, Griffith BP, Gammie JS, Taylor BS, Ghoreishi M. "Peripheral cannulation for extracorporeal membrane oxygenation yields superior neurologic outcomes in adult patients who experienced cardiac arrest following cardiac surgery." Perfusion. 2022 Oct;37(7):745-751. PMID: 33998349
Shah A, Menaker J, Mazzeffi MA, Galvagno SM Jr, Deatrick KB, Madathil RJ, Rector R, O'Connor JV, Scalea TM, Tabatabai A. "Association of Volume Status During Veno-Venous Extracorporeal Membrane Oxygenation with Outcome." ASAIO J. 2022 Oct 1;68(10):1290-1296. PMID: 34967789
Choi S, Mazzeffi MA, Henderson R, Mondal S, Morita Y, Deshpande S, Tanaka KA. "The FIBTEM paradox: Do coronary artery bypass grafting patients with high baseline FIBTEM clot firmness need more allogeneic blood transfusion?." Transfusion. 2022 Oct;62(10):2020-2028. PMID: 36053950
Mazzeffi MA, Krajewski M, Shelton K, Dalia A, Najam F, Gutsche J, Nurok M. "Measuring and Reporting Quality for Adult Extracorporeal Membrane Oxygenation Centers: Is It Possible and Is It Time?." Anesth Analg. 2022 Oct 1;135(4):719-724. PMID: 36108186
Fabbro M 2nd, Patel PA, Henderson RA Jr, Bolliger D, Tanaka KA, Mazzeffi MA. "Coagulation and Transfusion Updates From 2021." J Cardiothorac Vasc Anesth. 2022 Sep;36(9):3447-3458. PMID: 35750604
Mazzeffi M, Keneally R, Jackson HT, Naik B, Douglas R, Davison D, Vaziri K. "Racial-Ethnic Disparities in Against Medical Advice Hospital Discharge After Colectomy in the USA: a Retrospective Cohort Study." J Gastrointest Surg. 2022 Sep 1. PMID: 36050619
Lankford A, Chow J, Hendrickson E, Jung MS, Kodali B, Malinow A, Goetzinger K, Mazzeffi M. "Five-year trends in maternal cardiacarrest in Maryland: 2013-2017." J Matern Fetal Neonatal Med. 2022 Aug;35(15):2984-2987. PMID: 32900253
Grazioli A, Plazak M, Dahi S, Rabin J, Menne A, Ghoreishi M, Taylor B, Perelman S, Mazzeffi M. "Veno-arterial extracorporeal membrane oxygenation without allogeneic blood transfusion: An observational cohort study." Perfusion. 2022 Aug 11;2676591221119015. PMID: 35957550
Wargowsky R, Zvara J, Qaddumi N, Gonzalez-Almada A, Lin D, Fernandez X, Tanaka K, Mazzeffi M. "In vitro comparison of spatiotemporal fibrin clot formation dynamics in plasma treated with different protamine-heparin ratios." Perfusion. 2022 Aug 29;2676591221122365. PMID: 36036659
Warner MA, Patel PA, Hensley NB, Mazzeffi M. "COVID-19-Related Blood Shortages and Cardiac Surgery: Do We Have Too Many Eggs in One Basket?." J Cardiothorac Vasc Anesth. 2022 Jul;36(7):1823-1826. PMID: 35304043
Bohman JJKK, Seelhammer TG, Mazzeffi M, Gutsche J, Ramakrishna H. "The Year in Extracorporeal Membrane Oxygenation: Selected Highlights From 2021." J Cardiothorac Vasc Anesth. 2022 Jul;36(7):1832-1843. PMID: 35367120
Mazzeffi MA, Keneally R, Teal C, Douglas R, Starks V, Chow J, Porter SB. "Racial Disparities in the Use of Peripheral Nerve Blocks for Postoperative Analgesia After Total Mastectomy: A Retrospective Cohort Study." Anesth Analg. 2022 Jul 1;135(1):170-177. PMID: 35522889
Mazzeffi M, Lin D, Gonzalez-Almada A, Stombaugh DK, Curley J, Mangunta V, Teman N, Yarboro LT, Thiele R. "Outcomes of heparinized adult veno-arterial extracorporeal membrane oxygenation patients managed with low and high activated partial thromboplastin time targets: A systematic review and meta-analysis. Perfusion." 2023 Jan 3;2676591221150880. PMID: 36595340
Stombaugh DK, Mangunta VR. "Aortic Dissection." Anesthesiol Clin. 2022 Dec;40(4):685-703. PMID: 36328623
Stombaugh DK, Daubenspeck D, Chaney MA, Lu S, Fitzsimons MG, Gerlach RM. "Percutaneous Vacuum-Assisted Thrombectomy for Right Atrial Mass." J Cardiothorac Vasc Anesth. 2022 Aug;36(8 Pt B):3392-3402. PMID: 35094924

Through the Multicenter Perioperative Outcome Group (MPOG) we collaborate with multiple institutions world-wide to aggregate millions of cases and billions of data points, which create unparalleled opportunities for both research and quality improvement.
Recent projects performed with the MPOG Group include:  understanding intraoperative opioid dosing, postoperative respiratory complications, and extubation rates after intracranial surgery.
We welcome inquiries from Medical Students, Residents and Fellows interested to participate in our department's research. Please email: Emily Chuang, MA
Research Instructions and Forms
Research Instructions and Workflow
Generate a Research Idea

Find a Faculty Mentor or a Clinical Research Committee member

Once Research idea is Mostly Formulated

Fill out Clinical Trial Research Template Form (see below)
For questions, email Dr. Bhiken Naik.

Submit Clinical Trial Research Template Form (see below) to Dr. Bhiken Naik, at least 1 week prior to the scheduled monthly research meeting.
Presentation and Discussion of Protocol at monthly meeting
After IRB approval,

If it is a retrospective study requesting data from UVA, fill out Perioperative Database Request Form (see far below) to obtain data. Simply copy and paste most of the information from their approved Clinical Trial Research form.
If it is a prospective study, setup a meeting with Dr. Bhiken Naik and Dr. Keita Ikeda.
Please fill out our Perioperative Database Request Form Here:
Perioperative Database Project Request
Please Contact Us with Questions via email: