Facility
Exam Rooms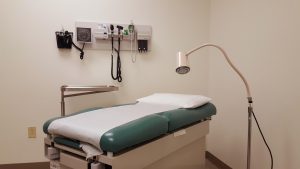 The Clinical Skills Center features 18 outpatient exam rooms and 2 inpatient bedrooms dedicated to the teaching mission of the School of Medicine.  All 20 rooms are fully equipped with audio and video capabilities, with 2-3 cameras to capture various views.  The exam rooms are sized to accommodate one-on-one learner-patient encounters as well as teaching sessions with small groups of 6 students with mentors and patient.  Three exam rooms are equipped with phones for telemedicine cases.
CAE Learning Space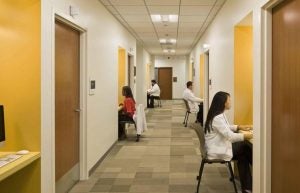 The entire enterprise is operated with 50 iMac computers for pre- and post-encounter data, observation and administration. The Clinical Skills Center uses the simulated patient software program, CAE LearningSpace, to assist us with event scheduling, exam management, learner evaluations and data analysis. The online, web-based system is an effective tool for continuously monitoring exam performances and case objectives. The CAE LearningSpace will assist us in creating checklists and questionnaires, student data collection, performance analysis, and calculation of student scores. It is accessible online to faculty and students.
Conference Rooms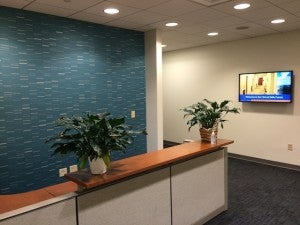 There is an observation hallway with views through one-way mirrors into 4 exam rooms.  Two conference rooms exist for teaching and debriefing students, and an additional space is dedicated for simulated patient training.  One additional smaller conference room is dedicated to teaching with the Harvey heart sound simulator and for teaching ultrasound techniques.There is also a monitor room suitable for managing multiple events throughout the clinic.  Offices exist for Clinical Skills Center faculty and staff.