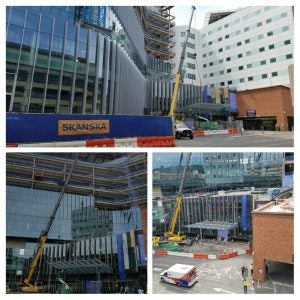 Construction Reached Another Milestone
On the afternoon of Wednesday, April 4th, the steel canopy for the entrance to the University Hospital Expansion was lifted into place and installed by the welders. The construction crews continue to work diligently towards their late-spring 2019 deadline for completion. The official Twitter page for the University Hospital Expansion project shared a video of the installation (see below).
When the new Emergency Department opens, it will feature individual patient rooms, an expanded staff, and will provide improved services.
For further updates on construction, make sure to check out the UHE Twitter page and local news outlets. We will continue to share images and video here on our Emergency Medicine blog as well.
Below is a 3-minute video tour of the interior. Can you spot the worker who was working in the ceiling?