The Junior Faculty Development Program (JFDP) is designed to provide networking, mentoring, and professional development to junior faculty. The participants develop relationships with their peers and senior faculty through social opportunities, seminars, and their scholarly projects. The program attracts junior faculty members from many different departments and is open to all clinical and basic science faculty.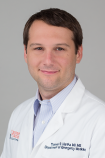 Thomas Hartka, MD, from the Department of Emergency Medicine, was one of the participants of this past year's JFDP. During the course of the program, he created a scholarly project and was mentored by Mark Sochor, MD, and Jacalyn Huband, PhD. His 2018 scholarly project is titled, "Evaluation of Machine Learning for Assignment of Triage Severity Level in the Emergency Department."
Dr. Hartka has many roles at the University, including Assistant Director to the Emergency Medicine Research Office (EMRO) and Assistant Medical Director to the UVA Center for Applied Biomechanics. His professional interests include, but are not limited to, pre-hospital patient care and triage, radiographic interpretation of injury and accident reconstruction, and high-fidelity simulation.
To learn about the scholarly projects presented in April of this year, read more on the Dean's Office Blog.