Thomas R. Hartka, MD, MS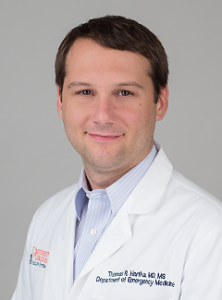 Assistant Professor of Emergency Medicine
Assistant Professor of Mechanical and Aerospace Engineering
Assistant Director, Emergency Medicine Research Office
Assistant Medical Director, UVA Center for Applied Biomechanics
Medical Examiner, Jurisdiction: City of Charlottesville and Albemarle County, Office of the Chief Medical Examiner
P.O. Box 800699
Charlottesville, VA 22908-0699
Phone: 434-924-8485
Fax: 434-924-2877
E-mail: trh6u@virginia.edu
Education
M.D.S., Data Science, University of Virginia (in progress)
Trauma Biomechanics Fellowship, University of Virginia (2014)
Residency, Emergency Medicine, University of Virginia (2013)
M.D., University of Virginia (2010)
Post-Baccalaureate Premedical Program, John Hopkins University (2005)
M.S., Computer Engineering, Virginia Polytechnic Institute and State University (2004)
B.S., Computer Engineering, Virginia Polytechnic Institute and State University (2002)
---
Clinical and Research Interests
Blunt Force Thoracic Trauma
Radiographic Interpretation of Injury and Accident Reconstruction
Motor Vehicle Crash Occupant Kinematics during Collisions
Pre-hospital Patient Care and Triage
Pre-hospital provider education
Mobile computing for medical education
High-fidelity simulation
---
Publications
Hartka T, Vaca FE. Factors associated with EMS transport decisions for pediatric patients after motor vehicle collisions. Traffic Inj Prev. 2020 Oct 29:1-6. doi: 10.1080/15389588.2020.1830382. Epub ahead of print. PMID: 33119415.
Glass G, Hartka TR, Keim-Malpass J, Enfield KB, Clark MT. Dynamic data in the ED predict requirement for ICU transfer following acute care admission [published online ahead of print, 2020 Mar 19]. J Clin Monit Comput. 2020. https://doi.org/10.1007/s10877-020-00500-3
Hartka T, Gancayco C, McMurry T, Robson M, Weaver A. Accuracy of algorithms to predict injury severity in older adults for trauma triage. Traffic Inj Prev. 2019. https://doi.org/10.1080/15389588.2019.1688795 (Received AAAM's 2019 Best Paper Award)
Sun J, You F, Sun B, Hartka T, Flower A. Injury Risk Prediction for Body Regions after Motor Vehicle Collisions to Guide CT Scanning Decisions. 2019 Systems and Information Engineering Design Symposium (SIEDS), April 26, 2019.
Hartka T, Glass G, Kao C, McMurry T. Development of injury risk models to guide CT evaluation in the emergency department after motor vehicle collisions. Traffic Inj Prev. 2018.
Harris C, Madonick J, Hartka TR. Lawn mower injuries presenting to the emergency department: 2005 to 2015. Am J Emerg Med. 2018.