Joshua S. Easter, MD, MSc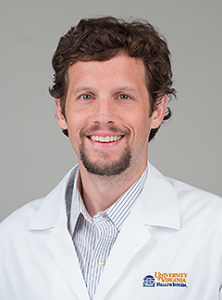 Assistant Professor of Emergency Medicine
P.O. Box 800699
Charlottesville, VA 22908-0699
Phone: (434) 924-8485
Fax: (434) 924-2877
E-mail: je9m@hscmail.mcc.virginia.edu
Education
BA, Economics and Biology, Williams College, Williamstown, MA
MD, School of Medicine, Duke University, Durham, NC
Clinical Effectiveness, School of Public Health, Harvard University, Cambridge, MA
M.Sc, Clinical Sciences, Colorado Clinical and Translational Sciences Institute, University of Colorado School of Medicine, Aurora, CO
Residency, Harvard Beth Israel Deaconess Emergency Medicine Residency, Boston, MA
Pediatric Emergency Fellow, Division of Emergency Medicine, Children's Hospital of Boston, Boston, MA
Clinical Research Fellow, Clinical Research Training Program, National Institute of Health, Bethesda, MD
Clinical and Research Interests
Clinical Research
Brain Injury
Prediction Models
Decision-Making in the Emergency Department
Pediatric Trauma
Most Recent Publications
Bakes K, Haukoos J, Deakyne S, Hopkins E, Easter J, Mcfann K, Brent A, Rewers A. Effect of Volume of Fluid Resuscitation on Metabolic Normalization in Children Presenting in Diabetic Ketoacidosis: A Randomized Controlled Trial, Journal of Emergency Medicine, 2016 Apr;50(4):551-9.
Easter J, Haukoos J, Meehan W, Novack V, Simel D, Edlow J. Does this patient with a minor head injury have a severe intracranial injury?, Journal of the American Medical Association, 2015 Dec 22-29;314(24):2672-81
Easter J. (2015). Pediatric gastrointestinal emergencies. In Markovchick V. et al. (Ed.), Emergency Medicine Secrets. Elsevier, Inc.
Easter J. (2014). Severe traumatic brain injury in children. In Wolfson A. et al. (Ed.), Harwood Nuss' Clinical Practice of Emergency Medicine. Lippincott Williams & Wilkins.
Easter J, Bakes K, Dhaliwal J, Miller M, Caruso E, Haukoos J. Comparison of PECARN, CATCH, and CHALICE rules for children with minor head injury: a prospective cohort study, Annals of Emergency Medicine, 2014 August;64(2):145-52, 152.