William A. Woods, MD, MS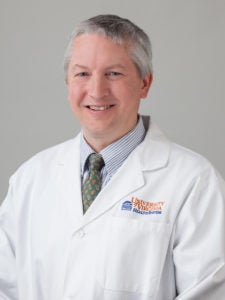 Associate Professor of Emergency Medicine and Pediatrics
Associate Professor of Mechanical and Aerospace Engineering
Vice-Chair for Academic Affairs, Department of Emergency Medicine
P.O. Box 800699
Charlottesville, VA 22908-0699
Phone: (434) 924-8485
Fax: (434) 924-2877
E-mail: waw9h@virginia.edu
Education
Emergency Medicine Residency, University of Virginia (1998)
Pediatric Residency, University of Virginia (1994)
MD, University of Pittsburgh (1991)
MS, Bioengineering, Pennsylvania State University (1990)
BS, Mechanical Engineering, Pennsylvania State University (1985)
Clinical and Research Interests
Pediatric emergency medicine
Pediatric critical care/resuscitation
Trauma biomechanics
Publications
Kennedy JL, Shaker M, McMeen V, Gern J, Carper H, Murphy D, Lee WM, Bochkov YA, Vrtis RF, Platts-Mills T, Patrie J, Borish L, Steinke JW, Woods WA, Heymann P.  Comparison of viral load in individuals with and without asthma during infections with rhinovirus.  American Journal of Respiratory and Critical Care Medicine.  189(5):532-9, 2014.
Moak JH, Rajkumar JS, Woods WA.  The wire is really easy to see (WIRES): sonographic visualization of the guidewire by novices.  CJEM Canadian Journal of Emergency Medical Care.  15(1):18-23, 2013.
Rafaels KA, Bass CR, Panzer MB, Salzar RS, Woods WA, Feldman SH, Waliko T, Kent RW, Capehaart BP, Foster JB, Derkunt B, Toman A.  Brain injury risk from primary blast.  The Journal of Trauma and Acute Care Surgery. 73(4):895-901, 2012.
Woods WA.  Pediatric resuscitation and cardiac arrest.  Emergency Medicine Clinics of North America, 30(1):2012.
Rafaels K, Bass CR, Salzar RS, Panzer MB, Woods W, Feldman S, Cummings T, Capehart B.  Survival risk assessment for primary blast exposures to the head.  Journal of Neurotrauma.  2011.