William A. Woods, MD, MS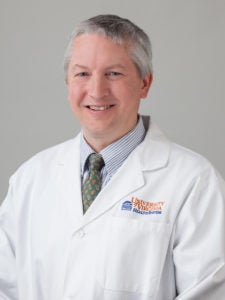 Associate Professor of Emergency Medicine and Pediatrics
Associate Professor of Mechanical and Aerospace Engineering
Vice-Chair for Academic Affairs, Department of Emergency Medicine
P.O. Box 800699
Charlottesville, VA 22908-0699
Phone: (434) 924-8485
Fax: (434) 924-2877
E-mail: waw9h@virginia.edu
Education
Emergency Medicine Residency, University of Virginia (1998)
Pediatric Residency, University of Virginia (1994)
MD, University of Pittsburgh (1991)
MS, Bioengineering, Pennsylvania State University (1990)
BS, Mechanical Engineering, Pennsylvania State University (1985)
Clinical and Research Interests
Pediatric emergency medicine
Pediatric critical care/resuscitation
Trauma biomechanics
Recent Publications
Wendel SK, Woods W. 057. Pitfalls in Adults with Congenital Heart Disease. Avoiding Common Errors in the Emergency Department, Third Edition.
Woods WA. Sufficient Blood Culture Volume. Pediatrics. 2021 Dec 30:e2021055005C. doi: 10.1542/peds.2021-055005C. Epub ahead of print. PMID: 34966921.
Charlton N, Schuler K, Ho C H, Hatten J, Woods WA, Goolsby C. (August 27, 2021) Provider Fatigue During Direct Manual Compression for Life-Threatening Bleeding. Cureus 13(8): e17487. DOI 10.7759/cureus.17487
Kennedy JL, Shaker M, McMeen V, Gern J, Carper H, Murphy D, Lee WM, Bochkov YA, Vrtis RF, Platts-Mills T, Patrie J, Borish L, Steinke JW, Woods WA, Heymann P.  Comparison of viral load in individuals with and without asthma during infections with rhinovirus.  American Journal of Respiratory and Critical Care Medicine.  189(5):532-9, 2014.
Moak JH, Rajkumar JS, Woods WA.  The wire is really easy to see (WIRES): sonographic visualization of the guidewire by novices.  CJEM Canadian Journal of Emergency Medical Care.  15(1):18-23, 2013.