James H. Moak, MD, RDMS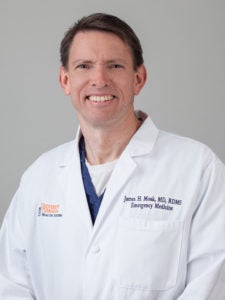 Associate Professor of Emergency Medicine
Director, Clinical Professional Development
Director, Medical Student Clerkship
Director, UVA-Guatemala Initiative
Director, Emergency Ultrasound Fellowship
P.O. Box 800699
Charlottesville, VA 22908-0699
Phone: (434) 924-8485
Fax: (434) 924-2877
E-mail:  james.moak@virginia.edu
Education
B.A. History, Yale University (1989)
M.D. University of Mississippi (1999)
Residency, Emergency Medicine, Alameda County Medical Center, Oakland, Ca (2003)
Clinical and Research Interests
Resident and medical student education
Diagnostic emergency ultrasound
Ultrasound-guided vascular access
Evidence based medicine
Clinical decision-making
National Activities
Chair, SAEM Ultrasound Interest Group, 2009-10
Chair, SAEM Ultrasound Interest Group Fellowship Committee, 2010-11
Member, ACEP Ultrasound Section Fellowship Curriculum Committee, 2011-Present
Elected Member,  Executive Board for Ultrasound Fellowship Website (eusfellowships.com), 2011-present

Selected Publications
Moak JH*, Larese SR, Riordan JP, Sudhir A, Yan G.   Training in Transvaginal Sonography Using Pelvic Ultrasound Simulators versus Live Models: A Randomized Controlled Trial.  Acad Med July, 2014; 89(7):1063-1068. Cited 0 times, IF = 3.292, Ranking education and scientific disciplines 2 of 34, Ranking health care of sciences 7 of 83.
Lewiss R*, Tayal V, Hoffmann B, Kendall J, Liteplo A, Moak JH, Panebianco N, Noble V.  The Core Content of Clinical Ultrasonography Fellowship Training.  Acad Emer Med.  2014; 21(4):456-461. Cited 0 times, IF = 1.757, Ranking emergency medicine 7 of 25.  Dr. Moak authored the section on clinical ultrasonography training with non-emergency medicine specialties.
Moak JH, Rajkumar J, Woods WA.  The Wire Is Really Easy to See (WIRES): Sonographic Visualization of the Guide Wire by Novices.  Can J Emer Med [pending publication]
Moak JH, Silverberg B, Vaughan A.  Ultrasound-Guided Hip Arthrocentesis In A Child With Hip Pain And Fever. West J Emer Med; [pending publication]
Moak JH, Lyons ME, Lindsell CJ.  Bedside renal ultrasound in the evaluation of suspected ureterolithiasis.  Am J Emer Med 2012 Jan;30(1):218-21
Moak JH, Lyons MS, Wright SW, Lindsell CJ.  Needle and guidewire visualization in ultrasound-guided internal jugular vein cannulation.  Am J Emer Med 2011: 29(4):432-6.
Moak JH, Gaspari RJ, Raio CC, Hart KW, Lindsell CJ.  Motivations, job procurement, and job satisfaction among current and former ultrasound fellows.  Acad Emer Med 2010; 17(6):644-648.