James H. Moak, MD, RDMS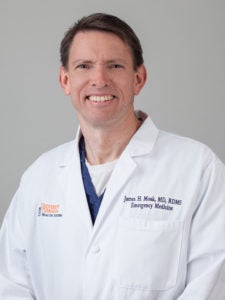 Associate Professor of Emergency Medicine
Director, Clinical Professional Development
Director, Medical Student Clerkship
Director, UVA-Guatemala Initiative
Director, Emergency Ultrasound Fellowship
P.O. Box 800699
Charlottesville, VA 22908-0699
Phone: (434) 924-8485
Fax: (434) 924-2877
E-mail:  james.moak@virginia.edu
2020 Recipient of the Robley Dunglison Award from the School of Medicine
Education
Residency, Emergency Medicine, Alameda County Medical Center (2003)
M.D., University of Mississippi (1999)
B.A., History, Yale University (1989)
---
Clinical and Research Interests
Resident and medical student education
Diagnostic emergency ultrasound
Ultrasound-guided vascular access
Evidence based medicine
Clinical decision-making
---
National Activities
Chair, SAEM Ultrasound Interest Group, 2009-10
Chair, SAEM Ultrasound Interest Group Fellowship Committee, 2010-11
Member, ACEP Ultrasound Section Fellowship Curriculum Committee, 2011-Present
Elected Member,  Executive Board for Ultrasound Fellowship Website (eusfellowships.com), 2011-present

---
Publications
Thom C, Ahmed A, Kongkatong M, Moak J. Point-of-care hip ultrasound leads to expedited results in emergency department patients with suspected septic arthritis. J Am Coll Emerg Physicians Open. 2020 Jun 30;1(4):512-520.​
Thom CD, Eisentat M, Moak JH. Point-of-care ultrasound identifies urinoma complicating simple renal colic: a case series and literature review. J Emerg Med. 2018.
Stone J, Moak JH. Feasibility of sonographic localization of the inferior epigastric artery prior to ultrasound-guided paracentesis. Am J Emer Med 33(12):1795-1798, 2015.
Rushton, WF, Vakkalanka JP, Moak JH, Charlton NP. Negative predictive value of excluding an embedded snake foreign body by ultrasonography. Wilderness Environ Med 26(2):227-31, 2015.
Moak JH, Larese SR, Riordan JP, Sudhir A, Yan G. Training in Transvaginal Sonography Using Pelvic Ultrasound Simulators Versus Live Models: A Randomized Controlled Trial. Acad Med 89(7):1063-1068, 2014.
Lewiss R, Tayal V, Hoffman B, Kendall J, Liteplo A, Moak JH, Panebianco N, Noble V. The Core Content of Clinical Ultrasonography Fellowship Training. Acad Emer Med 21(4):456-461, 2014.