Margaret K. Sande, MD, MS, MSHPEd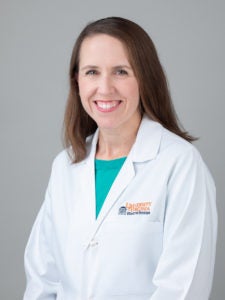 Associate Professor of Emergency Medicine
Associate Professor of Biomedical Engineering
Director, GME Institutional Lecture Series
Director, GME ERC Simulation Lab
P.O. Box 800699
Charlottesville, VA 22908-0699
Phone: 434-924-8485
Fax: 434-924-2877
Recipient of the 2022 Graduate Medical Education Master Educator Award.
Recipient of the 2019 & 2021 Faculty Teaching Award, UVA Emergency Medicine Residency.
Education
MS, Health Professions Education, MGH Institute of Health Professions (2015)
Fellow, Medical Simulation, Massachusetts General Hospital (2013)
Residency, Emergency Medicine, Denver Health (2012)
MD, Indiana University School of Medicine (2008)
MS, Biomedical Engineering, University of Virginia (2004)
BS, Engineering Science, University of Virginia (2003)
---
Clinical Interests
Biomedical design and engineering
Developing medical simulation programs to impact quality, patient safety, and test processes or devices/products
---
Publications
Foo SY, Mutter MK, Sande MK.  Quick Consult: Symptoms: Diaphoresis, Dizziness, Left Arm Pain, and Transient Cyanosis. Emergency Medicine News. 44(9):23-24, September 2022.
Mendes M, Buchanan J, Sande MK, Moriera M*. "An Easily Assembled, Low-Cost Model for Lateral Canthotomy Education" Journal of Emergency Medicine, 2021 Feb 13; S0736-4679(21)00003-2. (PMID: 33593633) (electronic publication) https://doi.org/10.1016/j.jemermed.2021.01.003
Hayden, E., Wong, A., Ackerman, J., Sande, M.K., Lei, C., Cassara, M., Cooper, D., Perry, K., Lewandowski, W., and Scerbo, M. Human Factors and Simulation in Emergency Medicine. Acad Emerg Med 2018 Feb; 25(2):221-229.
Smalley, C.M., Sande, M.K., Wilson, J.E., and Lewis, R. An Education Innovation to Improve Point-of-Care Ultrasound Skills in Senior Emergency Medicine Residents: A Mandatory Advanced Rotation. J Medic Educ Training 2017; 1:001.
Poon, S.J., Nelson, L.S., Hoppe, J.A., Perrone, J., Sande, M.K., Yealy, D.M., Beeson, M.S., Todd, K.H., Motov, S.M. and Weiner, S.G. Consensus-Based Recommendations for an Emergency Medicine Pain Management Curriculum. J Emerg Med 51(2):147-154, 2016.
Stevens A., Hernandez C., Jones S., Moreira M., Blumen J., Hopkins E., Sande M.K., Bakes K., Haukoos J. Color-coded Prefilled Medication Syringes Decrease Time to Delivery and Dosing Errors in Simulated Prehospital Pediatric Resuscitations: A Randomized Crossover Trial. Resuscitation 96:85-91, 2015.