Christopher D. Thom, MD, RDMS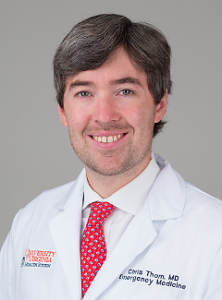 Assistant Professor of Emergency Medicine
Assistant Program Director, Emergency Medicine Residency Program
Director, Ultrasound Fellowship
P.O. Box 800699
Charlottesville, VA 22908-0699
Phone: (434) 924-8485
Fax: (434) 924-2877
E-mail: ct9k@hscmail.mcc.virginia.edu
Education
Fellowship, Emergency Ultrasound, Thomas Jefferson University (2014)
Residency, Emergency Medicine, Virginia Commonwealth University (2013)
MD, School of Medicine, University of Virginia (2010)
BA with High Distinction, Biology, University of Virginia 2006)
---
Clinical and Research Interests
Point of Care Ultrasound
Ultrasound guided-procedures
Procedural competency and education
---
Publications
Christopher Thom MD, RDMS, Jonathan Pozner MD, Matthew Kongkatong MD, James Moak MD, RDMS. Ultrasound-Guided Talonavicular Arthrocentesis. https://doi.org/10.1016/j.jemermed.2020.12.019 [Article in Press]
Thom C, Ahmed A, Kongkatong M, Moak J. Point-of-care hip ultrasound leads to expedited results in emergency department patients with suspected septic arthritis. J Am Coll Emerg Physicians Open. 2020 Jun 30;1(4):512-520.​
Kongkatong M, Thom C, Moak J. Can Ultrasound Identify Traumatic Knee Arthrotomy in a Cadaveric Model? J Emerg Med. 57(3):362-366, 2019.
Thom C, Eisentat M, Moak J. Point-of-Care Ultrasound Identifies Urinoma Complicating Simple Renal Colic: A Case Series and Literature Review. J Emerg Med. 55(1):96-100, 2018.
Kongkatong M, Thom C. Elderly Woman with Decreased Right-Sided Vision. Ann Emerg Med. 71(2):e5-e6, 2018.