Christopher D. Thom, MD, RDMS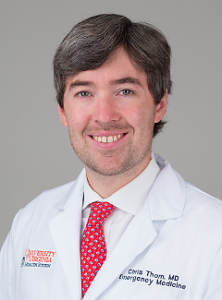 Assistant Professor of Emergency Medicine
Director, Ultrasound Fellowship
P.O. Box 800699
Charlottesville, VA 22908-0699
Phone: (434) 924-8485
Fax: (434) 924-2877
E-mail: ct9k@hscmail.mcc.virginia.edu
Education
BA with High Distinction, Biology, University of Virginia, Charlottesville, VA (2006)
MD, School of Medicine, University of Virginia, Charlottesville, VA (2010)
Residency, Emergency Medicine, Virginia Commonwealth University, Richmond, VA(2013)
Fellowship, Emergency Ultrasound, Thomas Jefferson University, Philadelphia, PA (2014)
Clinical and Research Interests
Point of Care Ultrasound
Ultrasound guided-procedures
Procedural competency and education
Most Recent Publications
Thom C, Lewis N. Never say never: Identification of acute pulmonary embolism on non-contrast computed tomography imaging. American Journal of Emergency Medicine, 2017 Jul;15(17):30581-8.
Thom C, Warlaumont M. A Necrotizing Fasciitis Fake Out on Point-of-Care Ultrasound – Watch the Shadow. Journal of Emergency Medicine, 2017 Apr;52(4):523-526.
Nelson M, Abdi A, Adhikari S, Boniface M, Bramante RM, Egan DJ, Fields JM, Leo MM, Liteplo AS, Liu R, Nomura JT, Pigott DC, Raio CC, Ruskis J, Strony R, Thom C, Lewiss RE. Goal-Directed Focused Ultrasound Milestones Revised: A Multiorganizational Consensus. Academic Emergency Medicine, 2016 Nov;23(11):1274-1279.
Au AK, Steinberg D, Thom C, Shirazi M, Papanagnou D, Ku BS, Fields JM. Ultrasound measurement of inferior vena cava collapse predicts propofol-induced hypotension. American Journal of Emergency Medicine, 2016 June;34(6):1125-8.
Adhikara S, Zeger W, Thom C, Fields JM. Isolated Deep Venous Thrombosis: Implications for 2-Point Compression Ultrasonography of the Lower Extremity. Annals of Emergency Medicine, 2015 Sep;66(3):262-6.
Thom C, Sparks SE. Acute pediatric stroke-what's the hurry? A case for emergency-physician performed echocardiography. American Journal of Emergency Medicine, 2014 Nov;32(11):1440.