Mark R. Sochor, MD, MS, FACEP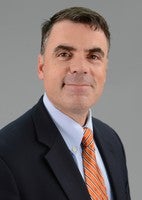 Associate Professor of Emergency Medicine
Research Faculty, EMRO
Medical Director, UVA Center for Applied Biomechanics
P. O. Box 800699
Charlottesville, Virginia 22908-0699
Phone: (434) 924-8485
Fax: (434) 924-2877
E-mail: msochor@virginia.edu
8/1/2022: Dr. Sochor was appointed by Governor Glenn Youngkin to the Medical Advisory Board for the Department of Motor Vehicles
Education
Injury Research Fellow, University of Michigan CIREN Center   (2004)

 

Residency, Emergency Medicine, Detroit Receiving Hospital and University Health Center  (2002)

M.D., Wayne State University School of Medicine

 (1999)

M.S., Wayne State University

 (1993)

B.S., Michigan State University

 (1990)
---
Clinical and Research Interests
Forensic radiology
Blunt force trauma
Alternative embalming techniques
Medical resident and student education
Motor vehicle crashes
Injury taxonomy
---
Publications
Kent R, Cormier J, McMurry TL, Johan Ivarsson B, Funk J, Hartka T, Sochor M. Spinal injury rates and specific causation in motor vehicle collisions. Accid Anal Prev. 2023 Mar 30;186:107047. doi: 10.1016/j.aap.2023.107047. Epub ahead of print. PMID: 37003164.
Sadatsafavi H, Vanable L, DeGuzman P, Sochor M. Sensory-Friendly Emergency Department Visit for Patients with Autism Spectrum Disorders –A Scoping Review. J Autism Dev Disord, 2022-04-23. DOI: https://doi.org/10.1007/s40489-022-00318-6
Alshareef A, Giudice JS, Forman JL, Shedd DF, Reynier KA, Wu T, Sochor S, Sochor MR, Salzar RS, and Panzer MB (2020). Human Brain Deformation During Dynamic Rotation of the Head. Journal of Neurotrauma. 37:1-10. Published Online:13 Mar 2020, https://doi.org/10.1089/neu.2019.6847
Bero M, Sochor M, Wong S, Brady W. Changing the management of refractory ventricular fibrillation: The consideration of earlier utilization of dual sequential defibrillation [published online ahead of print, 2019 May 29]. Am J Emerg Med. 2019;S0735-6757(19)30359-6. doi:10.1016/j.ajem.2019.05.
Hartka TR, Carr HM, Smith BR, Melmer M, Sochor MR. Does obesity affect the position of seat belt loading in occupants involved in real-world motor vehicle collisions? Traffic Inj Prev. 2018 Feb 28;19 (sup1):S70-S75.
Althoff S, Overberger R, Sochor M, Bose D, Werner J. Erratum: This Article Corrects: GLASS Clinical Decision Rule Applied to Thoracolumbar Spinal Fractures in Patients Involved in Motor Vehicle Crashes. West J Emerg Med. 2018 Mar;19(2):445.