Heather T. Lounsbury, MD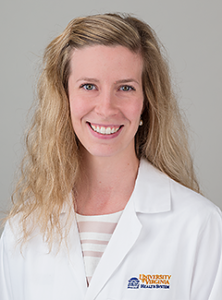 Formerly known as Dr. Heather T. Streich.
Assistant Professor of Emergency Medicine
Assistant Program Director, Emergency Medicine Residency Program
P.O. Box 800699
Charlottesville, VA 22908-0699
Phone: (434) 924-8485
Fax: (434) 924-2877
E-mail: hts3r@virginia.edu
Education
Fellowship in Medical Education, University of Virginia (2015)
Residency, Emergency Medicine, University of Virginia (2014)
Doctor of Medicine, University of Arizona (2011)
B.S. in Biology, Co-major in Philosophy, Creighton University (2007)
---
Clinical and Teaching Interests
Medical  Education and Resiliency
Foundations of Clinical Medicine
ECG in Clinical Medicine
Entrustable Professional Activities Working Group
---
Publications
Bentley S, Hu K, Messman A, Moadel T, Khandewal S, Streich H, Noelker J. Are All Competencies Equal in the Eyes of Residents? A Multicenter Study of Emergency Medicine Residents' Interest in Feedback. Western J Emerg Med 2017 Jan:18(1):76-81. doi:10.5811/westjem.2016.11.32626.
Streich HT, Huff JS. Differentiation, Evaluation, and Management of Ataxia in Adults and Children. Critical Decisions in Emergency Medicine. American College of Emergency Physicians. 2015;29:1-9.
Abstracts
Streich HT, Rushton WF, Charlton NP. Death by Spice: A case report of mortality following synthetic cannabiniod use. Clinical Tox, 2014 Vol. 52(4):365. Cited=2. IF=4.398, Rank 13/93 in TOXICOLOGY journals.