Heather T. Lounsbury, MD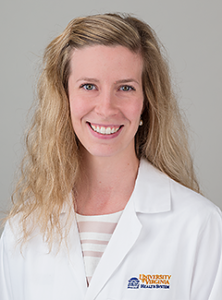 Formerly known as Dr. Heather T. Streich.
Assistant Professor of Emergency Medicine
P.O. Box 800699
Charlottesville, VA 22908-0699
Phone: (434) 924-8485
Fax: (434) 924-2877
E-mail: hts3r@virginia.edu
Education
Fellowship in Medical Education, University of Virginia (2014-2015)
Chief Resident, June 2013-June 2014
Residency, Emergency Medicine, University of Virginia (2011-2014)
Doctor of Medicine, University of Arizona (2007-2011)
Bachelor of Science in Biology, Co-major in Philosophy, Creighton University(2003-2007)
Clinical and Research Interests
Medical Education and Resliliency
Most Recent Publications
Bentley, S et al. "Are All Competencies Equal in the Eyes of Residents? A Multicenter Study of Emergency Medicine Residents' Interest in Feedback". Western Journal of Emergency Medicine- CDEM/CORD Supplement. Manuscript submitted.
Streich HT, Huff JS. "Differentiation, Evaluation, and Management of Ataxia in Adults and Children." Critical Decisions in Emergency Medicine, vol. 29, no. 2, 2015, pp. 2-9.
Althoff S, Streich HT, Charlton NP. "The EKG in Environmental Urgencies and Emergencies." Interpretation of the Electrocardiogram in Clinical Medicine: Acute, Critical, and Emergency Care. Publication forthcoming.
Streich HT, Rushton WF, Charlton NP. "Death by Spice: A case report of mortality following synthetic marijuana use." Abstract accepted at European Association of Poisons Centres and Clinical Toxicologists (EAPCCT) Annual Conference, Brussels 2014.